Scientific name
Crocuta crocuta (spotted hyena), Hyaena hyaena (striped hyena), Parahyaena brunnea (brown hyena)
Weight
About 35 to 80 kilograms (77 to to 176 pounds)
Size
95 to 150 centimeters in length (37 to 60 inches); 75 to 85 centimeters at the shoulder (30 to 33 inches)
Life span
Up to 20 years in the wild and 25 years in captivity
Habitat
Savannas, grasslands, woodlands, forest edges, sub deserts and mountains up to 4,000 meters (13,000 feet)
There are
3
subspecies of hyena
Snares kill about
400
adults per year
Clans can grow to
80
individuals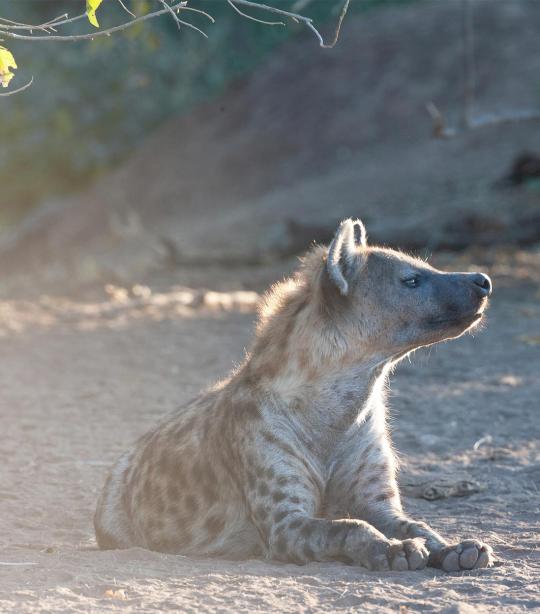 Challenges
Human-wildlife conflict is a major threat to hyenas.
Like many carnivores, hyenas come into conflict with humans when they prey on livestock. They are often seen as a pest species, which often results in retaliatory killings by farmers — especially by poisoning.
Humans are encroaching on hyenas' habitats.
As human populations expand and growth of agriculture, settlements, and roads results, wildlife is losing space in which it was previously able to roam freely.
Solutions
Our solutions to protecting the hyena:
Employ scientific research.
African Wildlife Foundation's researchers are working to gain an understanding of large carnivores' — including hyenas' — populations, behaviors, movements, and interactions with people to develop appropriate conservation actions. Since 2002, our Large Carnivore Research Project has undertaken research aimed at ensuring the continued survival of large predators living around Botswana, Namibia, Zambia, and Zimbabwe.
Proactively mitigate human-wildlife conflict.
Retaliation is the primary reason for hyena killings. We work with communities to help them construct bomas — livestock enclosures — that protect livestock from predators and ultimately mitigates human-wildlife conflict.