Scientific name
Rock hyrax (Procavia capensis), Yellow-spotted hyrax (Heterohyrax brucei), Tree hyrax (Dendrohyrax dorsalis), Bush hyrax (Heterohyrax brucei)
Weight
About 4 to 5 kilograms (8 to 11 pounds)
Size
About 30 to 50 centimeters in length (11 to 20 inches)
Life span
Up to 12 years in the wild; average 8.5 years
Habitat
Dry savanna to dense rainforest to rocky outcrops
Predators
Leopards, lions, hyenas, pythons, large birds, servals, jackals, parasites
There are more than
5
recognized subspecies
Native to over
25
African countries
Live in colonies of
50
members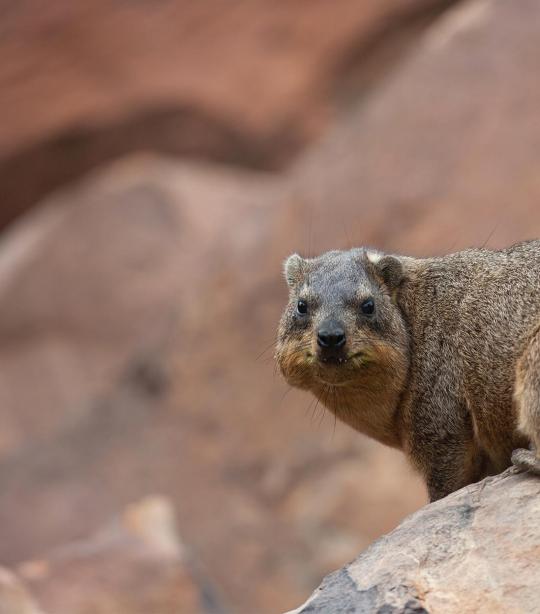 Challenges
Humans are encroaching on hyraxes' habitats.
As human populations are growing, people are expanding roads, settlements, and agriculture — an activity that is moving into wildlife's living spaces. This habitat loss and habitat fragmentation make it more difficult for hyraxes to find mates, food, and shelters.
Solutions
Our solutions to protecting the hyrax:
Work with governments.
African Wildlife Foundation works with government entities to help propose and plan sustainable solutions that can foster growth while offsetting habitat fragmentation. AWF provides its scientists and researchers as resources to assist in proper planning to ensure a balance between modernization and conservation to avoid destruction of key wildlife habitats.
Develop conservation tourism.
Tourism improves livelihoods for people and encourages conservation. AWF works with communities and private investors to develop tourism. In Botswana, with AWF's help, the local community was able to take over management of Santawani Lodge. Proceeds from the lodge allowed local people to improve their livelihoods and community services. In addition, the lodge serves as an incentive for the community to invest in conservation of local wildlife, like the hyrax. The lodge's existence is tied to the conservation of about 20,000 acres of land.