Weight
40 to 60 kilograms (90 to 130 pounds)
Size
About 1 meter tall (28 to 36 inches)
Life span
Average 13 to 15 years in the wild (about 17 in captivity)
Habitat
Savannas, grasslands, shrubland, and light woodlands
Predators
Lions, leopards, cheetahs, hyenas, hunting dogs, humans
Protected areas house
25%
of the population
Native to more than
10
African countries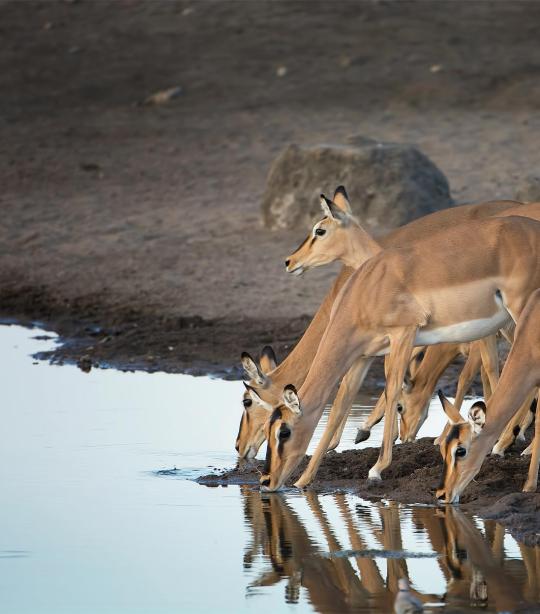 Challenges
Habitat fragmentation threatens impalas' safety.
Unsustainable livestock farming and human encroachment are major threats to impala's future. Wildlife habitats are being disrupted with the expansion of roads and settlements. As roads segment habitats, wildlife migrations are affected, and wildlife has difficulty moving between parks to find food, mates, and give birth.
One of the most commonly hunted antelope.
Impalas are one of the most commonly hunted antelope on hunting safaris in South Africa and are also the second most numerous species harvested for biltong. Poaching along the outskirts and even within protected areas combined with the agro-pastoral development, is threatening stable populations.
Solutions
Our solutions to protecting the impala:
Engage governments.
African Wildlife Foundation works with government entities to help plan and propose alternative growth solutions that avoid habitat fragmentation. AWF provides its scientists as resources to assist in proper planning that ensures a balance between modernization and conservation.
Give impalas protected spaces.
Wildlife corridors are large sections of land that allow wildlife to move from one national park to another—and even from one country to another. AWF works with people on all levels—from governments to small villages—to designate corridors and, in some cases, purchase land to set it aside for wildlife, like impalas, to move through safely as they migrate.