Scientific name
Greater kudu (Tragelaphus strepsiceros), Lesser kudu (Tragelaphus imberbis)
Weight
Greater kudu: 120 to 315 kilograms (260 to 700 pounds); Lesser kudu: 60 to 105 kilograms (130 to 230 pounds)
Size
Greater kudu: 100 to 150 centimeters at the shoulder (40 to 60 inches); Lesser kudu: 90 to 105 centimeters at the shoulder (35 to 42 inches)
Life span
Up to 10 years in the wild; up to 23 years in captivity
Predators
Leopards, hunting dogs, spotted hyenas, humans
There are
2
subspecies of kudu
Approximately
100,000
lesser kudu remain
Lesser Kudu can run up to
99
kilometers per hour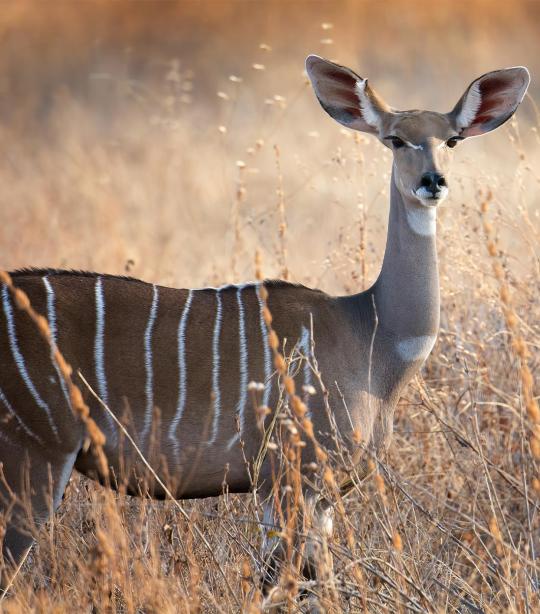 Challenges
Humans are preying on kudus.
Their numbers are affected by humans hunting them for their meat, hides, and horns. Their horns have long been prized in Africa for use as musical instruments, honey containers, and symbolic ritual objects.
Kudu habitats are being destroyed.
People are taking over their habitats for charcoal burning and farming.
Solutions
Our solutions to protecting the kudu:
Set aside safe areas for travel.
African Wildlife Foundation engages government entities to help plan and propose alternative solutions to habitat loss and fragmentation by providing its scientists and researchers as resources to assist in proper planning to ensure a balance between modernization and conservation.
Capitalize on conservation tourism.
AWF engages private investors and brings them together with communities living in critical landscapes to construct tourism lodges like Satao Elerai, a luxury tourist lodge situated on 5,000 acres in Kenya. The land is protected, so kudu and other wildlife can roam safely and freely, and the revenue is reinvested into the community and into local wildlife conservation.