Weight
8 to 12 kilograms (17-26 pounds)
Size
60 to 70 centimeters in length (23 to 28 inches)
Life span
Up to 8 years in the wild; up to 24 years in captivity
Habitat
Dense forest to open plains
Native to more than
20
African countries
There are
12
recognized subspecies
Ratel's skin is nearly
6
millimeters thick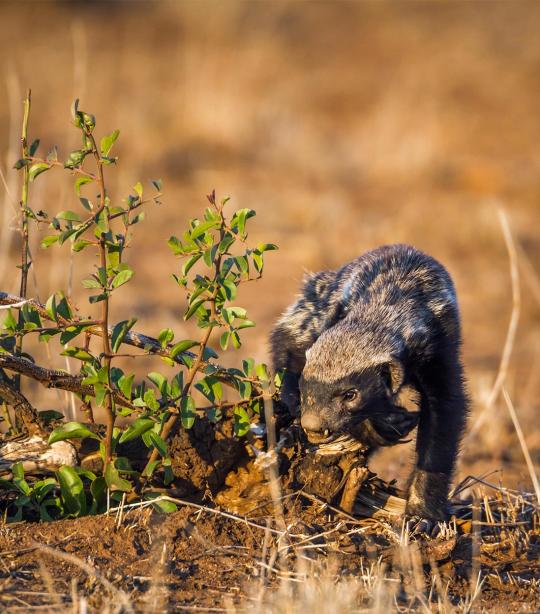 Challenges
Although they rarely have predators in the wild, ratels are facing increasingly hostile competition from humans.
The old-fashioned honey hunter had a grudging respect for the honey badgers, but modern beekeepers are not prepared to lose large amounts of their produce to them. When they come in close contact with human populations, they tend to steal poultry and small livestock and, as such, become victims of retaliatory killings. They are increasingly poisoned, trapped, snared, shot, and speared.
Solutions
Our solutions to protecting the ratel:
Foster conservation education.
African Wildlife Foundation engages rural communities living in close proximity to wildlife to build schools. In exchange for practicing conservation and refraining from such practices as retaliatory killing, communities receive new, improved schools with conservation curriculums. In Zambia, AWF constructed Lupani School. The new school is an incentive for the Sekute communities' efforts in wildlife conservation.
Prevent human-wildlife conflict.
AWF identifies and puts in place preventative measures to protect livestock from predation. We work closely with pastoralist communities to meet their needs. In Tanzania, we built predator-proof enclosures — called bomas — for communities that were in danger of losing livestock to predation. Proactive measures can prevent both livestock and wildlife deaths as well as an economic loss for communities.