Weight
220 to 238 kilograms (485 to 525 pounds)
Size
116 to 142 centimeters in height (45 to 56 inches)
Life span
Up to 16 years in the wild; up to 20 years in captivity
Predators
Humans, lions, leopards, hyenas, hunting dogs, crocodiles
Native to
11
African countries
Horns can grow to
1.6
meters in length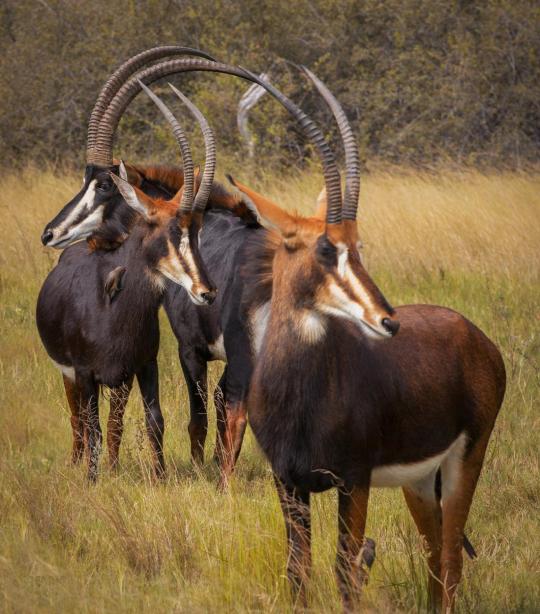 Challenges
The sable is competing for land.
This antelope has the tendency to settle near water, in areas with good drainage and good grazing, putting them in direct conflict with humans who also value this type of land for agriculture and livestock.
Solutions
Our solutions to protecting the sable:
Promote sustainable livestock management.
In Kenya, communities have improved their livelihoods through a partnership with Ol Pejeta Conservancy, financed by African Wildlife Foundation. The Linking Livestock Markets to Conservation initiative links pastoralists to premium livestock markets and provides high prices to pastoralists who adhere to conservation criteria, thereby reducing overstocking, rangeland degradation, and resource competition for wildlife like the sable.
Expand tourism to enable conservation.
At AWF, we know that successful tourism goes hand in hand with an abundance of a rich variety of wildlife. In the Laikipia region of Kenya, the Koija Starbeds Lodge was constructed to provide tourists with an enriching experience while, at the same time, setting aside protected land for wildlife and creating jobs and incomes for the local community. The land at Koija Starbeds has recovered well from past overgrazing and now supports higher numbers of wildlife.