Weight
50 to 125 kilograms (110 to 275 pounds)
Size
75 to 100 centimeters tall (30 to 40 inches)
Life span
Up to 22 years in captivity
Predators
Humans, pythons, crocodiles, leopards, lions
Population of
170,000
individuals
Found in more than
25
African countries
Protected areas house
40%
of population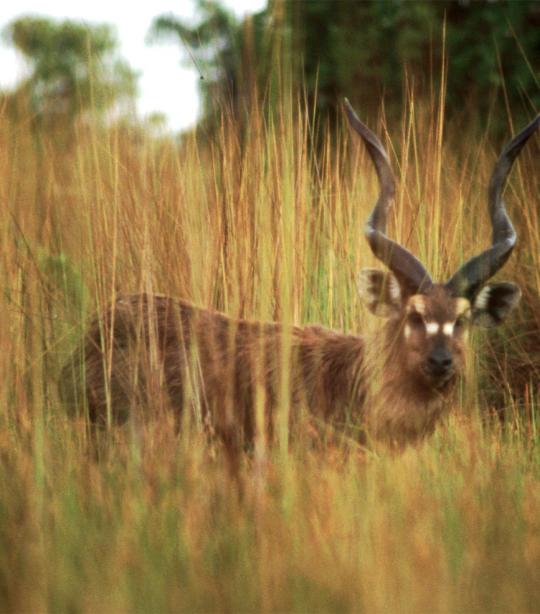 Challenges
Hunting is causing a decline in sitatunga populations.
These antelopes are easily caught by setting snares in their well-traveled paths in swamps. Because of this, overhunting outside protected areas is causing a rapid decline in their numbers.
Their habitats are being destroyed.
People are draining the swamps sitatungas love to live in.
Solutions
Our solutions to protecting the sitatunga:
Develop conservation tourism.
African Wildlife Foundation knows that communities and wildlife can thrive if tourism is developed. We connect communities and private investors to construct conservation tourism lodges like Satao Elerai, a luxury lodge situated on 5,000 acres in Kenya. The land is protected, so wildlife can roam safely and freely, and the revenue is reinvested into the community and into local wildlife conservation.
Bridge the gap between conservation and education.
AWF works with rural communities living in close proximity to wildlife to build schools. In exchange for practicing conservation, communities receive schools with technology labs and conservation curriculums. In Tanzania, AWF rebuilt Manyara Ranch Primary School. By working with communities to provide tangible incentives for conservation and education on the need for conservation, we are able to foster a culture of conservation.