Scientific name
Phacochoerus aethiopicus (desert/cape warthog); Phacochoerus africanus (common warthog)
Weight
50 to 150 kilograms (110 to 330 pounds)
Size
90 to 150 centimeters in length (35 to 60 inches)
Life span
15 to 18 years in the wild; up to 20 years in captivity
Predators
Lions, leopards, humans, crocodiles, and hyenas
Males weigh up to
20
kilograms more than females
Tusks grow to
25
centimeters long
Can run up to
55
kilometers per hour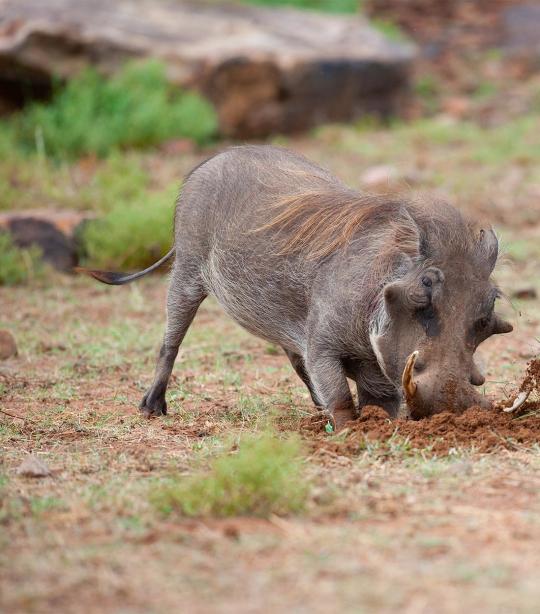 Challenges
Human-wildlife conflict poses a threat to warthogs.
Warthogs are killed for raiding wheat, rice, beans, or groundnut fields. In some agricultural areas, people are also eliminating this species, as they can potentially carry African swine fever.
Solutions
Our solutions to protecting the warthog:
Create more protected spaces.
African Wildlife Foundation works with governments and local communities to designate wildlife corridors — large swaths of land that wildlife can use to roam from one park, or country, to another. Corridors link protected areas and allow warthogs to move between them safely.
Engage communities in education and conservation.
AWF works with rural communities living in close proximity to wildlife to build schools. In exchange for practicing conservation and refraining from such practices as retaliatory killing, communities receive schools with technology labs and conservation curriculums. In Tanzania, AWF rebuilt Manyara Ranch Primary School. By working with communities to provide tangible incentives for conservation and education on the need for conservation, we are able to foster a culture of conservation.