Scientific name
Waterbuck (Kobus ellipsiprymnus); Common waterbuck (Kobus ellipsiprymnus ssp.ellipsiprymnus); Defassa waterbuck (Kobus ellipsiprymnus ssp. defassa)
Weight
160 to 300 kilograms (350 to 660 pounds)
Size
120 to 136 centimeters at the shoulder (about 50 inches)
Habitat
Savanna grasslands, riverine forests, woodlands
Predators
Hyenas, lions, leopards, hunting dogs, cheetahs, crocodiles, humans
Estimated less than
200,000
remain
Horns grow to
100
centimeters long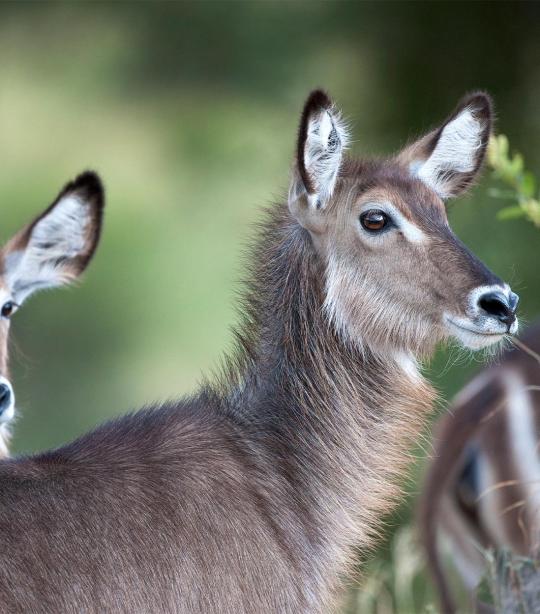 Challenges
Waterbucks are losing their homes.
Habitat loss and fragmentation are the biggest threats facing these antelopes. As people construct new roads, build settlements, and expand agriculture, they are infringing on wildlife habitats.
Solutions
Our solutions to protect the waterbuck:
Cultivate conservation tourism.
African Wildlife Foundation knows that the success of tourism in Africa depends on its majestic wildlife. We bring communities together with private investors to construct conservation tourism lodges like The Sanctuary at Ol Lentille in Kenya. The lodge provides sustainable income for the community, and the 20,000-acre conservancy is a safe home to a variety of wildlife.
Set aside safe space for wildlife.
AWF works with governments and communities to designate wildlife corridors — large swaths of land that waterbucks can use to from one park, or country, to another. Corridors link protected areas and allow wildlife to follow rains or travel to their calving grounds.