Scientific name
Connochaetes taurinus
Weight
118 to 270 kilograms (260-595 pounds)
Size
123 centimeters in length (48 inches)
Habitat
Open woodlands, open grassy plains
Predators
Lions, cheetahs, hunting dogs, hyenas
Can live to be
40
years old
Migrate close to
1,600
kilometers each year
Can run up to
65
kilometers each year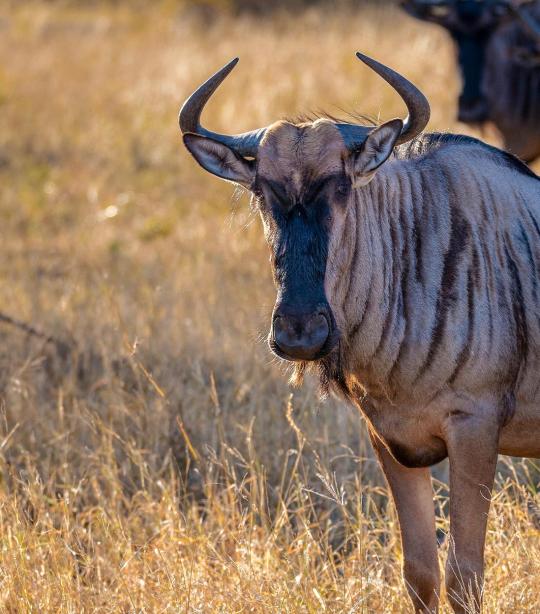 Challenges
Habitat fragmentation poses a great threat to wildebeest.
Their habitat is threatened by fragmentation, which is caused when land is fenced off for agriculture. While they are widespread and abundant in certain areas, the spread of civilization and agriculture, the reduction of water sources, and poaching are threatening this iconic species' survival.
Solutions
Our solutions to ensuring the wildebeest continues to thrive:
Engage governments and policy makers.
AWF works with government entities to help plan and propose alternative solutions to habitat fragmentation. AWF provides its scientists and researchers as resources to assist in proper planning to ensure a balance between modernization and conservation.
Work with communities.
We engage communities to help with agricultural planning to provide tools and techniques for sustainable agricultural growth. By providing these resources, AWF can minimize the impact on local wildlife while helping to maximize food security and income for people.