Scientific Name
Equus Quagga
Weight
250 to 300 kilograms (550 to 700 pounds)
Size
About 1.5 meters in height (about 4.5 feet)
Lifespan
20 years in the wild; up to 40 in captivity
Habitat
Grasslands and savannas
Predators
Lions, cheetahs, hyenas, hunting dogs, leopards, humans
Coats dissipate
70%
of heat
Will migrate up to
2,900
kilometers for food
Native to over
15
African countries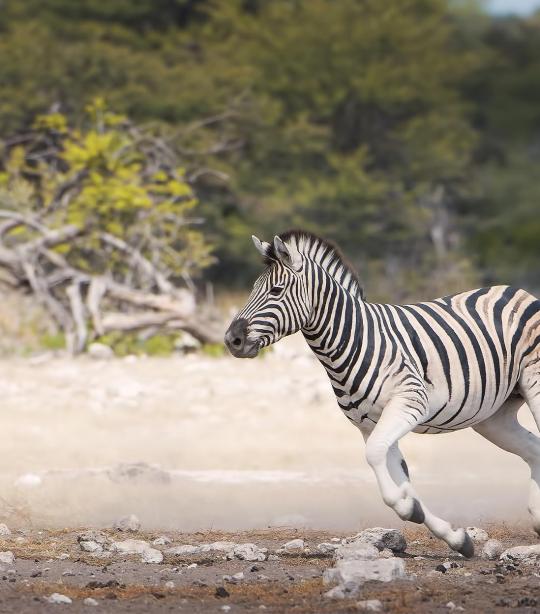 Challenges
Habitat loss and competition with livestock threaten plains zebras.
Habitat loss due to human encroachment, agricultural practices, and livestock grazing remains an issue in the ongoing conservation of this species. These problems seem to be especially prevalent in the southern half of their range and account for much of recent population decline.
Hunting for plains zebras persists.
Especially severe in the northern half of their range, over-hunting poses a serious danger to zebra populations. They are hunted for their meat and their distinctive skins.
Solutions
Our solutions to protecting the plains zebra:
Set aside safe space for wildlife.
AWF works with governments and communities to designate wildlife corridors — large swaths of land that zebras can use to from one park, or country, to another. Corridors link protected areas and allow wildlife to follow rains or migrate to their feeding grounds.
Promote sustainable livestock management.
In Kenya, communities have improved their livelihoods through a partnership with Ol Pejeta Conservancy, financed by African Wildlife Foundation. The Linking Livestock Markets to Conservation initiative links pastoralists to premium livestock markets and provides high prices to pastoralists who adhere to conservation criteria, thereby reducing overstocking, rangeland degradation, and resource competition for wildlife.