Africa's female wildlife scouts are taking charge of community conservation
Africa's female wildlife scouts are taking charge of community conservation
By Harleen Sehmi | November 2, 2018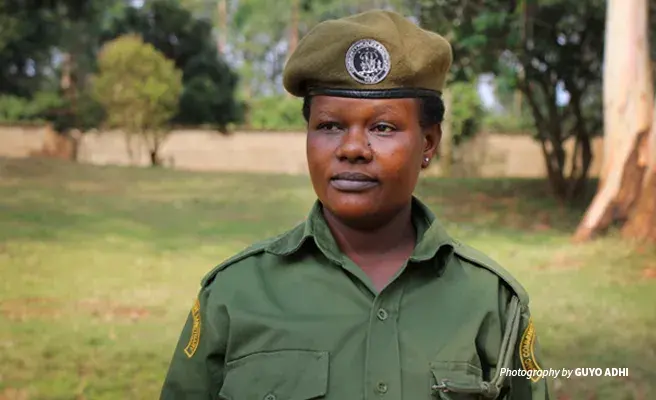 About the Author
Harleen Sehmi is the Senior Digital Content Officer at African Wildlife Foundation. She develops articles for AWF's website and publications, connecting audiences with the organization's work in diverse landscapes and showcasing the impact of community-centered conservation.
...
More
Ludovika Malemba knows the rugged hills and dusty tracks of LUMO Community Wildlife Sanctuary like the back of her hand. She has patrolled many kilometers as a wildlife scout of the group conservancy since its establishment in 2001. A native of the vast wildlife-rich landscape in Taita-Taveta connecting Kenya's Tsavo conservation area and Mkomazi National Park in Tanzania, she found her calling close to home. "I really like the work of rangers," says Malemba, "I was a game scout when I was in primary school — conservation is in my blood."LUMO gets its name from three ranches — the limited company Lualenyi plus the communally owned Mramba and Oza — that consolidated 416 sq. kilometers to be set aside for wildlife conservation. Malemba is part of a 14-strong squad of community scouts employed by the conservancy to safeguard wildlife and manage human-wildlife interaction. Though she is one of only three female wildlife scouts in LUMO, Malemba has transformed an early appreciation for protecting her homeland into a successful career.
Over the years, Malemba has also seen extended droughts and increased illegal grazing ravage the once-lush and vibrant landscape. "It is becoming like a desert because of pastoralists who always come to our place to graze during the dry season," she laments. The conservancy protects a critical elephant migration corridor, and communities living outside the conservation area often contend with large mammals trampling crops and destroying homesteads.
Community wildlife scouts like Malemba play a critical role at the frontline of conservation, enforcing wildlife protection laws that regulate resource use in the conservancy while also responding to incidences of human-wildlife conflict. "It's very hard to tell somebody, 'Don't bring your cows here!' They are our mums and our aunties from the same Taita community." Often, encounters can quickly turn violent, so illegal grazers hide from the scouts while their herds of livestock feed. "So you have to deal with the cows," she laughs.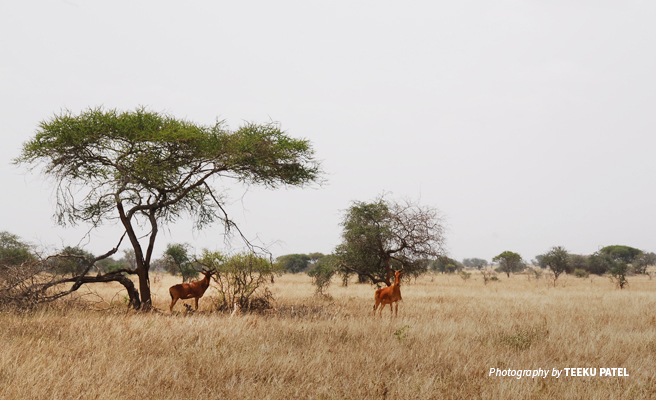 Upskilling wildlife scouts empowers them as conservation stewards
Aware that LUMO's scouts needed additional know-how and technology to tackle or prevent such situations, African Wildlife Foundation sponsored their training at the Kenya Wildlife Service Law Enforcement Academy in Tsavo. A critical component of the U. S. Agency of International Development-funded program to bolster the general management of the conservancy, it was the first time since 2010 that scouts received additional training. Malemba scored the best academic results out of the 60 conservancy scouts enrolled for the revised course which, for the first time, addresses community engagement. Her success marks the beginning of a new chapter in LUMO's history.
Apart from sharpening their understanding of local grazing laws and group conservancy regulations, scouts gained new skills such as bushcraft and first aid. Meanwhile, awareness-building activities across the conservancy are helping community members realize that habitat destruction by livestock denies them of their livelihoods. "Now we are able to use customer care to talk to our grazers, and there is no illegal grazing in LUMO," says Malemba.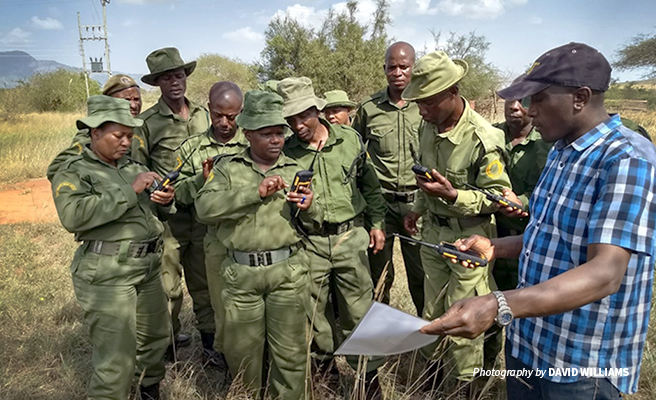 Conservancies as a model of community empowerment
Reduced illegal grazing plus heavy rains in the last few months are slowly restoring the habitats of LUMO to their earlier state. The progress brings it one step closer to realizing its vision to become a vibrant ecotourism-centered conservancy in Tsavo.
With close to 5,000 households neighboring the three ranches that make up LUMO, a solid management framework is needed to ensure that wildlife protection creates long-lasting social, ecological, and economic benefits.
Already, almost all employees of the conservancy are local Taita people, like Malemba, who have always lived alongside wildlife. But she and her two female colleagues represent the mere 1 percent of all female community scouts in Kenya — a glaring minority. Malemba admits that juggling a physically demanding full-time job with her responsibilities as a mother of four is challenging. However, she maintains that in the field all scouts are equal. Tasks are rotated fairly between the 11 men and two women on her team — on any given day, one can likely find Malemba guarding the conservancy gate, conducting a patrol, or in the radio room.
Prior to the training course at the Kenya Wildlife Service Law Enforcement Academy, AWF's Geographical Information Systems team equipped LUMO scouts with specialized smartphones plus information collection and mapping software to build the conservancy's monitoring capacity. Now, each wildlife scout on patrol is responsible for recording a variety of data — from threat hotspots to wildlife sightings — that can inform the conservancy's overall strategy.
"We have been doing a lot of work — and very risky work," concludes Malemba, adding that community wildlife scouts are finally getting the technical training and financial support they need. The recognition of professionals like Malemba and her colleagues at LUMO is long overdue — both for community development and wildlife conservation. She smiles as she says, "Now I'm very happy."
> Find out how we're improving livelihoods and conservation on Kenya's group ranches