Hippos, zebras return to Tanzania's giraffe stronghold as poaching abates
Hippos, zebras return to Tanzania's giraffe stronghold as poaching abates
By Jacqueline Conciatore | November 8, 2019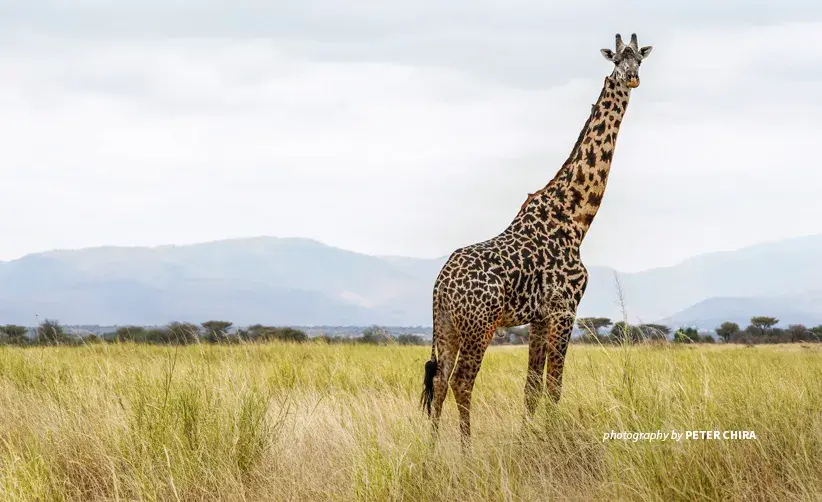 About the Author
Jacqueline Conciatore is African Wildlife Foundation's Writer & Editorial Manager. She oversees the development of articles and other content for AWF print marketing products such as the annual report. She is passionate about using storytelling and compelling content to convey the value and s ... More
The newcomer to Manyara Ranch was not hard to flush out. Two rangers crept around a bend toward its hiding spot — a thicket at the edge of a large pond. With a sudden rush from the foliage, the hippo flew out and into the water with a decisive splash. It is not advisable to approach hippos, but Manyara's caretakers must monitor their resident wildlife's numbers and be aware of potentially dangerous animals' presence and movements. The two men were elated to see the new arrival, who appeared to be a solitary traveler. It was the first time in decades that a hippo had appeared on the 45,000-acre community conservancy.
The hippo is part of a wildlife resurgence at Manyara Ranch. Thanks to a multi-faceted conservation program that includes anti-poaching measures and strategic support for the surrounding Maasai communities, wildlife noticeably is returning to a part of the savanna that had become a killing ground.
Manyara is a landscape of grasslands and acacia woodlands in Tanzania, about a 90-minute drive from Arusha. It is a giraffe stronghold and home to more than 50 other species of mammal including elephants, zebras, lions, and many kinds of antelope. Wildebeest abound, and after the rains are over, usually in April/May, the ranch hosts the third-largest wildebeest migration in East Africa.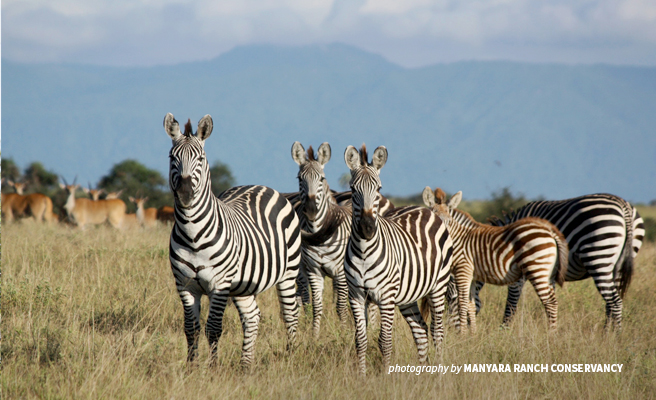 Manyara Ranch is an important wildlife corridor for various wildlife species
Stretching between Tarangire and Lake Manyara national parks, with the Ngorongoro Conservation Area and Serengeti National Park not too far away, Manyara Ranch is an age-old migration lane for elephants and other species. Corridors such as this one allow wildlife to reach seasonal food sources and preserve genetic diversity by allowing different populations to mix and breed. Well-maintained and protected wildlife corridors also keep everyone in their lanes; i.e., without them, migrating wildlife encounter people, and deadly conflict can result.
Corridors are equally important to local people who rely on wildlife tourism jobs and income. "If you want Tarangire and Manyara National Park and Ngorongoro and Serengeti to survive," says Manyara Ranch manager Fidelis Olekashe, "you have to maintain this," indicating the grounds around him.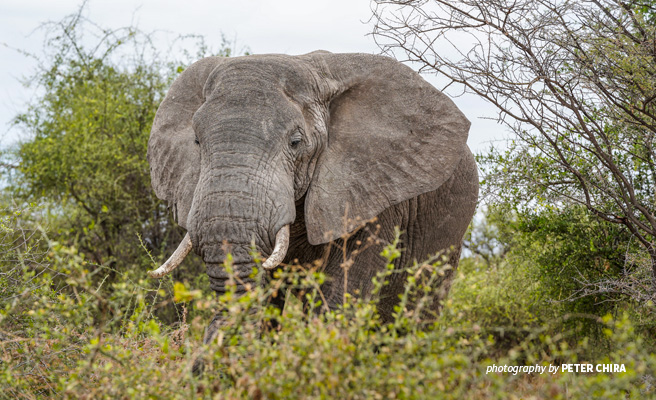 Poaching decimated elephant populations but the species is recovering on Manyara Ranch
Stopping poaching and human-wildlife conflict transforms Manyara Ranch
Ten years ago, Manyara's wildlife were in bad shape because they were under siege — skittish, traumatized, and, most significantly, disappearing. "It was poaching from corner to corner, one day over here, another day over there," says Olekashe. "You could not drive it and run across wildlife. When the wildlife saw you within a kilometer, they would run away because they were so used to being hunted." In 2013 alone, poachers killed 25 elephants on the ranch and surrounding area.
Overgrazing was another stress on the landscape, as people from seven nearby Maasai villages freely moved their cows, goats, and sheep across the ranch boundaries and over time severely degraded the grasslands. Area people also crossed the borders to gather wood for fires or bomas (cattle pens). A further problem was human-wildlife conflict. When lions attacked their livestock, local men, seeking to protect their livelihoods, retaliated and hunted down the big cats.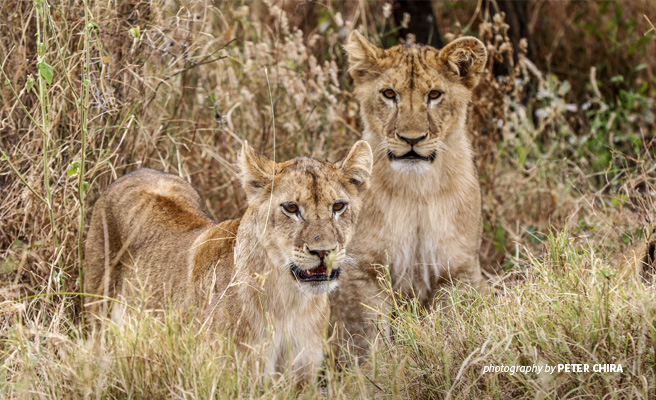 Retaliatory attacks on predators threaten lion populations
To address the poaching problem, Manyara partnered with the Arusha-based Honeyguide Foundation, a community nonprofit known for its anti-poaching fieldwork. The partners trained a team of rangers and deployed them at the ranch, along with tracker dogs. Combined with regular patrols, the canines program has been effective. Just having a dog on the grounds deters poachers, who know the canine units can track down even those offenders who've fled to hide out in neighboring settlements.
To curb the overgrazing, Manyara started providing livestock extension services, including a breeding program. It buys high-quality Boran bulls from African Wildlife Foundation partner Ol Pejeta Conservancy in Kenya and sells them to the communities at reduced rates to help improve herd quality. Manyara also employs a full-time veterinarian to serve the community, offering advice, vaccinating livestock, and treating the cattle during disease outbreaks.
To address the human-wildlife conflict, Manyara turned to simple but effective new equipment: predator-proof, mobile bomas. Traditional bomas are wooden, or thorn-bush/wire mesh enclosures. The AWF-supported metal upgrades are much more robust, if not impossible, to breach. And, they can be dismantled and reassembled in 15 minutes. Herders move with the bomas and their cattle periodically; by rotating the livestock strategically, they help overgrazed areas regenerate.
AWF helps pay the costs of bomas for families around Manyara, and the program has become popular. "They see the lion can come around the boma, but cannot even touch the cow," said Olekashe. "So now everybody says, 'We want that.'" AWF is proud to be the first NGO in Tanzania to introduce the mobile bomas.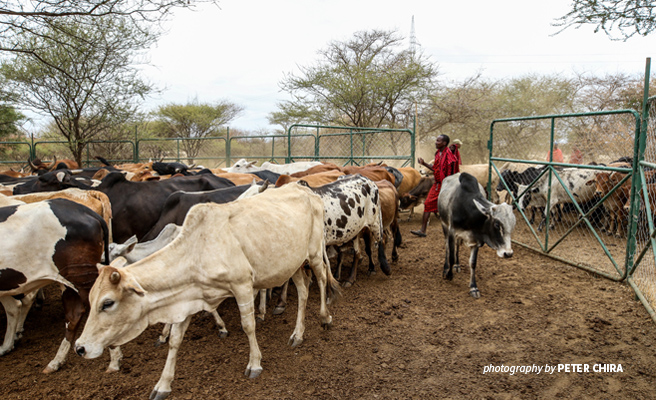 AWF equips herders with durable livestock enclosures to protect cattle from predators
Developing tourism enterprises as wildlife thrives
Thanks to such interventions, Manyara is a different place. No elephant has been poached on the ranch since 2015 and poaching, in general, is at a record low. "These days, we find the tusks still intact on elephants that have died of natural causes. This would not have been possible some years ago," says Olekashe.
Even outside the migration season, the ranch's wildlife numbers continue to grow. Manyara hosts elephants and lions all year round, and staff members recently spotted African painted dogs, which are rare and highly endangered. There have been no retaliatory lion killings in two years, and studies are showing giraffe populations to be stable.
The government has noticed. Last year the Tanzanian Minister for Natural Resources & Tourism asked Olekashe to make a presentation about how the ranch fights poaching and successfully balances wildlife conservation and animal husbandry.
The next step for Manyara is to build sustainable tourism operations. Given its wildlife riches and its location near several iconic safari destinations, it has the potential to generate substantial revenue per year. Nearby Arusha is Tanzania's largest tourism hub, a gateway to attractions including Mt. Kilimanjaro.
Manyara Ranch recently installed a new management oversight committee that will help develop a tourism strategy that benefits the conservancy and local community alike. It is a natural next step for this unique mixed-use, wildlife-rich conservancy.
> Learn how AWF support in Soysambu Conservancy helped lions return to a critical wildlife dispersal area in Kenya