The ivory trade is a dire threat to elephants, but countries are taking action
The ivory trade is a dire threat to elephants, but countries are taking action
By Megan Berman | November 9, 2018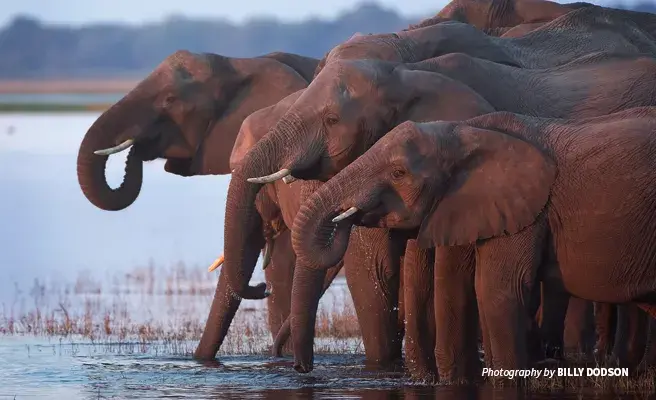 About the Author
Megan Berman is a former Print Marketing & Editorial Officer African Wildlife Foundation. She developed editorial content for print publications and oversaw the direct mail program for membership donors. Megan has been passionate about conserving Africa's wildlife and wild lands since her s ... More
The tides are turning in the war against the ivory trade. In the past several months, China, Hong Kong, and the U.K. have all implemented or announced bans on domestic ivory trade — long overdue measures to help stop the slaughter of elephants.
Although the ivory trade has been outlawed under international treaty since 1989, poaching continues to ravage African elephant populations. Poachers kill as many as 35,000 elephants each year for their tusks, which are then sold and made into jewelry, ornaments, musical instrument parts, religious objects, and other collectibles. Today, fewer than 415,000 elephants roam the continent of Africa, and with current poaching rates causing an 8 percent population decline each year, this iconic species could be wiped out in our lifetime.
Clamping domestic ivory markets
After a 2016 announcement to close the domestic ivory trade, China officially shut down its market at the end of 2017. Shortly after, there was a reported 80 percent decline in seizures of ivory entering the country; by August, business media were reporting that ivory prices had dropped 75 percent.
Hong Kong quickly followed China's example, with lawmakers voting almost unanimously to permanently close domestic ivory trade by the end of 2021. The new law closes loopholes that allowed pre-1970 ivory to be traded, a stipulation that traders used to their benefit by claiming that new ivory — which is all illegal — was antique. However, with such a long gap until the new ban takes effect, smugglers have ample time to stockpile ivory, strengthening the illicit ivory trade.
AWF President Kaddu Sebunya commended Hong Kong for its decision but urged the country to act sooner. "We call on the institutions responsible to ensure that the grace period given doesn't become a period for stockpiling and that laws are quickly strengthened to address any gaps for smuggling wildlife products," he said.
This past April, U.K. Environmental Secretary Michael Gove announced one of the world's strictest ivory bans, outlawing ivory of all ages, including antiques. Perpetrators face an unlimited fine or a maximum five- year jail sentence. The ban was announced after the U.K. Department of Environment, Food and Rural Affairs conducted a public survey on potentially banning ivory sales; over 88 percent of the 70,000 respondents voted in favor of outlawing the trade of ivory.
Japan's ivory laws are notoriously weak, and Yahoo! Japan supports a large domestic ivory market, bringing in sales of $27 million in the last 10 years. Although Japanese law requires dealers to register tusks before a transaction, the system is lenient, and illegal tusks are easily mixed in with legal tusks (those that pre-exist the 1989 international ban). Japan's largest online retailer, Rakuten, has stopped all sales of ivory on its platform, a huge step in the right direction. AWF is hopeful Japan will tighten its ivory trade laws and bring an end to the cruel commerce.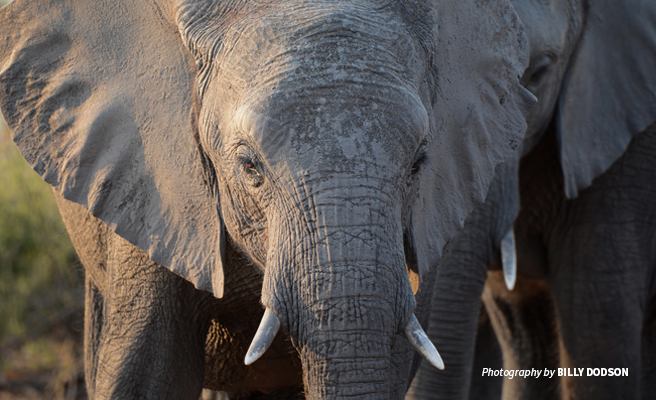 Illegal wildlife trade conference
The U.K. government continued its strong leadership by hosting the fourth annual international conference on the illegal wildlife trade in London on Oct. 11-12. Focused on increasing collaboration across continents, the shared goals were to tackle corruption and illicit financial flows, close ivory and other illegal markets, and strengthen networks to combat illegal wildlife trade via law enforcement.
The illegal wildlife trade is one of the most significant threats to wildlife species. Live animals such as monkeys, tortoises, tropical birds, and even cheetah cubs are trafficked as exotic pets. Elephants, rhinos, and pangolins are hunted illegally for their tusks, horns, and scales — all highly coveted on the black market. The criminals that operate within the black market not only threaten endangered wildlife, they also interfere with sustainable economic growth and legitimate livelihoods of people in rural communities
Ahead of the London conference, the British government launched a $60 million fund to tackle international wildlife trafficking. The initiative, Ivory Alliance 2024, brings together global leaders and conservationists with the shared goal of ending the ivory trade. It seeks to halve the killing of African elephants for ivory by 2024. Then British Foreign Secretary Boris Johnson noted, "We need immediate and effective global action to decapitate this terrible trade."
AWF is committed to the fight against poaching. In London, AWF pledged US$ 25 million to support African governments and local communities to protect vulnerable and endangered wildlife species from the illegal trade in wildlife parts.
> Learn more about AWF's Canines for Conservation program and other initiatives to stop the trafficking of wildlife products like ivory