This mountain gorilla lodge is saving Rwanda's great apes
This mountain gorilla lodge is saving Rwanda's great apes
By Craig R. Sholley | September 11, 2019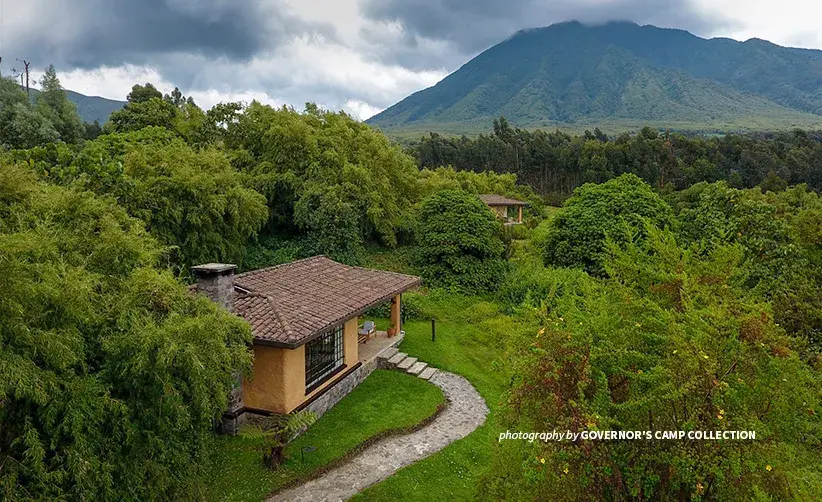 About the Author
Craig R. Sholley is the African Wildlife Foundation's Senior Vice President and Special Advisor. Craig's experiences with wildlife and conservation began in 1973 as a Peace Corps volunteer in Zaire. As an L.S.B. Leakey grant researcher in the late 1970s, Craig studied mountain gorillas with Dia ... More
The Virunga Massif is a vestige of Central Africa's tropical biodiversity but myriad threats are placing the region's critical ecosystems and species at risk. Spanning Rwanda's Volcanoes National Park, Mgahinga Gorilla National Park in Uganda, and the Democratic Republic of Congo's Virunga National Park, the massif is home to the endangered mountain gorilla, one of the world's largest and most threatened primates. Though their habitats are secured within national parks, these great apes have historically been killed by poachers and threatened with human encroachment into protected forests as civil strife uprooted the landscape.
In the early 1980s, mountain gorilla numbers in the Virunga Massif area (not including the Bwindi Impenetrable Forest populations) were as few as 230 individuals. In spite of all of the challenges facing mountain gorillas, they have one important ally on their side: Rwanda. Since 2005, the country has even hosted an annual celebration, called "Kwita Izina," to bring awareness to conservation efforts and celebrate the births of new mountain gorilla infants. Tens of thousands gather in a small town just outside Volcanoes National Park, where the majestic Mt. Sabyinyo overlooks the town of Kinigi, to celebrate the great ape's return from the brink. Today, mountain gorilla populations are on the rise, with populations in the Virungas numbering over 600 gorillas, and total mountain gorilla populations surpassing 1,000 individuals.
This conservation success story is due in no small part to Rwanda's sustainable tourism enterprises, like the iconic Sabyinyo Silverback Lodge. Developed in partnership with African Wildlife Foundation, Governors' Camp Collection, and the International Gorilla Conservation Program, Sabyinyo Silverback Lodge was created to support mountain gorilla conservation and improve the lives of local community members.
Mountain gorillas attract thousands of wildlife tourists to Rwanda, driving the country's economy and providing revenues for further gorilla conservation. In 2018 alone, the Rwandan government issued over 15,000 gorilla permits worth USD $19.2 million to tourists looking to track the gentle giant and experience it up close in Volcanoes National Park.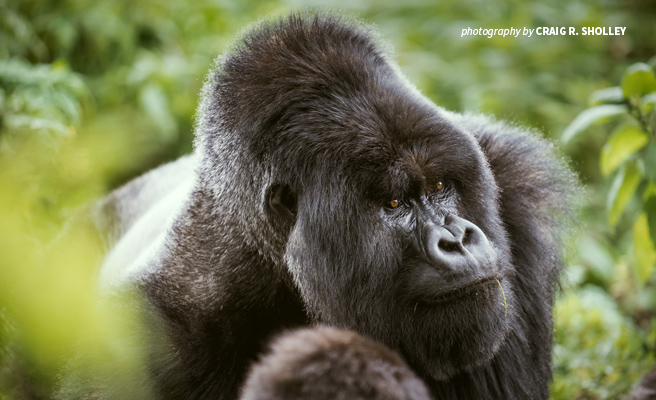 Mountain gorilla tourism in Rwanda sustains the economy and provides enterprise opportunities for communities in Rwanda
Protecting mountain gorillas and looking after communities
Sabyinyo Silverback Lodge celebrated its tenth anniversary in November 2018. When African Wildlife Foundation, International Gorilla Conservation Program, and the Governor's Camp Collection developed the idea for the lodge years ago, they were at the cutting edge of creating a successful enterprise that uplifts communities while directly supporting mountain gorilla conservation.
Governor's Camp Collection operates the world-class lodge, and it is owned by the Sabyinyo Community Livelihoods Association (or SACOLA), which comprises members from the surrounding communities. Through the SACOLA trust, Sabyinyo Silverback Lodge has delivered over USD $3.3 million in revenue since 2006.
As a result of lodge revenues over the years, SACOLA has widened its scope to reach over 5,800 households in the villages outside Volcanoes National Park. For many displaced by the impacts of the Rwandan genocide in the early 1990s, the struggle to rebuild has forced them to exploit the natural resources for subsistence. With income from the SACOLA trust via the Sabyinyo Silverback Lodge, the economic pressures to clear forest for small farms or hunt bushmeat for local markets are lessening.
SACOLA's socio-economic development initiatives improve all aspects of community life. SACOLA helped create two villages for the area's most marginalized people, particularly genocide survivors, providing new housing to allow them to reintegrate into the wider community on a better footing. So far, SACOLA has constructed 44 such houses, and in some cases, donated cows to families with the greatest needs. Guests at Sabyinyo Silverback Lodge, inspired by the relationship between ecotourism and community development, have even provided funds for cows after visiting the community. One visitor took her generous gift of 10 cows a step further by initiating a program whereby one recipient's first-born female calf would be donated to another family in need.
Without the burden of rent, new house-owners are investing their money collectively through Savings and Credit Co-Operatives (better known as SACCOs) administered through community banks, two of which SACOLA helped construct. Karakowe, a widow of the genocide, is working with other genocide survivors on a poultry business — complete with a SACOLA-built chicken rearing house, capital assistance, and veterinary assistance also financed by the association — that serves the group's household needs but also produces enough eggs and chickens for sale. This is not Karakowe's only source of income. She also performs at Sabyinyo Silverback Lodge as part of SACOLA's traditional dance troupe and receives a regular payment.
Ecotourism promotes alternative livelihoods to save gorillas
Whether SACOLA is building houses and improving infrastructure in the area or building new schools and clinics, the ultimate goal is to restore the resilience of a critical ecosystem and get a community back on its feet. Apart from supporting an electrification program and building a water supply system that serves thousands of residents, the association subsidizes school fees and helps more children get an education.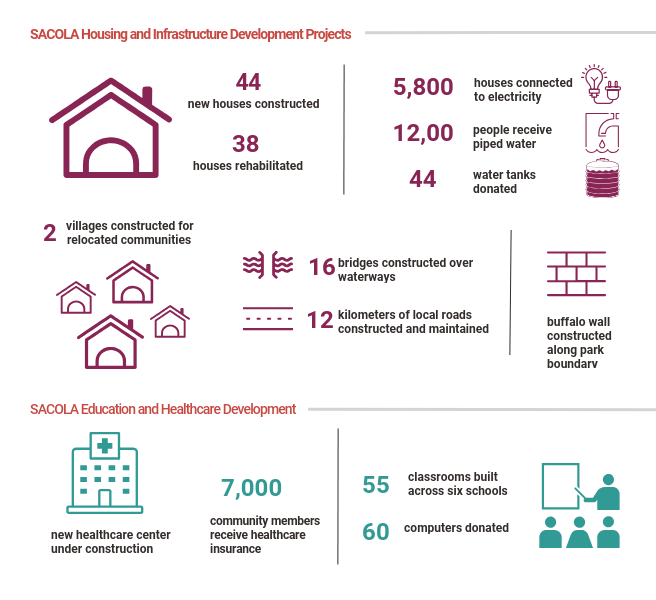 The association recently purchased land for a new technical school to train community members on the adoption of conservation-friendly economic activities. Reducing reliance on agricultural incomes also helps develop alternative livelihoods and diversify their income sources. Small-scale animal husbandry ventures are gaining traction in the landscape thanks to SACOLA's support.
The trust has also provided capital investment to local pig and sheep businesses, in addition to donating over 100 animals outright. With revenues from the Sabyinyo Silverback Lodge, the SACOLA trust will continue to diversify sustainable livelihood opportunities for community members that, in turn, remove the burden from the park's natural resources, and its iconic mountain gorillas.
> Learn more about how ecotourism in Rwanda is driving the recovery of its mountain gorilla population