Powerful Allies Join Forces for Wildlife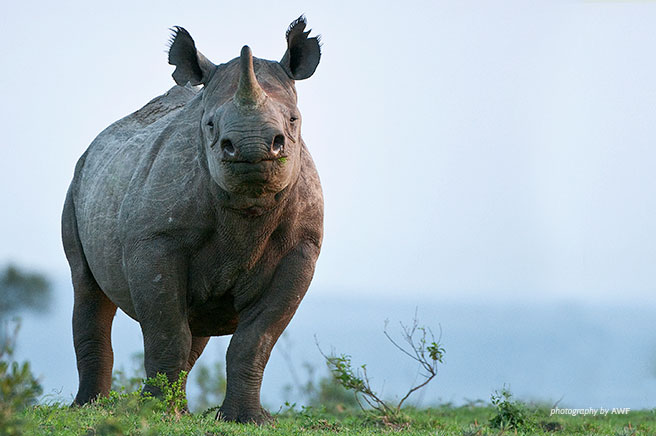 The movement to end wildlife crime gained some powerful new supporters this month, as four companies announced commitments to fight illegal wildlife trafficking and joined the U.S. Wildlife Trafficking Alliance.
The announcement came on the heels of an exciting World Wildlife Day on March 3, when 16 companies across a variety of sectors made similar commitments.
Formed in August of last year, the Alliance seeks to create a coalition of corporate, foundation and non-profit leaders that work closely with the U.S. government to combat wildlife trafficking both at home and abroad.
AWF was an early member of the Alliance, recognizing the importance of recruiting conservation advocates from industries like technology, communications, travel and beyond.
"Our efforts to stop the poaching and trade of wildlife must move beyond relying solely on governments to provide the solutions," said AWF's CEO, Dr. Patrick Bergin, (who serves on the White House's Advisory Council on Wildlife Trafficking) when the Alliance was first announced. "This needs to become a public issue and a mass movement in the United States until we reach that critical mass of advocacy and action, and the illegal wildlife trade is stamped out for good."
Companies that committed to join the fight against wildlife trafficking on March 3 included:
The Adventure Travel Trade Association
Association of Zoos & Aquariums
The Bronx Zoo
Discovery Communications
eBay
Etsy
Google
LiveAuctioneers.Com
JetBlue
Natural Habitat Adventures
Ralph Lauren
Richline Jewelry and Rio Grande (Berkshire Hathaway companies)
Royal Caribbean Cruises Ltd.
Signet Jewelers
Tiffany & Co.
The commitment of these industry leaders was matched by another four companies, who pledged their support for the Alliance at a public forum on April 4 at National Geographic. This included:
Ben Bridge Jeweler
Brilliant Earth
Carnival Corporation
Hidden Treasure Tours
Combined, these 20 companies cover critical sectors that wildlife traffickers take advantage of (like retailers and transport), as well as sectors that are well positioned to help consumers alter their behavior in support of wildlife conservation (like travel, fashion, and technology).
While participating in a panel at the April 4 forum, Dr. Bergin reiterated the essential role the Alliance plays in putting an end to wildlife trafficking. "The Alliance is about an all-of-society approach, which is what we truly need. We must reach a real tipping point here, and when we have government, NGOs and companies like Google, JetBlue, eBay and their clients coming together it gives me real hope that we will reach that tipping point."
Learn more about the U.S. Wildlife Trafficking Alliance, and the specific commitments its members have made to help end illegal wildlife trade.