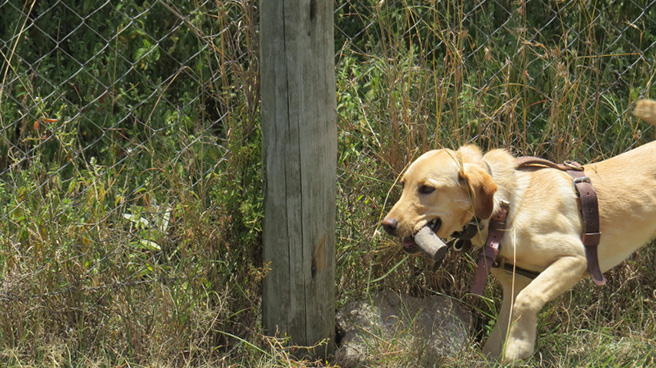 By 2017, Jomo Kenyatta International Airport is expected to have 20 million people passing through it each day. That's a lot of people. When that many people are passing through, there's a huge likelihood of more rhino horn or elephant ivory passing through the airport and out of the country. It's quite worrying.
That's where sniffer dogs come in. Sniffer dogs are canines trained and managed by the Kenya Wildlife Service (KWS) to sniff out ivory, rhino horn, and weapons. They are stationed at airports and seaports, essentially tasked with inspecting everything that comes and goes.
Normally sniffer dogs are purebred German Shepherds, English Spaniels (these are very agile dogs), and Labradors. It is preferred that the dog be light and flexible, to be able to jump between the cargo. An active dog can serve up to eight years.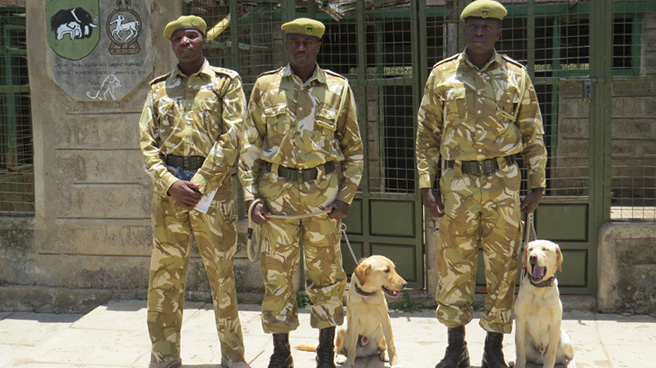 According to KWS canine master Charles Rono, dogs begin training at 5 months old. Handlers and dogs train together, and, using a system of rewards for learning, canines generally learn the basics in 3 months. Dogs and handlers are tested on a new topic each week.
Dogs are posted in airport warehouses and by the baggage claim. To check cargo in warehouses, first an x-ray is done. Then, security personnel physically search it for any trace of ivory or rhino horn. Finally, sniffer dogs inspect it. "We're not taking any chances," said Orioki Muruka, terminal duty controller for Kenya Airways, of this system.
Handlers and dogs often form a close bond. Frank Keshe, a corporal with KWS, said, "Dogs are the best friends you can have because you can't corrupt them."
AWF donated funds last year for KWS to purchase and train eight new dogs, and they are in the process of finishing up their training.
---
About the Author
Megan is a middle-schooler with a passion for wildlife (and dogs!). In addition to animals and conservation, Megan is into soccer and basketball, the University of Illinois Fighting Illini, reading, and watching cooking shows on TV. She lives in Maryland with her family and dog Fluffy.