01/25/18
Manfred Aimé Epanda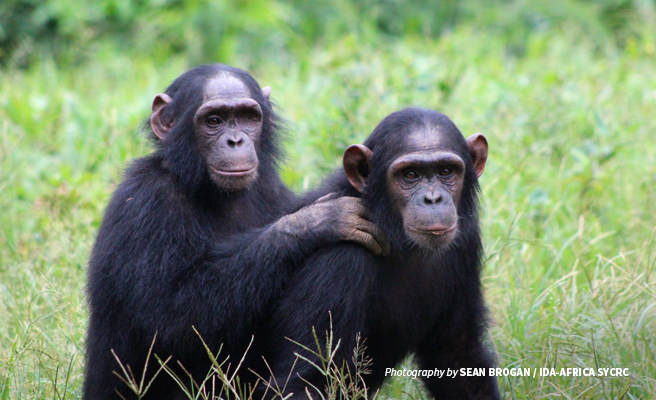 A vital home for critically endangered great apes, the Dja Faunal Reserve benefits from a community-centered conservation strategy as development stems an upswing in human activity around the protected area and buffer zones.Apart from the critically endangered western lowland gorilla and endangered chimpanzee, other flagship species in this UNESCO World Heritage Site include the forest elephant, grey parrot, giant pangolin, and leopard. The forested reserve in southern Cameroon encompasses 5,260 sq. km and is a designated Biosphere Reserve and Important Bird Area.
However, commercial logging, mining, agriculture, and infrastructure development contribute to habitat loss and fragmentation in Dja. Recent human population growth has increased deforestation and also exacerbated the impacts of poaching and the illegal bush meat trade.
With the reserve's high biodiversity value and these mounting threats, the Dja Conservation Service, which manages the protected area on behalf of Cameroon's Ministry of Forest and Fauna, needed additional resources to manage the reserve effectively.
Starting with data collection on the ground, African Wildlife Foundation trained rangers and provided equipment for ecological monitoring and anti-poaching using CyberTracker and the Spatial Monitoring and Reporting Tool (SMART). Our geographic information systems (GIS) team also supported the spatial modeling of conservation threats, mapping the prevalence of deforestation, cultivation, and burning within the protected area and buffer zones.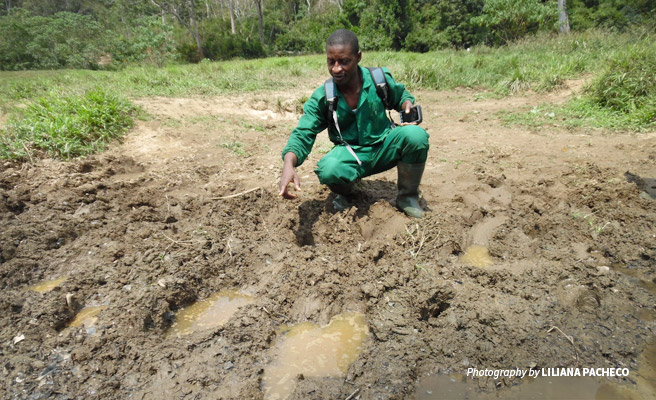 Ramping up anti-poaching patrols
Building on the success of improved ecological monitoring — and more targeted anti-poaching — AWF established fixed, permanently manned ranger bases at four priority sites within the reserve and installed camera traps in key locations.
Rotating teams of six rangers, including two volunteers from local villages, the groups spend 10 days at a time on each base, conducting patrols within a 10­–15-mile radius of each camp. Patrols are also deployed to sites identified as high-risk areas through spatial modelling and field data collection, as well as mobile patrol units to intercept poachers.
In August 2016, a mobile patrol unit caught two poachers in possession of 30 kg of pangolin scales — valued at approximately $9,000 — and 120 kg of bush meat. The wildlife authority rangers seized the contraband along with two motorbikes that the poachers used to transport it. Unfortunately, one of the poachers managed to escape into the forest, but the rangers arrested the other — a well-known yet elusive criminal at the head of a local bush meat trade network — and turned him over to law enforcement.
Of the 32 poachers caught the following year, 11 were transferred to court. Between January and December 2017, the units conducted 559 patrols and destroyed 52 active hunting camps, seizing 82 kg of pangolin scale, as well as traditional guns, ammunition, and motorbikes. They also removed 264 traps and snares.
In addition to increasing wildlife authority presence throughout the reserve, AWF has helped establish 18 vigilance committees in local villages, three of which have already begun working with the Dja Conservation Service. These committees report suspicious activity and play a major role in locating bush meat and illegal weapons that the wildlife authority then confiscates.
Meanwhile, the use of pioneering technology including acoustic sensors helps track the movement of elephants and great apes within the reserve, highlighting potential migration corridors to be flagged for protection.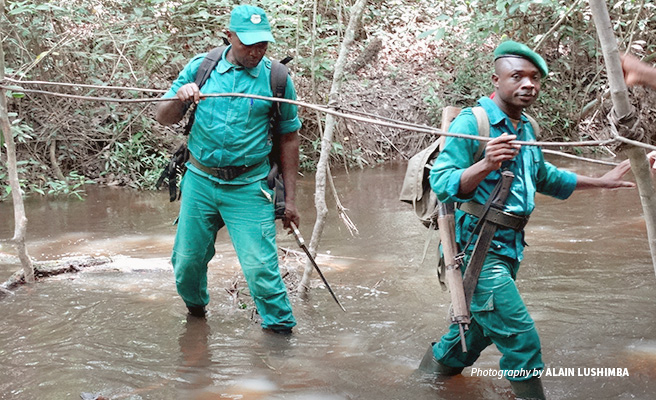 Enhancing protected area management
As monitoring and anti-poaching efforts continue throughout the reserve, AWF's commitment to protecting this landscape's unique biodiversity also extends to the community. Small-scale farmers are exploring alternative economic activities through a cocoa-based agro-forest, producing tropical forest food and cosmetics for sale instead of engaging in the bush meat trade.
AWF is also collaborating with the Ministry of Forest and Fauna to develop Campo Ma'an National Park's ecotourism potential as well as heighten surveillance and security in the Faro National Park. With consistent, long-term protection for Cameroon's most threatened wildlife areas, AWF ensures that conservation is prioritized as development projects transform the region.
>Learn more about how the African Apes Initiative is conserving the central chimpanzee and western lowland gorilla in the Dja Faunal Reserve