From wildlife artist to wildlife scout: the conservation champion of Murchison Community Conservancy
From wildlife artist to wildlife scout: the conservation champion of Murchison Community Conservancy
By Methodius Mukhwana | July 17, 2019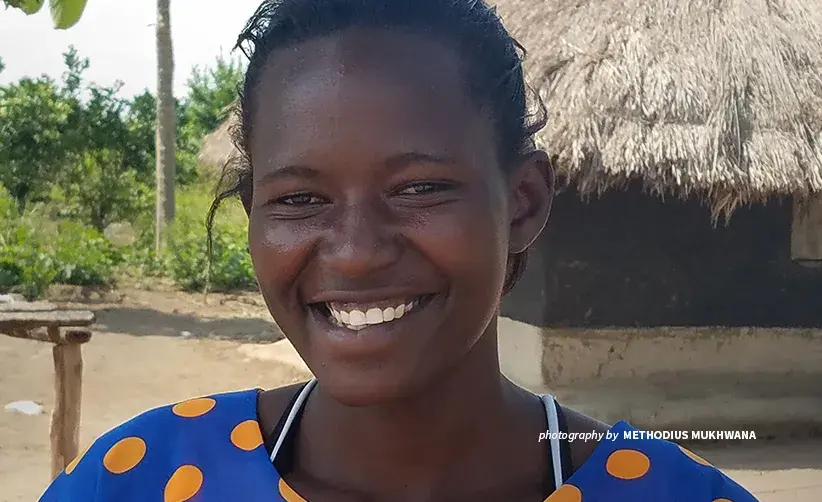 About the Author
Methodius Mukhwana is African Wildlife Foundation's Program Officer, Conservation Planning. He has taken on various roles in his six years at the organization and currently oversees field implementation of AWF's conservation projects in Uganda. He is interested in community conservation, wild ... More
Lakica Diana never dreamt that her passion for wildlife would translate into a career allowing her to protect some of Uganda's most vulnerable species. For the past nine years, she has lived in the Murchison Community Conservancy, near Uganda's famed Murchison Falls National Park — growing increasingly fond of its wildlife, and even developing a hobby of drawing her favorite animals. The elephant, despite being one of the more frequent 'visitors' to her homestead, is still her best-loved muse. Since April 2019, Diana leads the team of community wildlife scouts securing the conservancy. The 21-year-old head scout has broken the mold to seek out a life she could hardly have imagined, especially when she was a young girl doing household chores, and even after the birth of her daughter when she was 18.
In early 2019, Murchison Community Conservancy's management authority announced a recruitment drive for community wildlife scouts. Spanning over 270 sq. kilometers at the southern border of the Murchison Falls National Park, the conservancy is a critical dispersal zone and migration route for various antelope species, as well as its resident elephant and buffalo herds. African Wildlife Foundation, with support from the Critical Ecosystem Partnership Fund, helped build the capacity of the new scouts to stem illegal activities, including wildlife poaching, and trained them in human-wildlife conflict resolution. Community wildlife scouts are also responsible for collecting ecological data and conducting anti-poaching patrols within the conservancy. Importantly, they help generate and distribute environmental information to enhance community participation in biodiversity protection.
For Diana, the call to join the squad of community wildlife scouts felt personal and she heeded it, not knowing she would emerge as the top recruit. In spite of the challenges she faced, the dedication and effort that she put in during the training propelled her to attain the mantle of head scout as soon as she completed the course.
Diana is now one of the conservancy's most dedicated community wildlife scouts, spearheading the establishment of management structures and operational procedures in the community-owned conservancy as well as protecting the wildlife species she has always treasured. In leading a team of 14 other community scouts, Diana has nurtured a new family outside her home. Being a head scout was not easy for her at the beginning. Leading older scouts meant she had to win over their respect — often in very imaginative ways. However, Diana is keen to listen to others' opinions and not quick to judge, a quality that must have stood out to the Uganda Wildlife Authority trainers selecting leadership amongst the recruits.
The work is also demanding physically, and the scouts cover large areas and distances while on patrol, always ready to ward off elephants that forage in community farmlands. Diana and her team respond to many such cases close to harvest times as the crops grown in this area are palatable to elephants, which can all too often result in the loss of crops, destruction of homesteads, and even loss of life. Overseeing these operations on top of her other responsibilities while juggling between her personal domestic life was at first a challenge. But with the support of her family, especially to look after her daughter while she is away, Diana balanced the two well.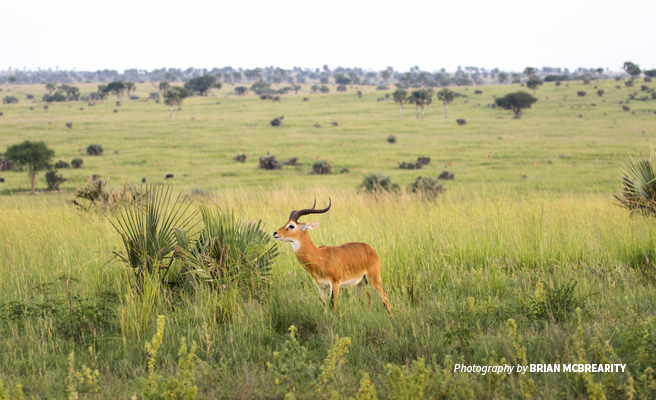 Murchison Community Conservancy hosts the Ugandan kob among other iconic wildlife species
Community investment in conservation secures biodiversity and livelihoods
Murchison Community Conservancy was established in 2016, consolidating privately owned parcels of community land to expand the wildlife habitat under protection outside Murchison Falls National Park. Apart from streamlining the sustainable use of natural resources, the conservancy's strategic location between protected areas and wildlife reserves provides long-term economic opportunities through tourism development.
That community members are embracing the newly appointed wildlife scouts is a source of pride for Diana's team — they are always alerted during wildlife incursions into farmlands. Their impact within their community is possible due to the conservancy executive who always supports the scouts when their intentions are put into question by a few farmers. In just the first month of their operation, the scouts have conducted six patrols and responded to three emergencies of elephant incursions into community farms. The scouts are equipped with the necessary equipment to help them in their tasks thanks to the Critical Ecosystem Partnership Fund's support. In addition to the field boots, raincoats, and backpacks, they now also have whistles, torches with dry cells, water bottles, Garmin GPS handsets, binoculars, cameras, and field first aid kits. They are also going to be provided with a laptop and external hard disk drive for field data analysis and reporting.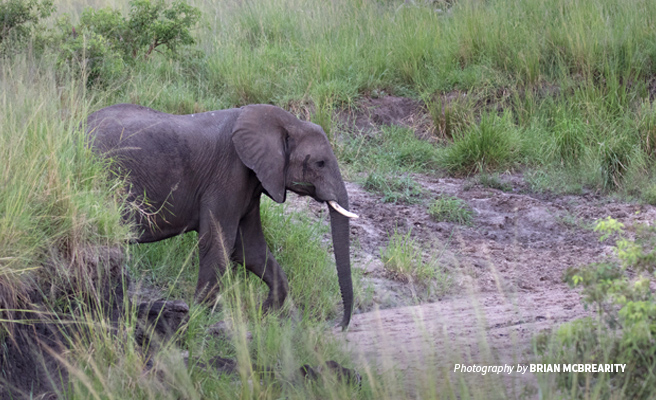 Elephant incursions into small farms are common in the Murchison Community Conservancy area
In the long run, an established community wildlife scout system will improve the sustainable management of the Murchison Community Conservancy and strengthening collaboration with the Uganda Wildlife Authority through the joint patrols. This will eventually lead to the conservation of the buffer zone for the Murchison Falls National Park Key Biodiversity Area. Therefore, their task is still enormous as they are to play a vital conservation role in the protection of wildlife, environment, and resources within the conservancy, and outside the protected area in general.
Being the pioneer scouts, Diana and her team are well aware that their performance is vital in setting a precedent for future members of the squad and the community wildlife scout program in the conservancy.
> Learn how AWF leverages community-owned conservancies to reduce inequalities and protect Africa's wildlife and wild lands