Women-led enterprises are driving sustainable forest management in DRC
Women-led enterprises are driving sustainable forest management in DRC
By Christelle Ilanga Ramirez | September 28, 2018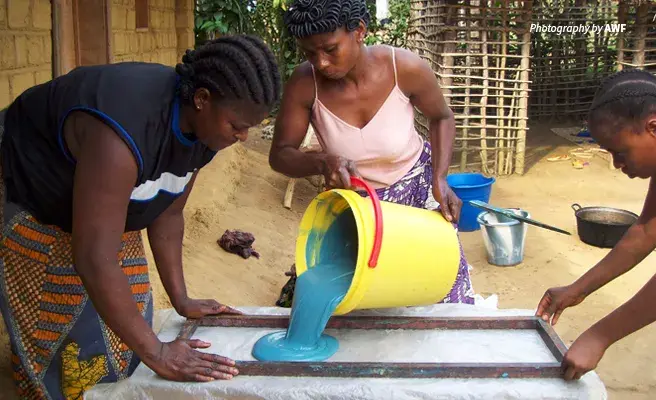 About the Author
Christelle Ilanga Ramirez was African Wildlife Foundation's Communication & Information Officer based in the Democratic Republic of Congo. She supported the implementation of internal and external communications strategies across the DRC's large biodiversity-rich landscapes whe ... More
The dense tropical rainforests of Maringa-Lopori-Wamba — a biodiversity hotspot in the Congo River Basin and critical habitat for endangered bonobos — are also a valuable income-generating resource for communities. Displaced by years of political instability, people settled in the remote landscape are some of the Democratic Republic of Congo's poorest. To scrape a living, locals clear small sections to expand their farms or cut trees to make charcoal and sell firewood. Some even resort to hunting as the illicit trade of bush meat grows.As the main economic actors in the rural household, women are overexploiting natural resources to provide for their families. On the other hand, when empowered with the right tools, women are also environmental stewards, able to instill new values that protect the landscape's wildlife and habitats.
Apart from reducing pressure on the forest and wildlife as a source of income, sustainable enterprises ensure that the women who are engaged in environmentally sound business receive financial benefits to reinvest in the development of their communities. As an integral component of the U.S. Agency for International Development's Central Africa Forest Ecosystems Conservation project, African Wildlife Foundation launched the Center for the Empowerment of Women and Environmental Education in Basankusu. Based on the success of the core incubator group, a similar center has been set up in Djolu with plans to extend into Bongandanga, transforming the female demographic into skilled artisans who support conservation.
Over a three-month period, women enrolled at the centers can learn either cutting-and-sewing or artisanal soap-making. With support from the African Women Network for Sustainable Development, hundreds of women in Basankusu and Djolu have been trained in tailoring and artisanal soap-making. Regularly, students will visit both centers to ensure that knowledge is exchanged between these key areas in the Maringa-Lopori-Wamba landscape. In Djolu, AWF will also be providing women's literacy classes.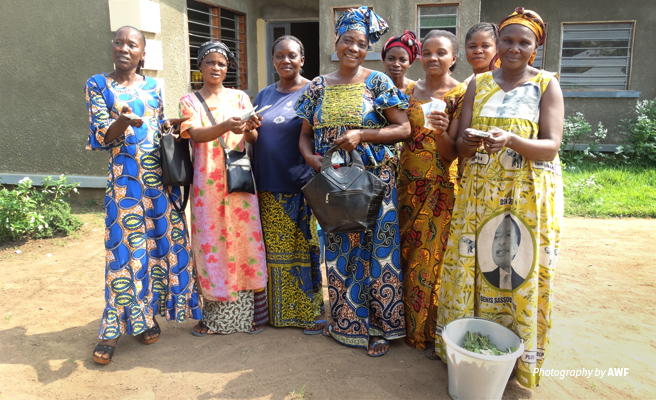 Instilling the value of conservation
Women who have undergone the cutting-and-sewing training are now able to help train their fellow students, and those skilled in soap-making are already making profits. On completing the course, each trainee receives seed funding for the first four months so that they can scale up production. At the local markets where once they sold illegal bushmeat and bundles of wood, the soap artisans are generating greater, and more reliable, revenues from their environmentally friendly start-ups.
The Center for the Empowerment of Women and Environmental Education is helping promote a tradition of biodiversity conservation in one of DRC's most remote and sensitive landscapes. For many years, AWF has worked with the Congolese Institute for Nature Conservation to improve the ecological monitoring capacity of its ecoguards. AWF has also developed forest management plans to control deforestation in the landscape. Extensive socio-economic surveys showed that introducing new farming methods and alternative sources of income incentivize community conservation, and in 2006, the Lomako Yokokala Faunal Reserve was officially listed as a protected area.
More than a decade since AWF led the creation of this reserve, the community forest is starting to see an increase in wildlife populations. AWF continues to create livelihood opportunities for locals to benefit from the sustainable use of natural resources. With plans to develop Lomako as an ecotourism destination, the mainstreaming of women empowerment is imperative across various villages. The Bonobo Mamas Association, created in 2017, works with women already engaged in conservation — the ecoguards of the Lomako Yokokala Faunal Reserve plus the wives of ecoguards. With access to funding to develop enterprises from natural resource management, these women join the trainees from the Center for the Empowerment of Women and Environmental Education as empowered custodians of the rich landscape. The newly trained tailors and soap-makers not only protect Maringa-Lopori-Wamba's wildlife and habitats, they are also advancing gender equality and equity.