Africa Climate Week: How sustainable farming transforms life in DRC
Africa Climate Week: How sustainable farming transforms life in DRC
By Rachel Emisave | September 2, 2022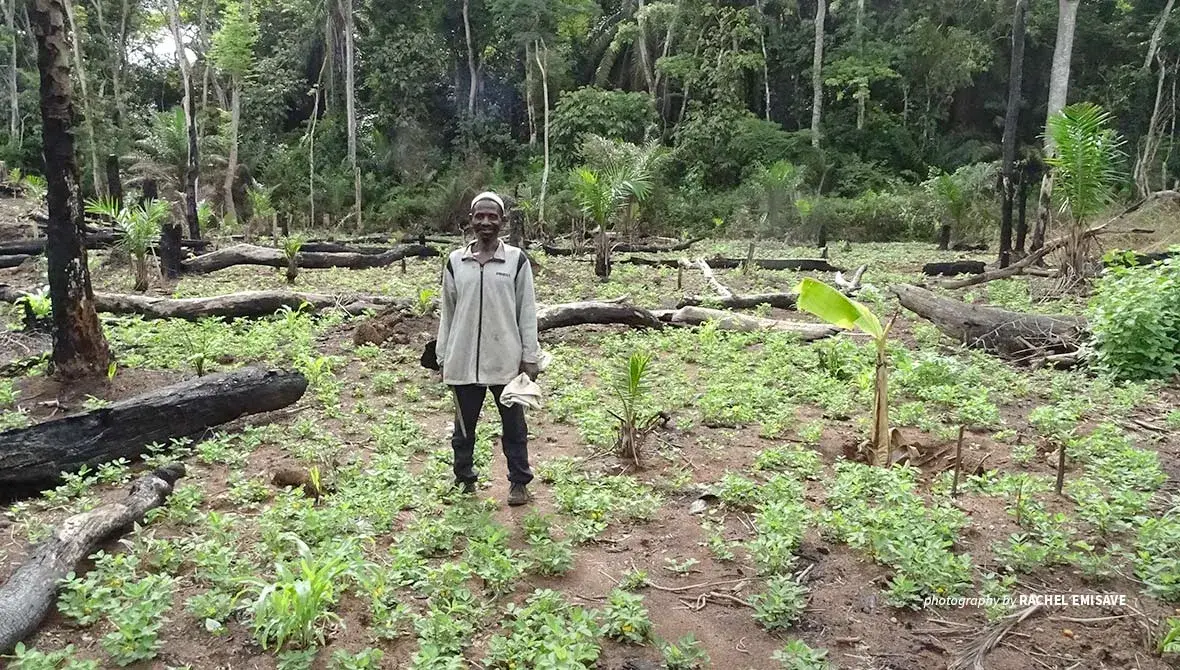 About the Author
Rachel Emisave is African Wildlife Foundation's Communications Assistant based in the Democratic Republic of Congo.
More
Raymond Sango is a brave man who spends most of his time watering the land of Bili-Uere by the sweat of his brow. Since the age of 25, his main income-generating activity is agriculture. He grows cassava, bananas rice, soybeans, and peanuts, in a field five kilometers from the city of Bili-Uere in northern Democratic Republic of Congo. These crops remain extremely important in the Bas-Uélé province as they allow the local community — which has limited resources at its disposal — to diversify their income and source of food, and improve their lives.
Crops such as rice, cassava (including its leaves), and corn are fundamental to the Zande people living here because they constitute their daily meals, while corn is used to make alcohol. Families typically grow these crops for their own consumption and sell the remaining harvest.
Sango, a father of six, has turned around his family's life at the age of 65, since attending training sessions in sustainable, climate-smart agriculture.
The U.S. Agency for International Development (USAID) is collaborating with the African Wildlife Foundation (AWF) through the Community Based Counter Wildlife Trafficking (CBCWT) project to provide technical support to farmers living in and around the Bili-Uere Hunting Domain to migrate from subsistence farming to sustainable agribusiness.
"Before I received this training, I could not imagine that through this type of agriculture, it is possible to improve my lifestyle. Now, every season, I harvest either double or triple what I harvested previously," said an excited Sango, born in Makeki village in Bondo territory. By selling the surplus, he is elevating his family's quality of life but not at the cost of the biodiversity of the DRC's Bili-Uere landscape.
The CBCWT project provides opportunities for personal development to hardworking people like Sango by equipping them with adequate technical knowledge to improve their work as farmers while promoting nature conservation through the respect of proper land-use techniques. AWF's efforts in agricultural recovery are taking the local community of Bili out of their comfort zone and into new areas of knowledge related to environmental conservation in order to sedentarize farmers, get higher yields by using less cultivation space and thereby preserve the large tropical rainforest and reduce human-wildlife conflicts.
Conservation-friendly agriculture mitigates climate change impacts
Sango acknowledges that seed degeneration and poor farming techniques— for instance, failure to respect crop spacing and intermixing of crops in the same area — cause severe declines in agricultural production in Bili-Uere. He testifies that his fellow trainees, friends who used to hunt, are now busier tending their fields than getting cartridges for hunting.
"The program introduced us to crop rotation techniques, which consist of dividing the field into plots and attributing a specific space to each crop. We also learnt row cropping, which allows us to measure the distance between crops with a wooden rod," he explained.
Through the CBCWT, AWF is also incorporating one of the expert-recommended soil testing techniques highlighted at the ongoing Africa Climate Week in Libreville, Gabon from August 29-September 2. Testing soil helps address soil health issues such as soil depletion, associated climate risks, deforestation, and slash-and-burn agriculture. The introduction of sustainable agriculture techniques to farmers' associations helps households improve their yields while adapting to climate change.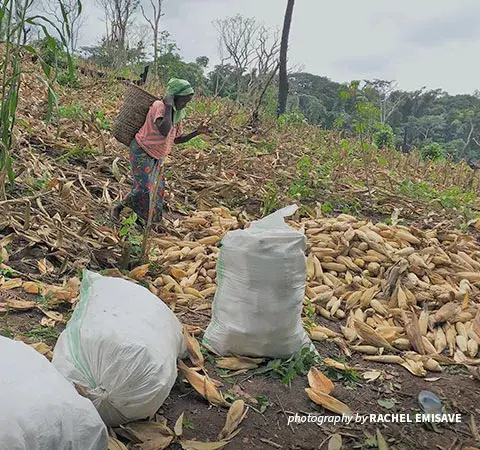 In addition to improving harvests, the program has 11 identified markets through a Market Information System (MIS) to facilitate the free flow of market information. By sharing market updates through local radio stations, households can choose when and where to sell their agricultural products.
Apart from non-navigable rivers, roads are a bottleneck for transporting harvest from Bili-Uere to other localities. The CBCWT program formed groups of farmers who willingly take on the maintenance of roads and fixing bridges. These groups have received a training and have been linked to the Ministry of Rural Development in Buta, Bas-Uélé province, to study the feasibility of their official structuring.
Sustainable agriculture builds the foundation for rural growth
Sango is a brave farmer who had a difficult childhood, giving him an admirable bravery and a burning desire to ensure that his children are spared from the same experience. Having become one of the main small-scale agri-multipliers of Bili-Uere, he has become a champion within his community who testifies that efforts made by Sango and his wife Awa are motivating others to follow suit.
"Everyone gets good quality seeds from him. I saw how he harvested more than 40 bags of peanuts in the last season when before he had only 15 bags for the same space," shared Jeanne ALIMA, Raymond's field neighbor.
"My biggest plan for the future is to establish a 10-hectare cocoa plantation to ensure the education and survival of my children and grandchildren, even after death," Sango commented while proudly smiling as he reflects on how far he has come and how far he sets out to go and achieve more.
From 1997 till February 2020, Sango was farming a 1.5-hectare field. He has expanded to 2 hectares in March 2022 to become more competitive in the market. Crop rotation and row cropping techniques are the secret to his success. "I can argue today that the more seeds are aired in a field, the better they grow," he said confidently.
Although Sango did not attend school, he is capitalizing on his rural income this year to send his two sons to university in the province. He has increased his investment capital for his mini-bar, which is now his second income generating activity.
As African leaders discuss the key priorities heading to the U.N. Climate Change Conference of Parties later this year, it is important to factor in the contributions of small-scale farmers like Sango. Rural communities who feel the impacts of climate change should lead grassroots-level climate action as threats against natural ecosystems escalate globally.
> Learn more about our conservation work in the Bili landscape