African Conservation Voices films show how wildlife conservation supports livelihoods
African Conservation Voices films show how wildlife conservation supports livelihoods
By Harleen Sehmi | April 6, 2023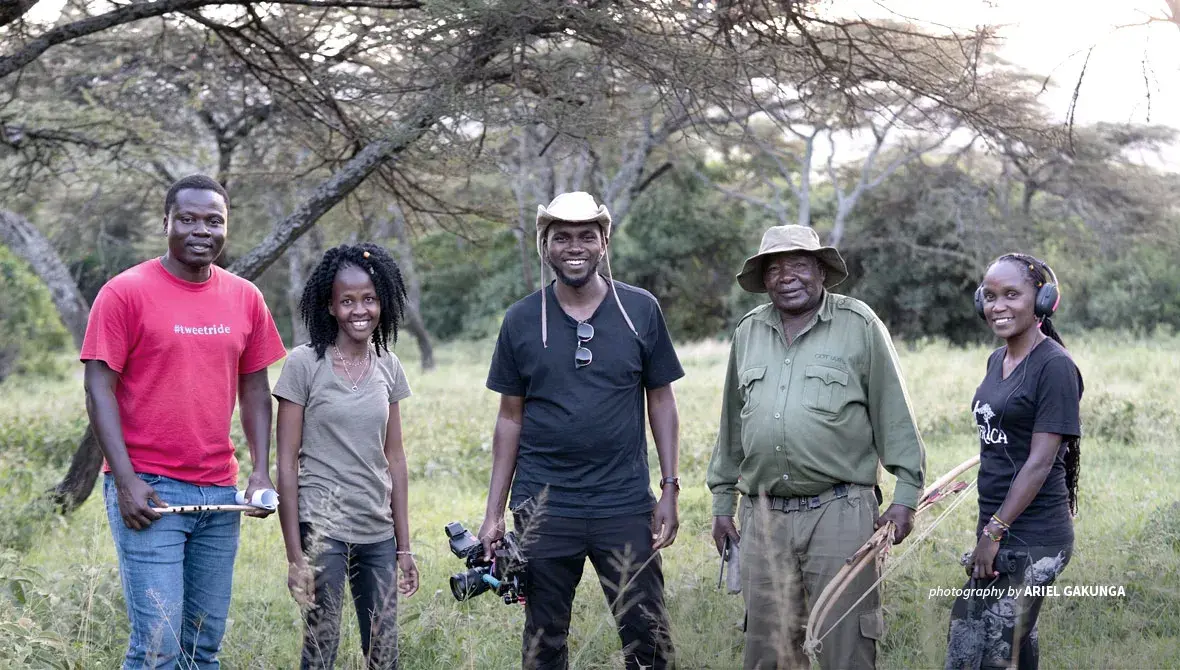 About the Author
Harleen Sehmi is the Senior Digital Content Officer at African Wildlife Foundation. She develops articles for AWF's website and publications, connecting audiences with the organization's work in diverse landscapes and showcasing the impact of community-centered conservation.
...
More
What do a porter in Rwanda's Volcanoes National Park and a safari guide in the Maasai Mara in Kenya have in common? Apart from enjoying decades-long careers in the wildlife tourism industry, they are both the stars of two short films produced by the African Conservation Voices (ACV) Media Labs: "Judith: Porter, Protector, Pioneer" and "The Last Hunt."
As the title of her film suggests, Judith Kakuze is a porter who guides tourists on mountain gorilla treks in the Volcanoes National Park — the first woman to ever take up this job. In "The Last Hunt," Moses Kinyaika tells his remarkable journey of transformation from a poacher to a safari guide; how he found purpose and community in the Maasai Mara, miles away from home.
African Wildlife Foundation's ACV program provided training and mentorship to Rwandan and Kenyan storytellers to produce films that shine a light on lesser-known conservation leaders like Judith and Moses, whose trailblazing actions have inspired others to change their mindset about protecting biodiversity. Their work in the wildlife tourism industry also presents a model for sustainable and conservation-friendly jobs as an alternative to activities that degrade ecosystems and contribute to declining wildlife species.
Spotlighting a woman's trailblazing journey into conservation
In their short film, ACV fellows Tracy Keza, Modeste Ndayishimiye, and Cedric Ujeneza centered Judith's perspective. In Kinyarwanda, she explains, "Women's roles consisted of cooking and doing other household chores. But I was able to break that cycle; I was able to join a male-dominated vocation as the only woman."
The porter recalls the negative reactions of those around her when she donned the uniform: "When they first saw me in trousers, it was a big surprise." While her family was worried, her neighbors were disdainful. "They would tease me that I looked like a man," she says.
Witnessing a distressed baby mountain gorilla in a snare trap compelled her to actively protect the endangered great ape. In addition to breaking boundaries as the first woman porter, she is a conservation leader rallying community members to stop poaching and entering the park illegally. In the short film, Judith introduces a reformed poacher during a community meeting. He shares how adopting sustainable and conservation-friendly livelihoods has transformed his life: "I used to sell meat from poacher animals for little money. But now, after receiving the livestock from the cooperative, my children went to school."
Even when off duty, Judith encourages her community to protect Rwanda's mountain gorillas and their natural habitat in the Volcanoes National Park. Her impact in changing mindsets and behaviors motivated ACV fellow Keza to tell her story. Keza particularly enjoyed working with other fellows and mentors to learn what drives the character and how Judith brings about change. She added, "It's extremely important for Africans to tell their own stories because they're able to understand the nuance." Ultimately, this understanding results in stories "told in a way that's dignifying."
Understanding the value of wildlife
"The Last Hunt" equally affords dignity to its central character Moses Kinyaika, a walking safari guide who turned his life around after spending four years in jail for wildlife poaching. The film opens with a re-enactment of a hunt as Moses shares how his upbringing in a family of hunters left him with few options to make a living.
"The Last Hunt" depicts how wildlife authorities cornered Moses during the ill-fated rhino hunting expedition in the Tsavo East National Park. Speaking in Kiswahili, he vividly narrates his capture and the ordeal of being separated from his loved ones in prison. "I couldn't be with my family because I went poaching, not for any other reason," he ponders.
Moses vowed never to poach again. His change of heart led him to Cottar's 1920s Camp in the Maasai Mara, where he uses his knowledge of wildlife to become a walking safari guide. "Now I completely understand the significance of wildlife," he says, grateful that he can support his family even in his old age.
At the same time, he has discovered another family at the lodge, united by their shared appreciation for protecting wildlife in the Maasai Mara. "Even though I am from a different community, we are one," says Moses. He closes the film with a heartfelt statement on how he now appreciates the value of wildlife and a powerful message: "I am a wildlife protector."
For ACV fellow Jonathan Odongo, who developed the film with Grace Linti, Martha Mutiso, and Peter Ndung'u, his goal in telling Moses' riveting journey from poacher to conservationist was to educate and entertain. "To see someone protecting the same animals he used to kill and then inspiring a future generation to [do the same] is a powerful story that shows how important our wildlife is," said the filmmaker.
Moreover, Moses' story of transformation can resonate with other generations. "In Kenya, wildlife is an important part of our culture, our heritage, and also our economy," said Odongo, "This is why we need to tell these stories."
> Learn more about AWF's African Conservation Voices phone-based storytelling lab