AWF Joins Nature's Best Photography to Inspire Healing at Children's National Hospital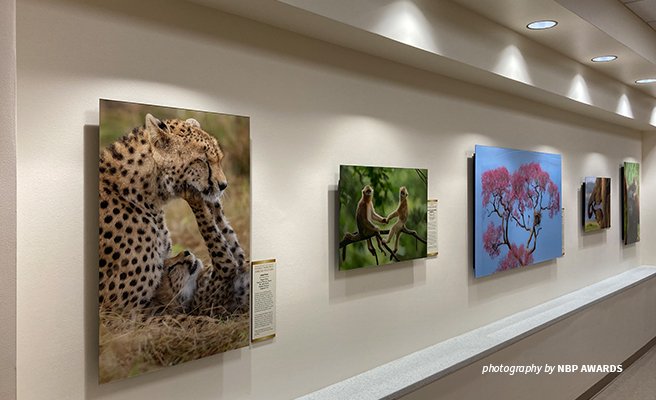 WASHINGTON, D.C. — Displayed on the ground floor gallery of Children's National Hospital (CNH), a new exhibition of 41 photographic fine art prints immerses patients, their families, visitors, and staff in nature's calming beauty. These award-winning images represent the work of photographers of all ages, backgrounds, and levels of camera experience from the Nature's Best Photography Windland Smith Rice International Awards.
This prestigious photography competition has engaged public audiences for more than 25 years through publications, large-format print exhibitions, online galleries, and hosted events at the Smithsonian's National Museum of Natural History and other major public forums around the globe — and now showcased at Children's National Hospital to inspire wellness and healing. Named in memory of nature photographer and conservationist Windland Smith Rice, the Awards program annually celebrates the beauty and diversity of Earth's wildlife and wild places, combining the art of photography with natural history education.
"Our vision for this new exhibition at Children's National is to deliver uplifting visual storytelling to those who may benefit from it the most. These scenes and their stories will instantly transport viewers from the stress of the hospital environment and into the wonders of nature, inviting imagination and curiosity to become a highlight of their day." — Steve Freligh, Nature's Best Photography Awards Co-founder and Director.
"The Nature's Best Photography display is such a beautiful way to help our patients and families reconnect with nature during this time of COVID-19," remarks Martha Parra, CNH Vice President of Clinical Support Services. "These images convey such an important sense of balance, peace, and joy."
African Wildlife Foundation (AWF) has long been a supporter of the Nature's Best Photography Awards program through sponsorship of the competition's African Wildlife category and the participation of Senior Vice President, Craig Sholley, as a Judge. Understanding the important messaging these photographs represent, many have been included in AWF calendars, publications, and conservation education efforts.
"African Wildlife Foundation is proud to help support this powerful exhibition at Children's National. Through our valued partnership with Nature's Best, we hope these extraordinary images will have a lasting impression on children and their families. This is a critical time for conservation in Africa, with a sharp decline in wildlife tourism and a growing prevalence of human-wildlife conflict due to COVID-19. Part of AWF's strategy is to increase the opportunities and role of youth. A prosperous Africa depends on young people challenging existing systems to help improve the environment." — Carter Ong Smith, AWF Safari Manager.
About Nature's Best Photography
The mission of Nature's Best Photography is to discover and display the creative talents of nature photographers, filmmakers, and outdoor enthusiasts of all ages, cultures, and levels of experience and to use this visually dynamic and information-rich medium as a global resource for public education, artistic expression, wellness inspiration, and conservation motivation. NBP supports this mission through high-quality publications, photography awards programs, online presentations, large-format print exhibitions, and alliances with conservation organizations worldwide. Learn more at https://www.naturesbestphotography.com
Nature's Best Photography MEDIA CONTACT: For interview opportunities, email Stephen Freligh, Nature's Best Photography Awards Director, sfreligh@naturesbestphotography.com or phone 703-307-7010. Press images are available in high resolution with full captions, natural history information, and quotes from the photographers by emailing: deb@naturesbestphotography.com
About African Wildlife Foundation
The African Wildlife Foundation is the primary advocate for the protection of wildlife and wild lands as an essential part of a modern and prosperous Africa. Founded in 1961 to focus on Africa's conservation needs, we articulate a uniquely African vision, bridge science and public policy, and demonstrate the benefits of conservation to ensure the survival of the continent's wildlife and wild lands.
AWF MEDIA CONTACTS: For interviews with representatives of African Wildlife Foundation regarding the exhibition, members of the media should contact Patrick Mitchell of AWF in Washington, D.C., at PMitchell@awf.org or 202-991-7508, or Nashipae Orumoy of AWF in Nairobi, Kenya, at NOrumoy@awf.org, +254 701 864021.