AWF trains Kenya Wildlife Service experts on electronic case and evidence management
AWF trains Kenya Wildlife Service experts on electronic case and evidence management
By Noella Mumba | May 19, 2023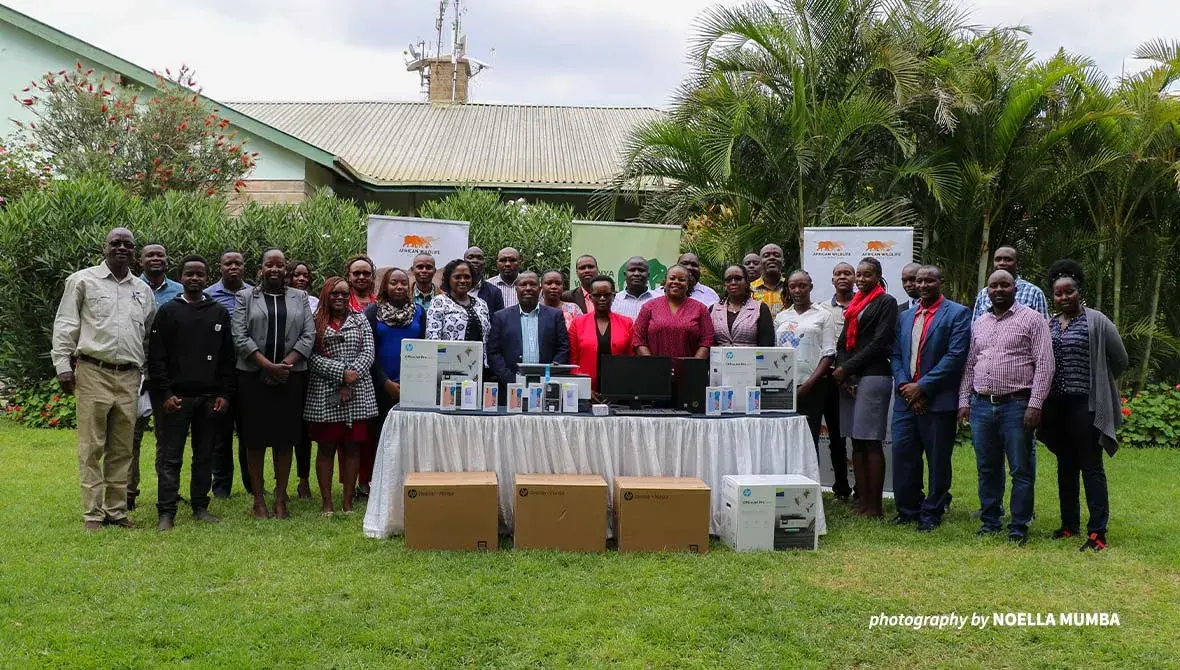 About the Author
Noella Mumba is African Wildlife Foundation's Communications Assistant in Kenya. She oversees communications of projects and programs in the Tsavo landscape and Kenya at large.
More
The African Wildlife Foundation (AWF) held a two-day training in Maanzoni Lodge, Machakos County, engaging Kenya Wildlife Service (KWS) investigation and prosecution officers drawn from different conservation areas of the country. The training, dubbed 'Electronic Case and Evidence Management Solutions,' was conducted by Bityarn Consult, a tech firm that specializes in developing innovative digital applications. On 18th May 2023, AWF handed over equipment set to the functionality of the solution. These included six desktop computers, 16 ruggedized mobile phones, 16 power banks, and six printers.

With wildlife cases on the rise year by year, procuring a system that would assist the Service in managing these cases is a growing need for officials to improve court outcomes and deter criminals. The equipment and training will solve the several challenges KWS has identified, which include loss of evidence, loss of case files, and the duplication of case exhibits presented in court.
"AWF and the Bityarn Consult through this project, seek to address the gaps in case and evidence management in a practical way using technology for enhanced standards of handling evidence. The purpose of the software is to enable KWS to digitally record and manage evidence and court case information to improve efficiency and productivity," reiterated Ms. Nancy Kabete, the Wildlife Security Director at KWS, as she officially opened the training.

The interactive and hands-on training entailed equipping the 25 trainees with the knowledge and skills necessary to effectively utilize the software system. This training covered various aspects, including understanding the solution's features and functionalities. Additionally, the KWS investigation and prosecution officers were taken through navigating the user interface and gaining proficiency in using key modules such as evidence collection application, case tracking, document management, evidence management, and reporting.

"Recently AWF in collaboration with IFAW facilitated 'Operation Doria Sambamba,' which resulted in arrests and recovery of a lot of bush meat among others. As such, the introduction of the new electronic case and evidence management is a landmark achievement within the service and even beyond. The electronic case and evidence management system will be a big boost in strengthening the chain of custody in that evidence movement," said Didi Wamukoya, AWF's Counter Wildlife Trafficking Program Director, during her keynote address.

The system, whose accessibility will be restricted to KWS, shall be integrated with various functionalities of the Service that will, in turn, allow investigators and prosecutors to manage case files, track case progress, and share information with stakeholders more efficiently and in real-time. Furthermore, the system will help expedite the trial of wildlife cases while cutting down the turnaround time needed in retrieving and tracing exhibits, which will ultimately lead to the fair administration of justice for both the suspect and wildlife.

"As we close this training, I am confident that it was efficient. The investigation and prosecution officers are now equipped with skills and knowledge in utilizing the electronic case and evidence management solution to collect evidence data, improve organization, facilitate collaboration, and optimize the management of legal cases and investigation," noted Ms. Celina Mwangangi, the Acting Deputy Director of Investigations at KWS.

As KWS continues to be a pioneer in the continent in fighting illegal wildlife trade, AWF is committed to supporting its efforts in conserving and protecting Kenya's wildlife and the habitats they rely on to survive. Through this partnership, they aim to build a future in Africa where people and wildlife thrive.

>>Learn about how beehive fences can solve human-wildlife conflict in Tsavo