Beehive fences: Sustainable solution to human-wildlife conflict in Tsavo
Beehive fences: Sustainable solution to human-wildlife conflict in Tsavo
By Noella Mumba | May 19, 2023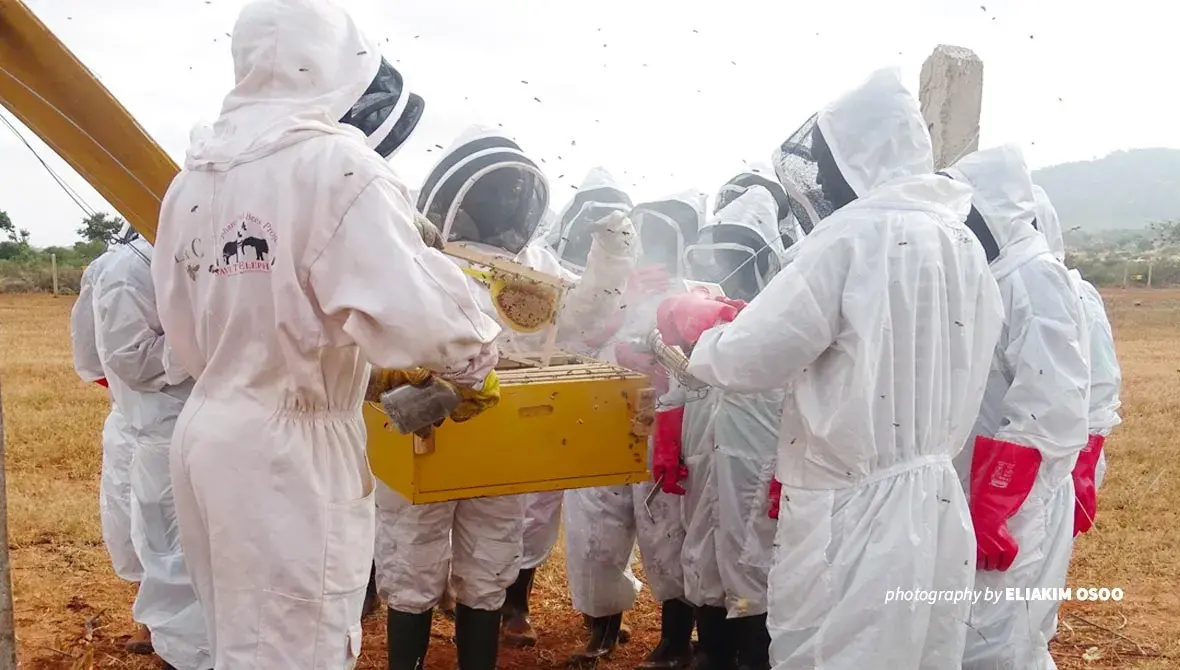 About the Author
Noella Mumba is African Wildlife Foundation's Communications Assistant in Kenya. She oversees communications of projects and programs in the Tsavo landscape and Kenya at large.
More
To raise awareness of the global importance of bees as pollinators, the threats they face, and their contribution to sustainable development, the United Nations designated May 20 as World Bee Day. In Kenya's Tsavo landscape, the African Wildlife Foundation (AWF) celebrates the critical role of these black and yellow, fuzzy, honey-making insects in naturally mitigating human-wildlife conflict.
The protected and conserved areas in Tsavo are home to a rich variety of wildlife, including elephants, lions, and giraffes. This vast ecosystem provides essential goods and services that support development. However, co-existence between people and wildlife in this landscape has not always been harmonious, especially as human settlements and wildlife populations grow. As human-wildlife conflict cases rise, AWF has been at the forefront of developing innovative and sustainable solutions to reduce the impact on both people and wildlife.
Collaborating with the Kenya Wildlife Service (KWS) and Maungu local administration in Taita-Taveta county, AWF worked with the Marungu community to consolidate community views on the status of human-wildlife conflict, the current mitigation measures, and their effectiveness.
The Tsavo landscape is endowed with a large proportion of Kenya's elephant population. The shrinking of natural habitats coupled with the harsh effects of climate change have led elephants to venture into farms in Maungu, destroying crops and livelihoods. Elephants are known to be afraid of bees, so beehive fencing was agreed upon as a suitable solution for elephant incursions on farmland.
It has proven to be a game-changer in Kajire, Marungu area, bordering Chalongo Conservancy and the community-owned Sagalla Ranch. Farms in Kajire are the most affected by human-elephant conflict. Beehives installed along the boundary of these farms deviate elephants away from the fields. As they retreat away from the bees to non-agricultural areas, more farmers are cushioned from crop-raiding and destruction in the long run.
"Human-wildlife conflict mitigation requires adaptive management strategies as scenarios are dynamic. Getting the local communities involved in designing and suggesting innovative approaches creates ownership and inclusivity on matters of conservation. Bee farming also fits as a livelihood project to economically empower the farmers upon building on its value chains," said Mary Wanyika, AWF's Community Development Officer based in the Tsavo landscape.
AWF mounted the fences in December 2022, and the approach has been a win-win for both the community and wildlife. As farmers are guaranteed to harvest their produce without fear of destruction, they are less likely to resort to harmful ways to control elephants.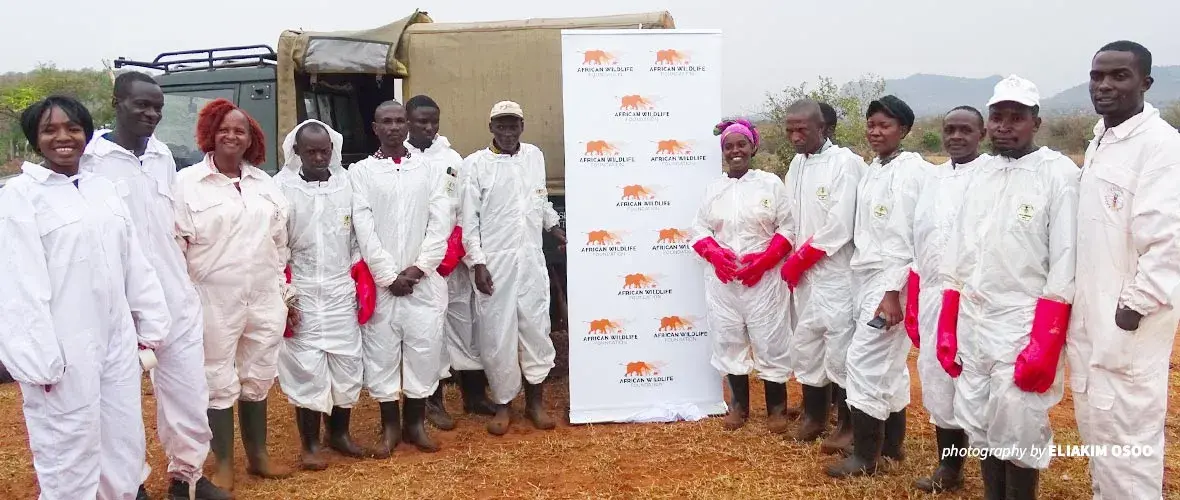 Training households on effective bee farming methods
AWF in collaboration with Save the Elephants trained 12 men and 11 women on beekeeping and beehive fence management. Two people per household were selected to help during maintenance and honey harvesting. In addition, each household received two pairs of bee suits, gumboots, a hive tool, bee brush, and a smoker. The farmers have organized themselves as a group to exchange ideas and better manage the hives with a clear executive team.
Although bee farming is not an unfamiliar concept to the farmers (some apply their indigenous knowledge to the project), they are provided with learning materials and visual aids to guide them through various components. Regular meetings with the farmers also enable AWF to keep abreast of any emerging issues. Honey harvesting, processing and packaging, queen rearing and breeding practicals will be conducted when the weather conditions are favorable.
"Apart from the technical training in bee farming, hive management, and harvesting, plans are underway to facilitate training on financial literacy in collaboration with Kenya Climate Innovation Center," said Wanyika, reiterating the economic potential of the project.
Conservation-friendly enterprise transforms lives and livelihoods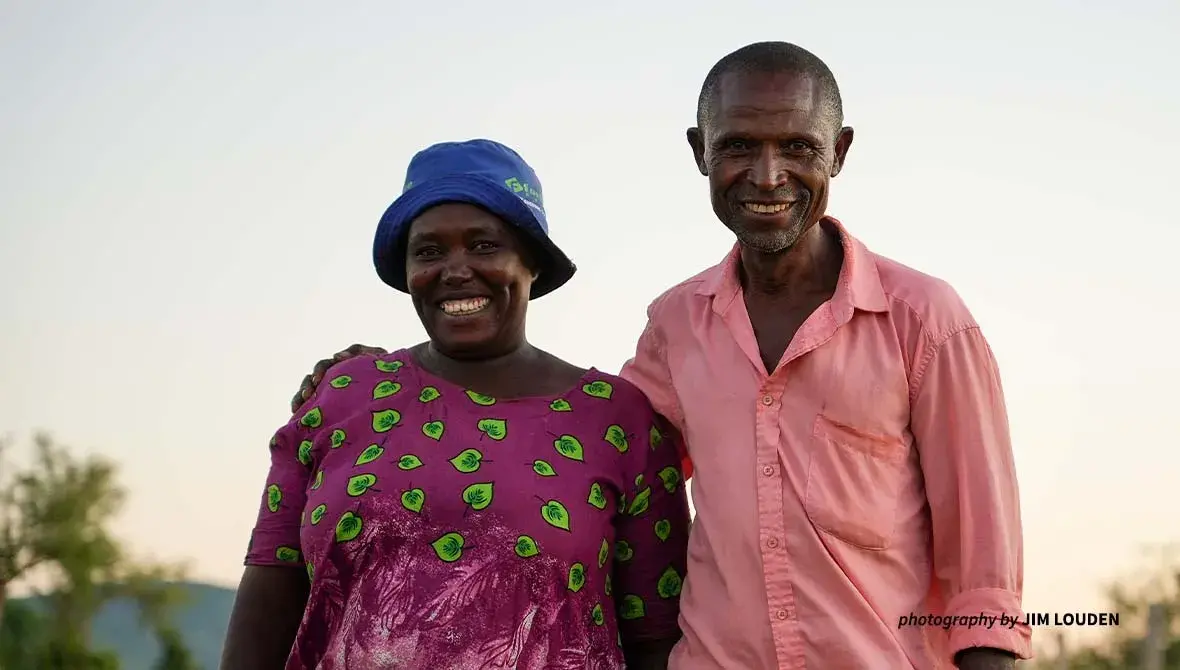 "Last December, despite the failed rains, I was able to harvest crops within the enclosure and received KES 9,000 from the harvest, excluding family stock and seed stock for future planting," Muema Masila, a resident and a farmer in Maungu said. "Late last month, there were two marauding elephants within the area, but no crops were destroyed, especially for us with the hive fences. The legumes planted have now started flowering and we shall soon receive a bumper harvest. In addition, even before the rains, the noticeable elephant footprints were only along the fence boundary but none of the attempts have been successful," he added.
Koki Ndambuki, another farmer in the area, also shares the same sentiments. Since the erection of the beehive fences, she notes that the elephants have not destroyed her crops. Although most hives are yet to be colonized by the bees, the elephants still avoid approaching the fence. Ndambuki has planted green grams and cowpeas and they are doing well, she reported, and is hopeful that the harvest will be bountiful this time around.
Following AWF's community sensitization sessions on harmonious co-existence with wildlife, Wanyika has witnessed a paradigm shift in Marungu.
"Having lived in Marungu for more than five years, I became used to the elephants causing me sleepless nights especially when I have food on the farm. However, I am learning that there are many ways to prevent and reduce destruction by elephants as we don't have a choice but to co-exist with them," underscored Masila.
Wanyika explained that developing value chains for beekeeping can serve as a livelihood program for the community. "With increased occupancy, farmers will start harvesting more honey, and we will need to invest in a processing center and create market linkages for the products," noted Wanyika.
AWF is dedicated to finding more sustainable solutions for a peaceful co-existence between people and wildlife in Tsavo and beyond. The success of this initiative demonstrates the importance of innovative and community-driven approaches to conservation.
> Learn how AWF helps communities manage natural resources to mitigate human-wildlife conflict in Zimbabwe