Managing natural resources reduces human-wildlife conflict in Zimbabwe
Managing natural resources reduces human-wildlife conflict in Zimbabwe
By Ndanatsiwa Tagwireyi | May 2, 2023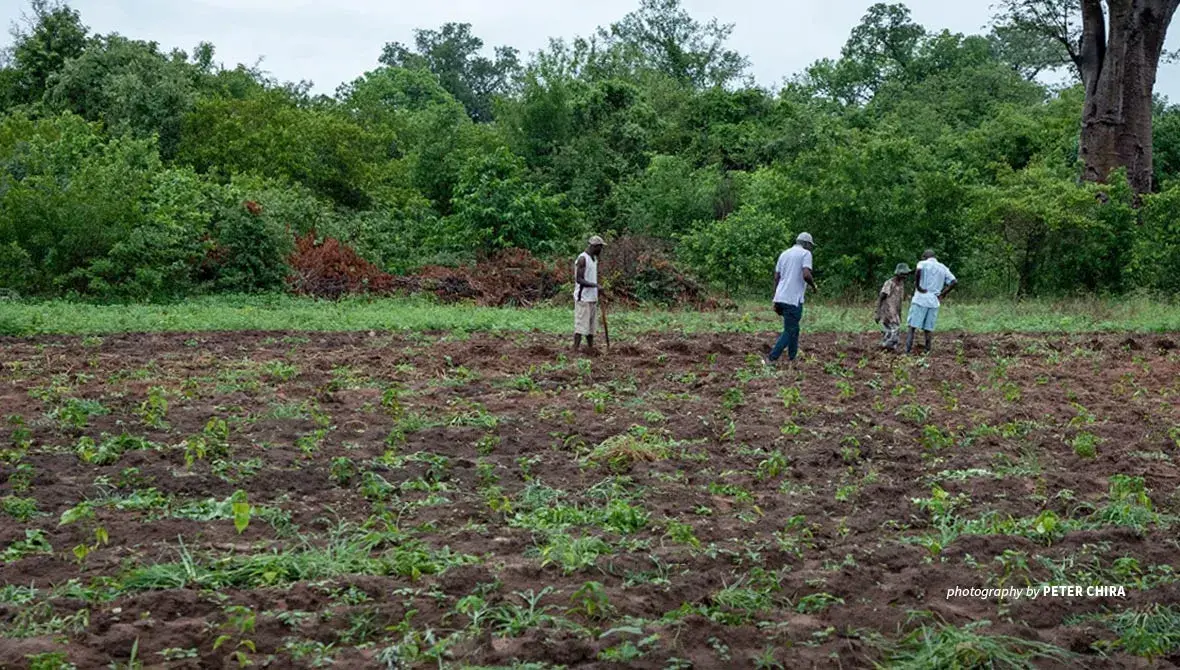 About the Author
Ndanatsiwa Tagwireyi is AWF's Communications Assistant based in Harare, Zimbabwe. She believes that communication plays an overarching role in wildlife conservation and sustainable development and has the power to transform lives.
...
More
Data from the World Bank indicates that humans have already converted approximately 38 percent of the world's land area for farming and have deforested land for industry, mining, and infrastructure development. Less than 15 percent remains for biodiversity conservation as terrestrial protected areas. At the same time, communities living in Africa's wildlife-rich areas face increasing instances of human-wildlife conflict as settlements grow adjacent to protected areas.
Yet, conserving biodiversity can provide the foundation for sustainable development, improving the quality of life while restoring and protecting essential ecosystems.
In the Mid-Zambezi Valley in northern Zimbabwe, African Wildlife Foundation (AWF), in partnership with various stakeholders in Mbire District, is championing natural resource management and human-wildlife conflict mitigation by raising awareness, training, and support. The landscape comprises numerous protected areas in the Zimbabwe-Mozambique-Zambia Transfrontier Conservation Area, including Mana Pools National Park, Sapi Safari Area, and Chewore Safari Area (altogether designated as a UNESCO World Heritage Site), Lake Kariba, and the communal areas of Mbire and Hurungwe.
Several anthropogenic factors, including wildlife poaching, habitat fragmentation, unsustainable land-use practices, and other economic activities, threaten the rich biodiversity within the landscape.
Under the Swedish International Development Agency (SIDA)-funded Utariri — an integrated and adaptive program for biodiversity loss, climate change, and sustainable livelihoods in the Zambezi Valley — AWF engages 618 Mbire District community members in eight wards in Mbire. From March 22 to April 14, 2023, AWF conducted awareness sessions to promote natural resource protection, restoration, and management.
AWF partnered with the Environmental Management Agency (EMA), Forestry Commission, Zimbabwe Parks and Wildlife Management Authority (Zimparks), Mbire Rural District Council (MRDC), AGRITEX, and the District Development Fund (DDF) to run the sessions. Women, youth, ward development committee members, traditional leaders, community scouts, environmental sub-committee members, and local government leaders attended the training.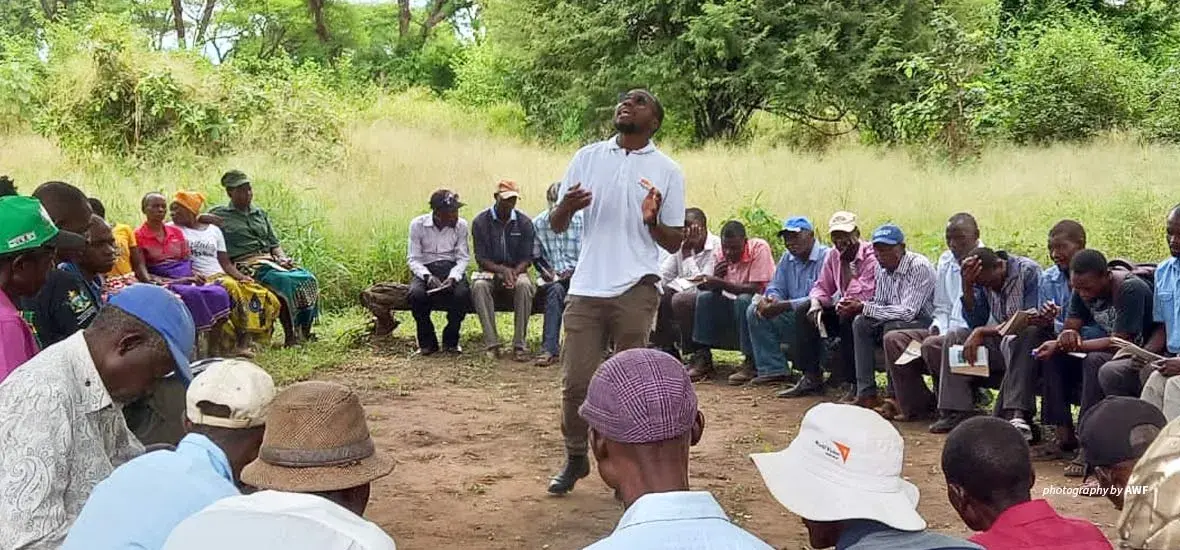 "This has been very helpful to the community as it has provided us with a platform to present our grievances to the relevant government departments. We do not often see these district officials visiting us in the community. However, through your program, they have managed to reach and talk to us about the issues that affect us daily," Vigrant Dzomba from Mbire Ward 11 said after a ward-level awareness session.
"Human-wildlife conflict has been a big [challenge for] us, with elephants raiding crops every week. We are glad that a Zimparks official has spoken to us on how we can deter elephants and how we reach the offices if they become problem animals," Dzomba said, adding, "I am personally a victim of human-wildlife conflict, having been trampled by an elephant and my wife lost an arm to a crocodile. We are really looking forward to programs that support us as victims and continue to educate the community on human-wildlife conflict."
Under the SIDA-funded Utariri Program running from 2022-2025, AWF will contribute to increased community stewardship and sustainable utilization of natural resources. "AWF interventions are going to provide opportunities for decentralization and empower local communities through restoring rights and responsibilities over natural resources. This will be achieved by enabling communities to retain income from sustainable resource use and choose how to use this income in their entrepreneurial ventures," said Daniel Makaza, AWF Natural Resources Management Office.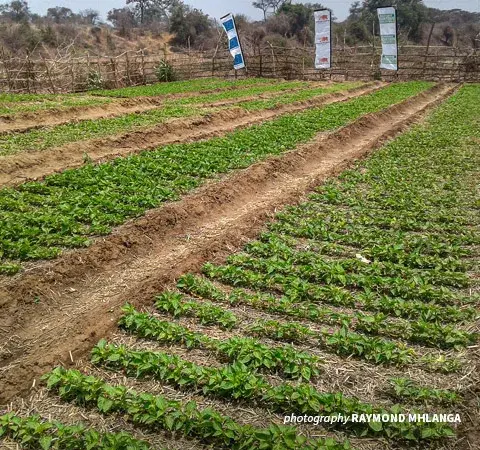 He added that training communities on human-wildlife mitigation strategies, including the use of chili pepper technology, upskilling community wildlife scouts, environmental subcommittee members, and community wildlife conservancy members on problem animal control, and educating communities about wildlife behavior will reduce the number of deaths and injuries, loss of property, and the destruction of crop fields by wild animals. At the same time, awareness sessions on woodland management, deforestation, environmental policies, wetland management, and landscape restoration will address deforestation and land degradation in Mbire as communities will be enlightened on issues contributing to biodiversity loss and how to curb the problem.
Addressing cross-border illegal wildlife trade
Before the Utariri project, AWF Zimbabwe made significant strides in educating communities in Mbire District on human-wildlife conflict mitigation strategies and natural resource management. From 2018 – 2021, AWF improved training on anti-poaching and compatible land use in community lands of the Lower Zambezi-Mana Pools Transboundary Conservation Area with funding from the European Union (EU).
AWF trained all fishing cooperatives in Kanyemba and supported reviewing and updating the Natural Resources Management Plan of 2011-2021 into a Land Use Plan for Mbire District. In establishing functional community structures for fisheries governance, unsustainable practices like overfishing are minimized, thereby mitigating the decline of fisheries and the jeopardization of livelihoods which potentially turns fishers into wildlife crime perpetrators in their pursuit to supplement their incomes. Fishers are also valuable partners in the fight against illegal wildlife trade, as they are present on the river when traffickers are active and are usually aware of the movement of illegal wildlife products.
The EU-funded program also helped reduce deforestation by training farmers on beekeeping and entrepreneurship and introducing chili pepper farming to repel elephants. "These days, I do not have to guard the fields because of chili. No animal invades a chili field, and at the same time, I get income out of it. If it was the case for other crops, the situation would be different," Albert Zengeretsi, an AWF-trained farmer, said.
"I got inspiration from the way other farmers who were engaged by AWF harvested chili in 2020 and made some developments," said Maxwell Makechemu, who later utilized chili pepper technology. "Not much labor is needed, and animals don't tamper with the plants. I am planting more chili this year."
A Ngwena Fishing Cooperative representative, Frank Mwanza, thanked AWF for assisting fishermen in securing access to a 15-kilometer stretch along the Zambezi River to conduct fishing activities. "We got boats, and fishermen continue to use infrastructure constructed by AWF funding and technical assistance," Mwanza said. The previous initiative in 1999 — funded by the U.S. Agency for International Development under AWF's Zambezi Heartland Program — equipped the fishermen with knowledge and skills in building boats and sensitized them on the importance of proper management of transboundary resources like fish.
"AWF's efforts on natural resources management and human-wildlife conflict mitigation align with the country's 10-year conservation strategy, which speaks to conserving, protecting, and restoring Zimbabwe's ecosystems and the services they provide to improve resilience and sustainable development," Olivia Mufute, AWF Country Director, Zimbabwe, said.
> Learn how AWF's people-centered approach supports wildlife conservation and sustainable development where we work