Friday, March 20, 2015

Addis Ababa, Ethiopia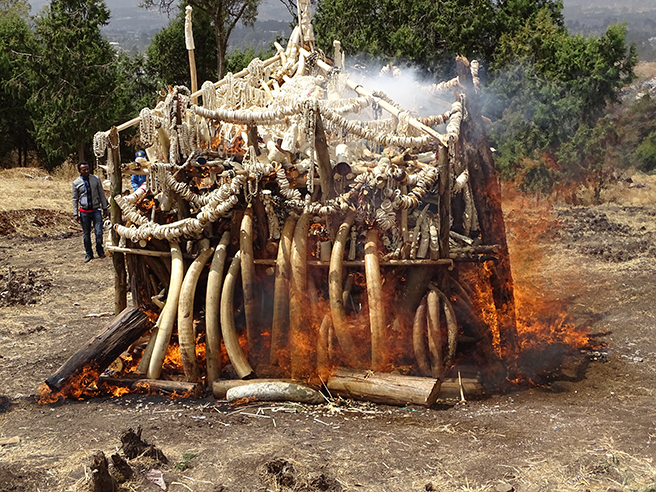 An estimated 6.1 tons of confiscated ivory goes up in flames in Ethiopia. Photo credit: Zeleke Tigabe Abuhay/African Wildlife Foundation
On Friday, Ethiopia destroyed its entire stockpile of ivory—an estimated 6.1 tons of raw tusks, carvings, trinkets and jewelry—at the Gulele Botanical Garden in Addis Ababa.
With a major international airport and an elephant population estimated at around 1,800 individuals, Ethiopia remains a key trafficking and source hub for the illegal ivory trade, says the African Wildlife Foundation (AWF).
"Ethiopia has an important role to play in protecting its remaining elephants and disrupting the flow of ivory from Africa to other parts of the word," says African Wildlife Foundation's Simien Mountains landscape manager, Zeleke Tigabe Abuhay, who attended the burn. "With this ivory destruction and the development of an ivory action plan last year, the Ethiopian government is demonstrating that it is becoming a major player in combating the illegal wildlife trade."
In December 2014, the Ethiopian Wildlife Conservation Authority (EWCA) outlined its goals for stamping out elephant poaching and ivory trafficking in the country through a newly published National Ivory Action Plan. According to the report, Ethiopia has lost 90 percent of its elephants since the 1980s. Since 2010, 734 people have been arrested, the majority of them Chinese nationals passing through Bole International Airport in Addis Ababa.
AWF is currently training detection dogs in Tanzania to be eventually deployed to Bole International Airport to enhance detection and interception of ivory and other smuggled wildlife products.
Since 2012, AWF has also been working with EWCA to strengthen management and wildlife protection in and around some of the country's premier protected areas, including Simien Mountains National Park in Ethiopia's northern Amhara Region and Bale Mountains National Park in the southeast.
"Ethiopia's wildlife areas are spectacular but their wildlife tourism infrastructure and capacity for managing protected areas are underdeveloped, which means the country isn't realizing all the economic and ecological benefits these places have to offer," says AWF's Vice President of Conservation Strategy Kathleen Fitzgerald. "We are working with EWCA to bring Ethiopia's natural wonders out of the shadows."
Together with EWCA and other partners, AWF's conservation activities have included:
Financing the construction of two conservation lodges—one in Simien and one in Bale—through AWF's impact investing subsidiary, African Wildlife Capital;

Development of a tourism plan with EWCA for Simien and training of trekker guides and community scouts;

Beginning construction on a cluster of conservation schools around Simien; and

Launching a series of workshops with partners IFAW and the FREELAND Foundation to strengthen Ethiopia's law enforcement response and coordination around the illegal wildlife trade.
---
EWCA has identified enforcement of wildlife laws and detection of trafficked ivory as areas in need of support. Upcoming activities by AWF include an analysis of national laws around wildlife crime followed up by magisterial training and delivery of sentencing guidelines.