IWD 2023: Women make fuel-efficient cookstoves to reduce firewood use
By Rachel Emisave | March 3, 2023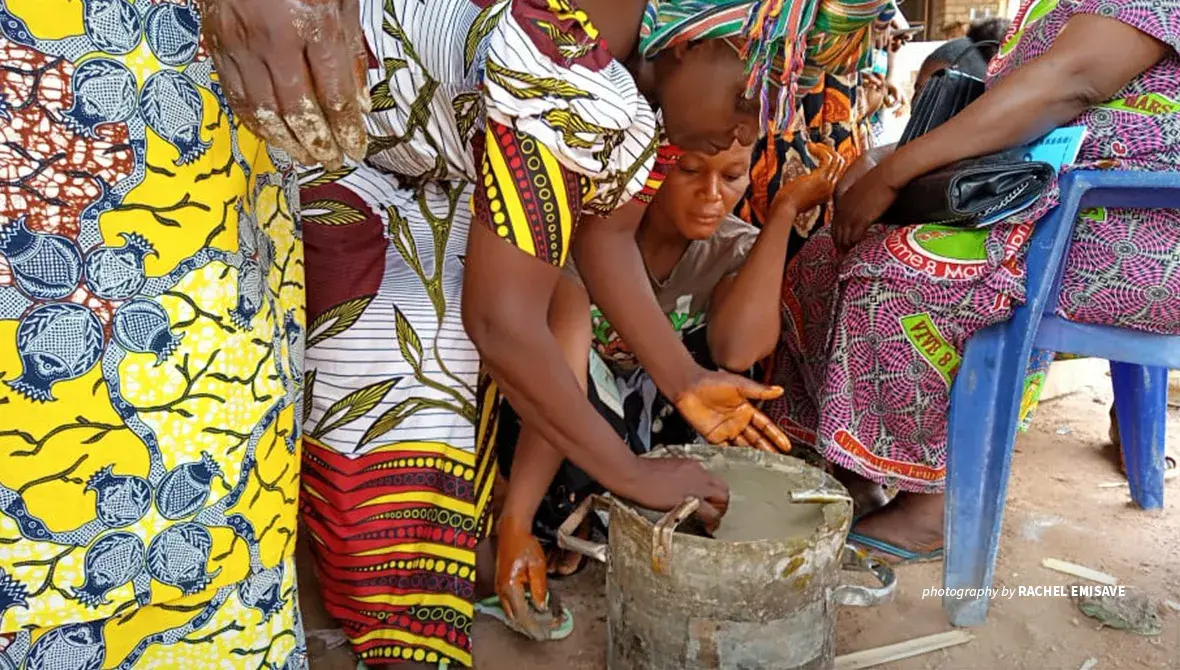 About the Author
Rachel Emisave is African Wildlife Foundation's Communications Assistant based in the Democratic Republic of Congo.
More
Women of Bili-Uere have been cooking with firewood for a long time, choked by the smoke, perfumed by the pungent smell of charcoal, and often limited to cooking outdoors, which becomes increasingly challenging during bad weather.
The traditional practice inherited from their forefathers became cumbersome when homesteads moved from straw constructions to building with baked bricks, plastering and painting walls. At the same time, the continuous demand for firewood threatened the fragile forest ecosystem in northeastern DRC.
"It was a struggle [for me]. After observing my husband invest a lot of energy and money in the construction of our modern house, I had a hard time using the new kitchen. The only time I tried to cook inside it, the smoke from firewood blackened the white-painted wall. That's why I am grateful to AWF for making available a trainer to teach us how to make improved stoves, which allow us to cook in proper conditions," said Georgette Nyamwero, chairperson of the Association of Women Leaders of Bili.
African Wildlife Foundation (AWF) commissioned consultants from the University of Kisangani to conduct a study on gender and natural resource management in the Bili-Uere Hunting Domain, finding that women endure difficult conditions while cooking with traditional stoves. "Following the study, it was necessary to train women in the manufacture and use of improved stoves to reduce the rate of wood cutting and thus contribute to the fight against deforestation in the landscape," said Gervais Dimbi, AWF Community Facilitator.
AWF partnered with three women's associations in Bili Uere and consultants from the University of Kisangani to facilitate stove-making training for 45 women in the landscape. The training was part of AWF's Community Based Counter Wildlife Trafficking project to improve community livelihoods in Bili Uere.
Women received theoretical and practical training, allowing them to learn the ecological and economic reasons for using improved stoves. Designed to reduce the consumption of firewood and carbon dioxide emissions into the atmosphere, the cookstoves also empower women through marketing.
"We [can] make two types of improved stoves: one for wood use and the other for charcoal. The wood stove is used more for baking bread, smoking meat, or preparing ceremonial meals because of its large size, while the other is more suitable and useful for daily cooking in the household," explains Ginimbolisa Antoinette, president of the Lamuka Mama Association.
To make the charcoal stove, the women start by tracing the template on a metal sheet and cutting it with a plasma cutter, a hand shear, or a chisel with a hammer. They then shape the cut-out using a rolling machine or a hammer with an IPN bar. After the shaping, they use a rolling machine or a hammer with a toothed piece to staple the materials. The different fastened parts are then joined together, and using a trowel, the women apply a ceramic bonding material like cement, sand, or ash. Finally, they paint the stoves black to retain heat.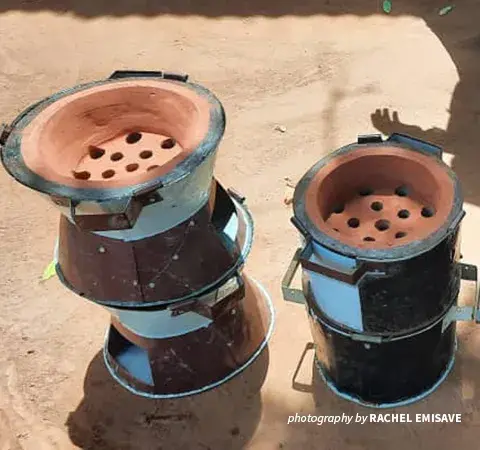 Reducing wood fuel consumption limits deforestation
Due to their design, the charcoal stoves are fuel efficient, with a 39 percent reduction in fuel consumption compared to cooking on an open fire. They also reduce cooking time by 65 percent. In addition, they are more practical due to their mobility and are cleaner because they do not emit smoke. The clay and sheet metal used in their manufacture are readily available, making production significantly cheaper.
Wood-fired stoves are immobile and made of adobe bricks and mud. Dimbi elaborates on the construction: "Just raise four walls from 50 to 80 cm and create a rectangle or a square depending on whether you want space for one, two, or three pots. The lower side is marked by three or four openings depending on the need, through which we put the wood to light the fire."
Compared to traditional hearths, these stoves produce less smoke because of the partitioning. They reduce cooking time by 50 percent and wood fuel consumption by 20 percent.
Women trainees noted the positive impacts of the stoves, including saving work time and reducing heat. Some reported that their family members no longer had runny eyes and noses while cooking due to reduced smoke.
"There is no greater joy than cooking surrounded by your children. My children like to stay by my side to taste the dishes. I used to chase them away because their eyes would turn red from smoke, but not anymore," says Anaclette Bindo, a member of the Lamuka Mama Association. She added: "In our association, we sometimes receive requests to cook for weddings. With enough room for two pots, the stove allows one person to cook multiple dishes simultaneously.
In addition, the trainers are preparing to travel to the territories of Bondo and Ango to train other women to apply this knowledge in their homes and communities. They have already trained other women in Bili-Uere; to date, more than 60 other women make and use the improved cookstoves. AWF plans to organize another training to improve the stoves by adding chimneys to reduce smoke in the kitchen and introducing charcoal production from organic waste and dead wood.
Phila Kasa, AWF Community Manager, said he is delighted that the women are taking ownership of this initiative and are committed to spreading it across the landscape. The team plans to conduct a study to assess the rate of ownership by the community and the profits thus far. He concluded, "Without a doubt, this is an innovative idea that will not only empower them but also support our efforts in the rational use of natural resources."
> Learn how AWF is celebrating women leading conservation across Africa this International Women's Day