Meet Ona Basimane: A renowned photographer and safari guide
Meet Ona Basimane: A renowned photographer and safari guide
By Harleen Sehmi | October 5, 2021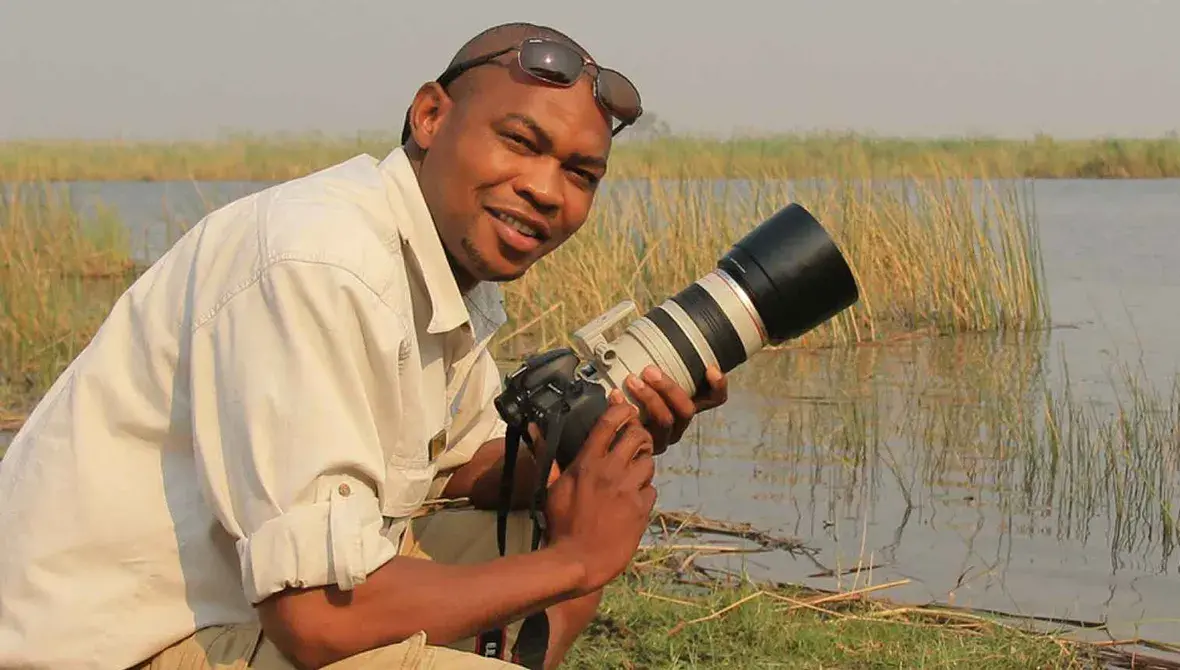 About the Author
Harleen Sehmi is the Senior Digital Content Officer at African Wildlife Foundation. She develops articles for AWF's website and publications, connecting audiences all over the world with the organization's work in diverse landscapes and showcasing the impact of community-centered conservation.& ... More
Although Ona Basimane began his career as a safari guide in 2007, he has nurtured his knowledge of Botswana's wildlife and wild lands since childhood. Growing up in Maun — considered the gateway for tourism into Botswana's remarkable Okavango Delta — Basimane forayed into the dynamic arena of African wildlife photography a few years after becoming a guide. His work has since appeared in various prestigious travel publications in the region, and his distinction as a safari guide continues to grow. A judge on the panel of the Benjamin Mkapa Wildlife Photography Awards, Basimane shares how his knowledge of wildlife behavior has sharpened his craft over the years and explores the transformative power of wildlife photography in conservation.
What is the value of a photography competition like the Benjamin Mkapa Wildlife Photography Awards to nature photographers of different levels of expertise?
The Benjamin Mkapa Wildlife Photography Awards are a perfect platform for nature lovers to showcase and share their travel experiences and insights into the diverse world that is Africa. It is perfect for photographers who are conservationists at heart to share the plight of diminishing habitats, wildlife exploitation by humans, dwindling wildlife populations, conflicts arising from uninformed land use practices among others. Additionally, the awards provide a platform for those who seek for these stories to be exposed. As more people interact with the images, hopefully photography can effect change in mindsets as well as shifts in wildlife policies to save and conserve certain species and their habitats.
Additionally, this competition also provides an ideal avenue for photographers to share celebrate the beauty and diversity of the continent's wildlife heritage, which can potentially broaden African wildlife tourism and inspire safari travelers to seek further adventures away from traditional destinations.
For some, entering this competition may be more personal; seeking recognition for their work and hoping an award would inspire others to join wildlife photography, or simply change their mindset toward a certain wildlife species, a natural ecosystem, and its exploitation. The Benjamin Mkapa Wildlife Photography Awards welcome different levels of expertise and creates a platform for all, not just professional photographers. Not only does this broaden the scope and invite all to the table, hence expands the diversity of the wildlife and conservation stories shared.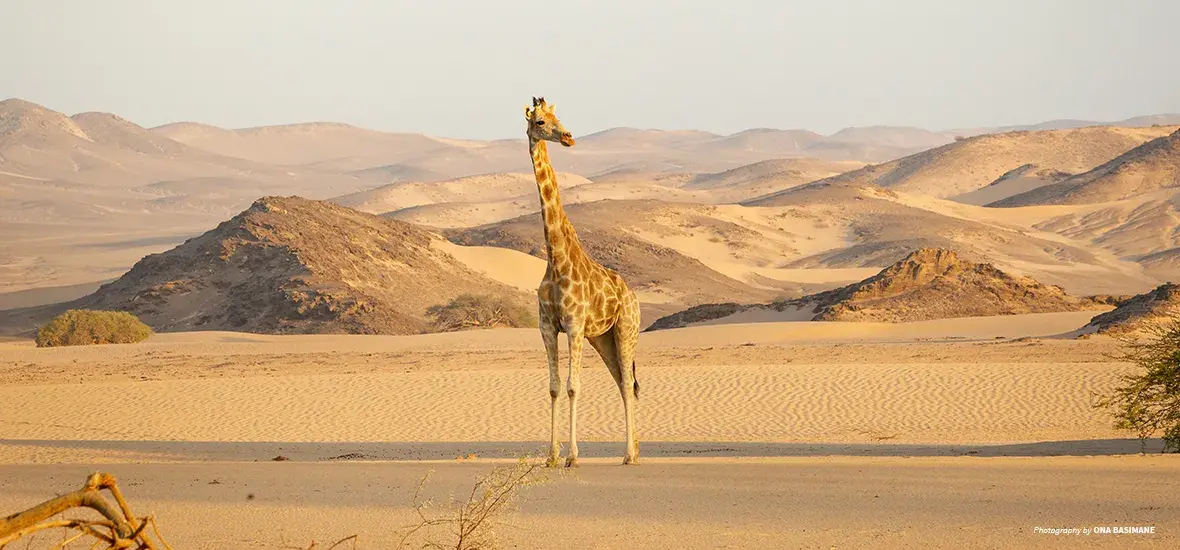 What has been the impact of photography in your guiding career?
Ever since I acquired my first camera a bit over 10 years ago, my life and work as a guide changed immensely. At a guiding level, I have found myself becoming more patient at sightings; more intuitive and always trying to be spot-on as I anticipate the action. At the same time, I find myself being more and more of a gambler when out on game drives. For example, I would rather take the slimmest of chances and wait a long time for an animal to do something I anticipate, rather than packing it in and driving back to camp because it is hot and we may be hungry.
My guiding style has also evolved because with a camera in hand — I now seek to share experiences and not just sightings. I seek to document unique wildlife experiences that are always taking place out there and not just chasing standard portraits. Photography has also become a vital part of my guiding style — I always get a big thrill from helping my guests come away with unique images because I pointed out a photographic opportunity and helped with camera settings; or I anticipated a certain moment and got everyone ready in time to capture it. Sometimes, I help them turn what initially looks like another standard scene into an artful capture. As such, I have made a community of friends who may have been uninspired about photography until they went on safari with me. Now they have taken it on and I am thrilled when they win awards, share stories and effect change, or simply keep coming back for another African safari.
In your work as a guide, is there a memorable moment where you or a traveler captured a great photo?
Some great moments have come out of sheer luck and others out of patience and hard work. One fortunate moment stands out from the Okavango Delta when I was leading a photographic safari with a small group a few years ago. Before the game drive, our group was together at the main lounge for afternoon tea when I noticed a scattered group of baboons feeding across the small stream passing in front of the camp. I did not pay them much attention and never noticed the baboons disappearing nor did I see a family of warthogs taking their place.
At some point, with my back to the stream, I picked up a short, sharp squeal from behind me. I thought maybe a baboon had grabbed a younger one and there was a little dispute between them. However, on turning around I saw a group of terrified warthogs scampering in all directions. What also caught my eye was a dash in the tall grass towards a tall sausage tree. I followed the movement until a leopard emerged and jumped straight into the thick foliage of the tree. In his jaws was a young warthog. He disappeared deep into the foliage. I must have been the only one looking because I turned around hysterically only to find everyone in the tour group relaxed and chatting away. When I told them about what I had just witnessed, no one was convinced. In fact, no one believed me.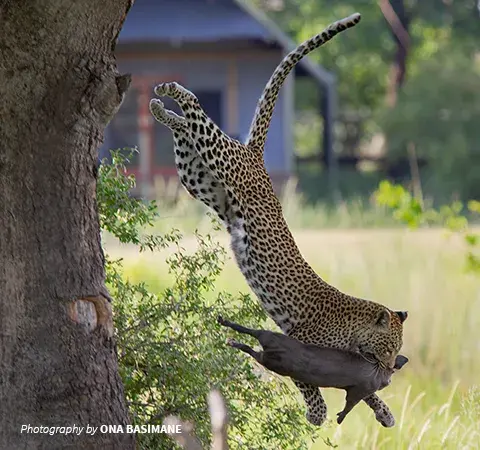 You could not see the leopard from the lodge but I knew there was one with a warthog deep within the tree crown. Eventually, I managed to convince everyone and we got into the vehicles and drove over. Sure enough, we found a young leopard killing a warthog! Straight away, we noticed that he was a shy individual as he was busy gathering the dying warthog and his eyes darting. As we watched him enthralled, I anticipated he was going to launch himself out of the tree with the warthog. I shared my thoughts and instructed everyone to get ready for that moment. There was a bush to the left so I knew he was going to jump to the right if he did. Again I shared my thoughts. Crucially, I suggested to everyone to avoid zooming in too much as the leopard was going to be stretched if he jumped down, so we had to avoid cropping his tail or his head. We sat back and in an instant he leapt. A few people managed to squeeze their shutter at the right time and came away with this fantastic image of a leopard in mid-air with a warthog in its jaws!
What proud moments stand out in your career as a wildlife photographer?
I have enjoyed watching more and more guides investing in camera equipment and also seeing more and more citizen guides taking on wildlife photography because of my work. I have enjoyed watching guides starting to have the self-belief that they can also have their work published. That it is possible. This was something we lacked in the past. A few people whose careers have nothing to do with tourism or wildlife photography have reached out because they were inspired by seeing my work in various travel magazines. Some were even inspired enough to change careers and are now great wildlife photographers.
For me there is no bigger feedback than such exchanges. It inspires me to continue pushing boundaries and opening doors for others. That said, I would love to mention a safari in 2013 with Don Pinnock, a past editor of Getaway magazine for many years. I hosted him at Dumatau Camp in Botswana, and he later recommended that I speak at the Wildshots Wildlife Photography Symposium that year. This was huge, considering his accomplishments as a travel writer. Being selected to be among the judges for the first-ever Benjamin Mkapa African Wildlife Photography Awards is a massive feedback on its own!
> Learn more about the Benjamin Mkapa African Wildlife Photography Awards