Monday, July 1, 2013

Nairobi, Kenya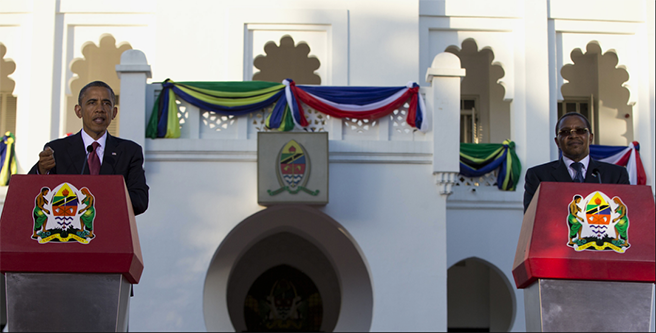 United States' President Obama and Tanzanian President Kikwete at a joint press conference on July 1 announcing an Executive Order on wildlife trafficking. Photo: AP
President Obama's Announcement on Illegal Wildlife Trafficking Comes at Critical Time as Elephant and Rhino Poaching Reach Record Highs in Africa
NAIROBI, Kenya, July 01, 2013 — U.S. President Barack Obama announced today in a press conference with Tanzanian President Jakaya Kikwete, that he has signed an Executive Order to enhance U.S. Government efforts to help combat the scourge of illegal wildlife trafficking and poaching occurring on the African continent.
"Wildlife trafficking is a multi-billion dollar illicit business that is decimating Africa's iconic animal populations," according to a statement from the White House. "Many species—most notably elephants and rhinoceroses—now face the risk of significant decline or even extinction.  Like other forms of illicit trade, wildlife trafficking undermines security across nations."
African Wildlife Foundation (AWF), a leading conservation organization focused solely on the African continent, hailed the announcement as a critical step in ending the illegal trafficking of African wildlife.
"The entire world has a stake in making sure we preserve Africa's beauty for future generations," President Obama said. "[Wildlife] is an issue inseparable from Africa's identity."
The United States will dedicate additional funding, technical assistance, and training to combat wildlife trafficking in Africa. The Executive Order will:
Establish a Presidential Task Force on Wildlife Trafficking and an Advisory Council on Wildlife Trafficking;
Provide $10 million in assistance to African countries to combat wildlife trafficking—specifically in Kenya, South Africa, and throughout sub-Saharan Africa;
Enhance regulations that directly affect illegal wildlife trafficking of elephants and rhinoceroses;
Assign a U.S. Fish & Wildlife Service (USFWS) official to the U.S. Embassy in Dar es Salaam to support Tanzania's efforts to create a wildlife security strategy.​
"African Wildlife Foundation welcomes the decision of the U.S. government to strengthen its partnership with African nations in stopping poaching and illegal wildlife trafficking," said Patrick J. Bergin, CEO of the African Wildlife Foundation. "For too long, Africa's wildlife and people have fallen victim to greed and criminals. This situation has turned into a violent war to save some of the world's last remaining natural treasures. It's a war that requires the United States and other governments to stand up and stand together for the sake of Africa's future."
Africa boasts a diversity of wildlife that is nearly unmatched anywhere else in the world. Elephants, rhinos, and other wildlife bring in considerable tourism income and provide multiple benefits to their ecosystems, but demand for elephant ivory and rhino horn—among other wildlife products—has spurred a multibillion-dollar industry in illegal wildlife trafficking closely rivaling arms, drug, and human trafficking.
For over 50 years, AWF has provided support for communities and governments to increase their ability to monitor wildlife, oversee protected areas, and a broad range of other critical conservation efforts. African Wildlife Foundation continues to work with the U.S. government on African wildlife and human livelihood issues. AWF has significantly ramped up its anti-poaching work in the last several years, including activities, such as:
Providing paramilitary training, uniforms, and surveillance and communications equipment, and motorized transport to hundreds of scouts and wildlife rangers in nearly a dozen African countries, including Kenya, Tanzania, Cameroon, Senegal, Zambia, Zimbabwe, and South Africa;
Helping authorities coordinate anti-poaching efforts across national borders;
Funding canine detection units to sniff out rhino horn and elephant ivory in airports and other transit hotspots in Kenya, with plans to expand efforts into Southern Africa;
Working with the U.S. Agency for International Development across the African continent, such as conservation tourism in Uganda and sustainable food security initiatives in the DRC to prevent poaching of endangered wildlife as food sources;
Providing camera traps and other surveillance support for protected area authorities to monitor rhino populations; and
Launching a celebrity-driven public awareness campaign in Asia to reduce consumer demand for rhino horn and elephant ivory.
President Obama's announcement continues efforts begun during his first term to highlight the global issue of illegal wildlife trafficking. In November 2012, then–Secretary of State Hillary Clinton announced that the U.S. State Department would add wildlife trafficking to its foreign policy agenda and work with governments worldwide to develop a global consensus on wildlife protection. The issue of illegal wildlife trafficking has come under increasing attention in recent months, as several elephant poachings—including horrific incidents in Cameroon, Central African Republic, Kenya, and elsewhere—have been linked to rebel activities in terrorists along the lines of Joseph Kony's Lord Resistance Army, Janjaweed in Sudan, and Al-Shabab in Somalia.
"As President Obama said, illegal wildlife trafficking does not affect just Africa and Africans," pointed out Bergin. "It destabilizes governments, undermines national economies, and increases insecurity around the world. The tentacles of this monster reach far and wide, and if we do nothing to stop it, it has the capacity to not only wipe out species, but uproot Africa's burgeoning, new economies. We thank the U.S. government for its ongoing commitment to wildlife conservation, today and through the years."
Also during the press conference, President Kikwete mentioned the development and funding of future roads in Tanzania. New roads are important for Tanzanians, but must be planned in a way that avoids degrading Tanzania's designated wildlife areas, such as the Serengeti. 
"AWF encourages growth and improved livelihoods for all of Tanzania's citizens, but requests progress be made with consideration for Africa's wildlife," Bergin said.
# # #
About African Wildlife Foundation
Founded in 1961, African Wildlife Foundation (AWF) is a leading conservation organization focused solely on the African continent. AWF's programs and conservation strategies are based on sound science and designed to protect both the wild lands and wildlife of Africa and ensure a more sustainable future for Africa's people. Since its inception, AWF has protected endangered species and land, promoted conservation enterprises that benefit local African communities, and trained hundreds of African nationals in conservation—all to ensure the survival of Africa's unparalleled wildlife heritage. AWF is a nonprofit organization headquartered in Kenya and registered as a 501(c)(3) in the United States. For more information, visit: www.awf.org
Contacts
John Butler
+1 202 939 3333
[email protected]
Photo credit: AP