Wildlife and communities flourish on Kenya's Olderkesi Conservancy
Wildlife and communities flourish on Kenya's Olderkesi Conservancy
By Lindsay Kosnik | March 31, 2020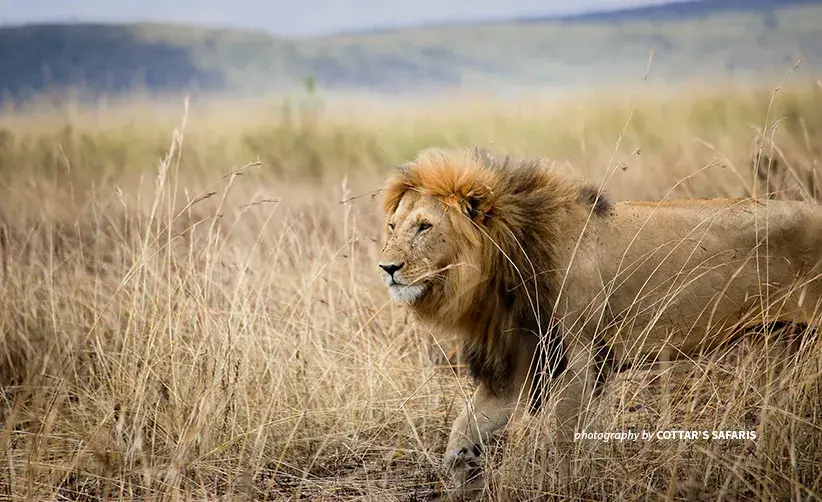 About the Author
Lindsay Kosnik is African Wildlife Foundation's Senior Vice President, Principal Gifts and Investments. Lindsay has over 35 years of experience in international development, spanning land conservation, poverty eradication, and species protection. Over 10 years, Lindsay lived and worked in Camer ... More
Developing: As I was writing about the incredible community conservation program at Olderkesi, the COVID-19 crisis was just developing. Now, as I finish this piece, unfortunately, much of the work outlined here is in great threat as tourism comes to a grinding halt in the wake of the pandemic. Cottar's Safaris find themselves in the same position as most safari outfits. Tourism revenues have plummeted, threatening the wildlife living on this critical conservancy in the Mara and the livelihoods of the Maasai families who work at — and receive economic benefits from — the lodges.The great wildebeest migration brings thousands of wildlife-lovers to Kenya's world-famous Maasai Mara National Reserve to witness the spectacular journey across the Mara-Serengeti plains. The trans-frontier ecosystem is teeming with other marvels of the natural world — a veritable tourism draw — but its survival depends on the people sharing the landscape.
Increasingly, communally owned land around the reserve is being subdivided, fenced off, and developed into settlements or commercial centers. Some landowners venture into small-scale agriculture, converting discrete parcels of wildlife habitat into farmland. But many Maasai landowners have instead opted to lease their group ranches for wildlife, as these community lands, used primarily for grazing livestock, are also critical dispersal zones for wildlife. As a result, they are keeping open the corridors that migratory species need to move safely across the vast Mara-Serengeti ecosystem. By limiting development to certain areas, communities also reduce the chances of human-wildlife encounters at their homesteads or when grazing their cattle.
Adjacent to the Maasai Mara National Reserve's southeastern boundary and Serengeti National Park, the Olderkesi Community Wildlife Conservancy is a crucial wildlife corridor. To conserve the corridor, the 7,000-acre conservancy employs a land-use model that benefits both wildlife and the pastoralist communities of the Mara through sustainable tourism. Established in 2016, the conservancy belongs to 6,500 landowners who rent it out to the Cottar's Wildlife Conservation Trust, agreeing to limit settlements, farming, and grazing to certain zones only. Leaving these areas free from human activity is vital for wildlife roaming as they search for food, water, and breeding grounds every season, including the wildebeest who use Olderkesi's Poleleti plains as a calving site.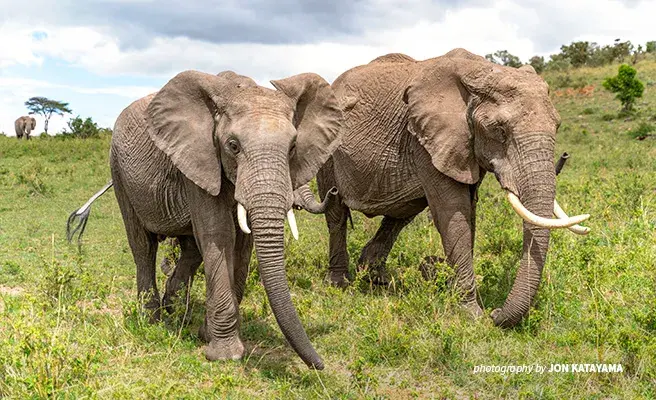 Elephants migrating across the vast Mara-Serengeti ecosystem sometimes cross into nearby homesteads and farms
Sustainable tourism strategies improve community livelihoods
Surrounded by Olderkesi's natural springs and wooded areas are Cottar's 1920's Camp, Cottar's Bush Villa, and the Cottar's Conservancy Camp — all managed by Cottar's Safaris, a family-owned tourism operator with 100 years' experience guiding visitors to the Mara-Serengeti landscape. Lodge guests pay a conservation and community fee to the conservancy's community owners through the Cottar's Wildlife Conservation Trust. In addition to these lease payments, fees offer a steady, dependable source of income rather than unreliable returns from farming or livestock rearing. Cottar's Safaris recently established the camp as a space for researchers and volunteers to gain a hands-on understanding of community conservation. The trust redirects lodge revenues back into conservancy operations while profits from the camp are delivered in full to the community, making the conservancy more self-sufficient overall.
Cottar's Wildlife Conservancy Trust has developed sustainable tourism on Olderkesi in a way that creates a direct relationship between the wellbeing of wildlife and the community's economy. Essentially, if more happy guests return for an authentic wildlife safari experience, the community boosts its income. The conservancy and tourism enterprises also create various job opportunities. Apart from the 29 rangers and six guards monitoring the properties, the four cooks serving lodge guests are all Olderkesi community members.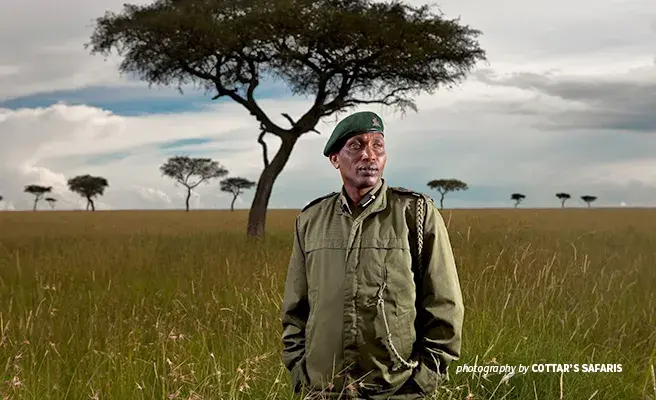 Wildlife rangers protecting the conservancy come from the Olderkesi community
African Wildlife Foundation has always supported communities to realize the economic potential of conserving wildlife species and habitats as assets for sustainable growth. We worked with Cottar's Wildlife Conservancy Trust and the community members to develop a land-use zoning agreement that not only sets aside space for wildlife but also allocates resources for social services and amenities to raise the standard of life on Olderkesi. This way, the conservancy nurtures a greater incentive to invest in conservation-friendly enterprises.
Indirect benefits from supporting the land-use agreement are equally meaningful and far-reaching. For instance, the trust helped Olderkesi women form a savings group that allows them to save collectively and take out loans for their small-scale trading businesses, including selling food, beadwork, and other goods. With a reliable income, these women can afford school frees, ensuring their children are able to attend school without any interruption. Cottar's Wildlife Conservancy Trust provides remuneration for nine teachers and has also sponsored 68 students to attend schools in Olderkesi. With the generous support of lodge guests and well-wishers, the trust has been able to extend its reach and build fully equipped classrooms, distribute sports equipment, and run feeding programs at various schools. Improved healthcare and water provision for the community is also possible thanks to support from visitors who were inspired by the relationship between the people of Olderkesi and the wildlife they share space with.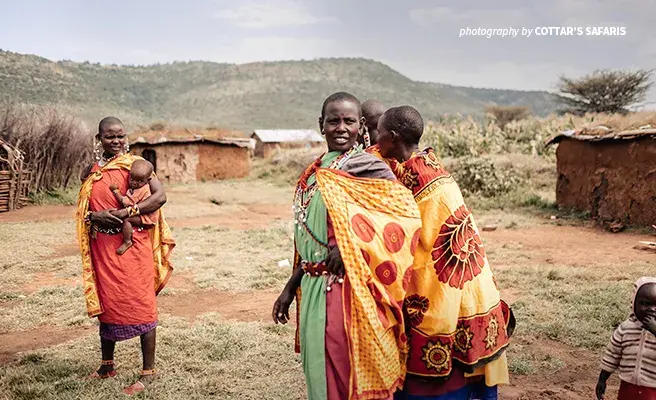 Cottar's Wildlife Conservation Trust supports Olderkesi women to develop small businesses and send their children to school
Community conservation keeps Kenya's wildlife populations healthy
AWF and Cottar's Wildlife Conservation Trust share the same vision for sustainable development on wildlife-rich community lands like Olderkesi. In the face of climate change and shifting land-use patterns, saving wildlife habitats is complex. Already, critical wildlife zones in the Mara ecosystem bear the scars of longer and more frequent droughts as well as the overuse of natural resources as communities tackle greater challenges to survive. Deforestation for charcoal and overgrazing are degrading wildlife habitats. Meanwhile, the illegal killing of wildlife continues to threaten populations.
AWF supports the rangers looking after Olderkesi Community Wildlife Conservancy to ensure the wildlife species found here are closely monitored and can flourish. We helped develop robust anti-poaching protocols and provided the team — which includes the first-ever women rangers in the Mara — with the right gear to take on their specialized work. Additionally, AWF helped set up a canine unit to fight illegal wildlife trade. Researchers are also drawn to this biodiversity hotspot, where AWF is supporting the study key species like pangolins, a target of poachers and illegal traffickers.
Wildlife conservancies like Olderkesi keep the wider ecosystem in balance by keeping populations healthy. Tourists from far and wide travel to explore the grasslands of the Maasai Mara — and its specular wildebeest migrations. However, they must also appreciate the rich cultural history and knowledge of the people who have lived in harmony with wildlife for centuries.
> Learn how AWF develops sustainable opportunities for communities while conserving natural ecosystems and wildlife