The Wildlife Clubs of Kenya
The Wildlife Clubs of Kenya
By Terry Mukera | October 25, 2021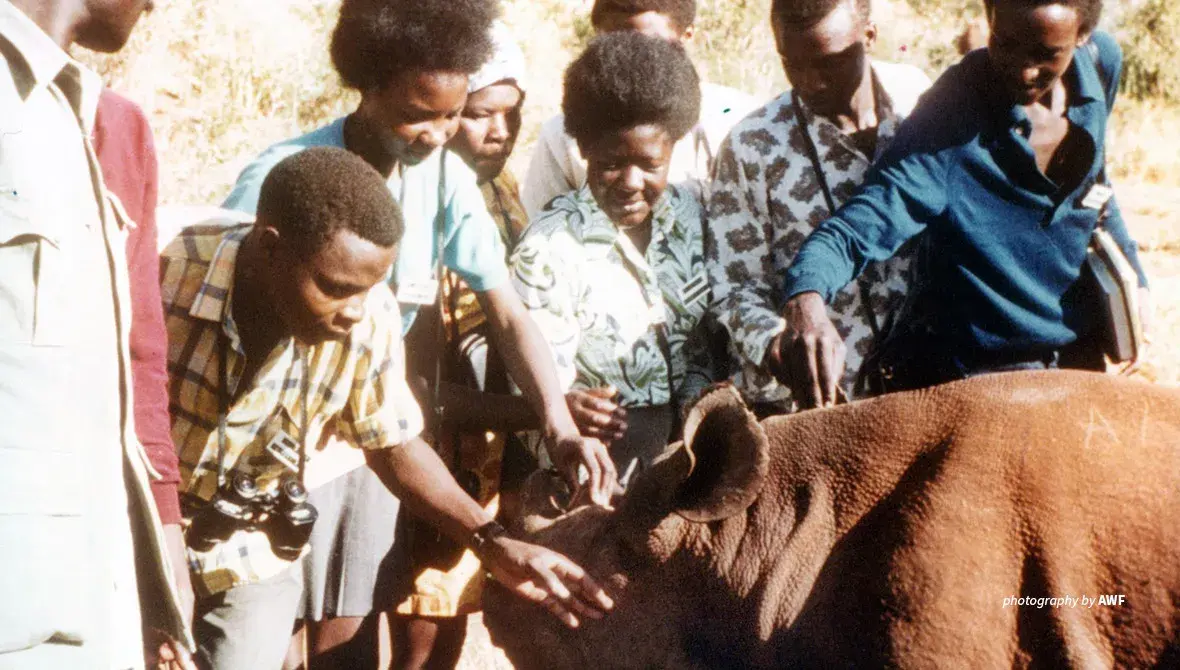 About the Author
Terry Mukera is African Wildlife Foundation's Editorial Associate. She helps to develop and write articles for AWF's publications like the Travel Africa magazine, and other print marketing products such as the annual report. Terry is passionate about storytelling and its crucial role i ... More
In 1968, students at Kagumo High School in Nyeri, Kenya wrote to the national Ministry of Tourism and Wildlife and asked how they might learn more about Kenyan wildlife. This simple query started an unprecedented youth movement, first within Kenya and eventually across the continent.
The Ministry asked AWF to assist the students, and soon these exceptional youth were organizing a countrywide wildlife seminar, which led to the formation of the Wildlife Clubs of Kenya. The clubs would offer their members field trips to see wildlife, mobile education programs, and, in later years, activities such as tree-planting and invasive plant removal. By 1979, there were 439 Wildlife Clubs of Kenya, boasting a total of 20,000 members.
Club members were passionate about conservation and unafraid to challenge powerful people. In 1973, in an inspiring display of civic engagement and concern for wildlife, over 300 young members peacefully marched and presented an anti-poaching petition signed by over 7,000 to the office of President Jomo Kenyatta. In 1977, the young people again marched to urge a ban on the sale of animal products in curio shops.
Other countries soon took note of the Wildlife Clubs of Kenya and requested help from AWF to establish programs. Eventually, wildlife clubs formed in Uganda, Ghana, Tanzania, Cameroon, Sudan, and Zambia. In later years, club programs formed in Asia and Latin America as well.
Still active today, the Wildlife Clubs of Kenya has played a significant role in inspiring future conservationists and cultivating a corps of environmentally-minded citizens who care about Africa's precious wildlife.
"AWF recognized an idea whose time had come, that of giving young Kenyans a chance to see and learn about their country's world famous wildlife," says Sandra Price, who, at AWF's request, organized the Wildlife Clubs of Kenya in 1969. "This early, consistent AWF support strengthened a fledgling staff and their outreach capacities, and the Clubs' consequently spread like wildfire."
AWF Today: Mobilizing youth for conservation
One of AWF's primary objectives for the next decade is to radically increase the engagement of young people in conservation. Wildlife clubs are a proven approach — around the world, they have succeeded in bringing wildlife, wild lands, and sustainable development knowledge to students. AWF has already started developing new clubs and providing guidance to educators and youth leaders on projects, curricula, and outdoor activities that engage and inspire youth. No doubt, many of the teachers, counselors, and mentors who heed our call-to-action and help lead our environmental education campaigns will have been shaped by their early experiences with wildlife clubs!
> Learn how higher education is preparing the next generation of African conservation leaders