World Female Ranger Day: Zimbabwean wildlife scout survives attack by poachers
World Female Ranger Day: Zimbabwean wildlife scout survives attack by poachers
By Ndanatsiwa Tagwireyi | June 23, 2023
About the Author
Ndanatsiwa Tagwireyi is AWF's Communications Assistant based in Harare, Zimbabwe. She believes that communication plays an overarching role in wildlife conservation and sustainable development and has the power to transform lives.
...
More
Across the globe, women constitute about 11 percent of the ranger workforce, a stark indicator that the ranger working environment has been gender-blind over the years. Yet, these brave and courageous women are at the forefront of conserving their countries' wildlife and ecosystems.
Anti-poaching rangers confront various wildlife criminals in their day-to-day activities from organized crime and criminal syndicates, wildlife poachers and traffickers, commercial poachers, as well as subsistence poachers. Regardless of the type of poaching involved, the criminal act often leads to the extinction of wild animals, environmental pollution emanating from chemicals used in poisoning animals, an imbalance in the ecosystem, and decreased tourism, which has economic impacts.
In Zimbabwe, the African Wildlife Foundation (AWF) works with women rangers from the Zimbabwe Parks and Wildlife Management Authority and community wildlife scouts under Rural District Councils to support anti-poaching efforts. Under the SIDA-funded 'UTARIRI - Integrated and Adaptive Biodiversity, Climate and Livelihoods Project in the Zambezi Valley, 2022-2025," 43 community wildlife scouts from Mbire and Muzarabani District, including 18 women, are currently undergoing a basic ranger and advanced training at the Zimbabwe Institute of Wildlife Conservation formerly known as Mushandike College of Wildlife Management.
In honor of World Female Ranger Day 2023, we interviewed 26-year-old Samantha Chiguta, a community wildlife scout in Mbire District, Northern Zimbabwe. Chiguta is one of the scouts AWF supports through monthly allowances and anti-poaching field-related support.
She recounts the ordeal of a face-to-face encounter with poachers while she was off-duty as follows: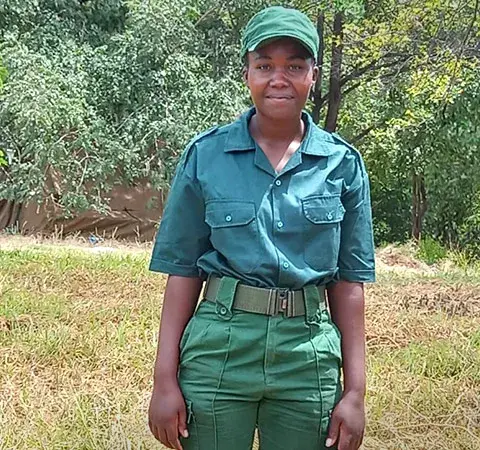 On February 19, 2023, I woke up late because of a terrible headache. I heard loud voices outside shouting, "Kudu, kudu!" I was shocked to hear those voices near my yard that morning as kudus do not move near people's homesteads, especially in the morning. I tore out of the sheets to find out what was happening. When I went outside, I saw a kudu running through my backyard. I walked for about 200 meters and first saw two dogs; they were sniffing the kudu's scent, trying to trace its whereabouts since it had escaped their vicinity. I heard other dogs barking and people shouting "Bata Bata" (Get hold of it, Get hold of It). I was perplexed. Then I saw two men brandishing arrows with five dogs at their heels, bringing the total number of dogs I saw to seven.
Oddly, the two men greeted me, saying, "Good afternoon."
They asked, "Have you seen our kudu that ran past your yard?" I asked them what they meant. They responded, "We are asking about our kudu that has passed by your yard."
I confronted them about where they gathered the courage and guts to ask a community wildlife scout about a kudu when it was clear that they wanted to illegally hunt the animal. One of the men said, "We do not have the guts; you are just someone we know; with your cooperation, we could be working together on big deals, getting game meat from these wild animals."
I told them that I do not get involved in such poaching syndicates. They told me that they would go ahead with tracing their kudu, kill it, and get meat.
"You want to be called a very brave, courageous, and hardworking scout who makes sure that people like us do not get access to game meat. We want to see where this will end."
"That is my job. I cannot leave poachers devouring on the wild animals that we have in Mbire District as the animals will end up extinct," I responded.
We had an altercation, they started fighting me, and one of the men took my phone and threw it away. It cracked. He then twisted my arm and slapped me before leaving. Later on, my hand began to swell, and I went to a nearby clinic where it was discovered that it had a fracture on one of the wrist bones due to the incident.
I was beaten and got injured to save the kudu, so in wildlife conservation, one must be prepared for anything to save wildlife. With other senior scouts, we later followed to find out if the poachers managed to kill the kudu, and there was no trace. Because of the altercation, it seems that the poachers failed to get a hold of the kudu.
The matter was reported to the police, and I have attended two court sessions so far. The poacher is facing assault charges; he has denied allegations of attempted poaching. I will go to court again at a date yet to be announced. The police searched for the culprit for nearly two weeks, but it was to no avail as the poacher was no longer sleeping at his house to evade the police. He was caught after approximately two weeks.
> Learn how women rangers in Zimbabwe are embracing digital monitoring tools for conservation