IWD 2023: Women rangers in Zimbabwe embrace digital wildlife monitoring
IWD 2023: Women rangers in Zimbabwe embrace digital wildlife monitoring
By Ndanatsiwa Tagwireyi | March 15, 2023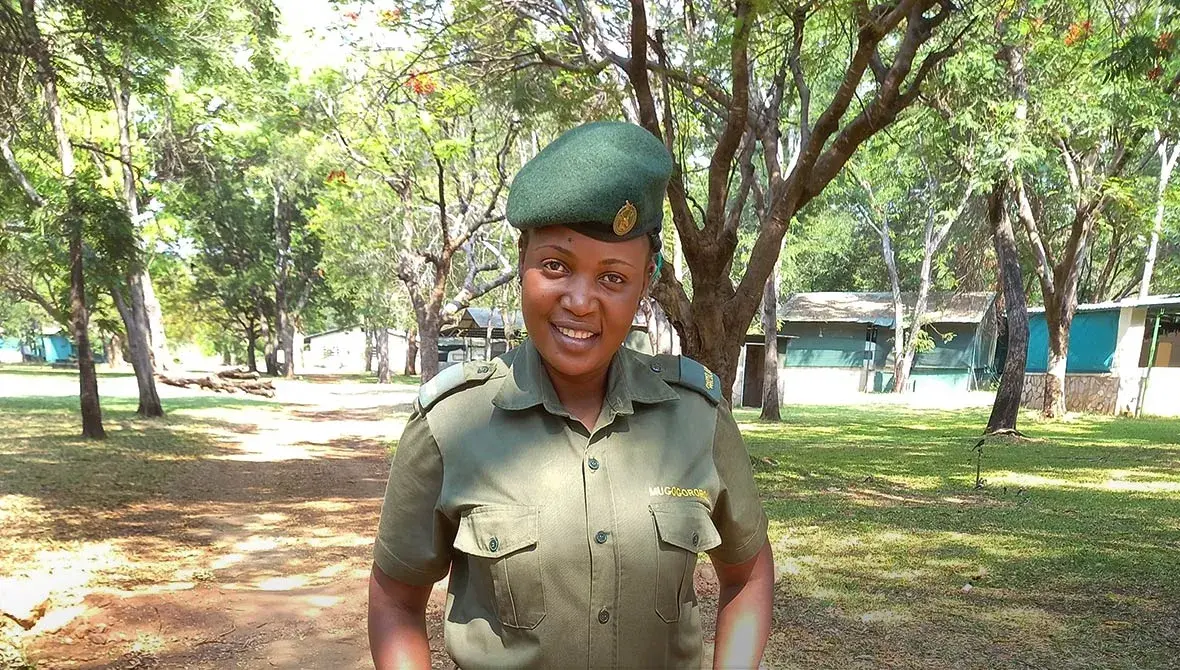 About the Author
Ndanatsiwa Tagwireyi is AWF's Communications Assistant based in Harare, Zimbabwe. She believes that communication plays an overarching role in wildlife conservation and sustainable development and has the power to transform lives.
...
More
Running under the theme 'DigitALL: Innovation and technology for gender equality,' International Women's Day 2023 underscores the importance of technology in inclusive development.
In Zimbabwe's Mid Zambezi Valley landscape, women rangers are among the dedicated Zimbabwe Parks & Wildlife Management Authority (Zimparks) cadres making an impact in wildlife conservation using Spatial Monitoring and Reporting Tool (SMART) technology. SMART is a critical management tool developed to assist wildlife scouts and rangers to assess and track wildlife and habitats, manage anti-poaching patrols, and identify key areas where more resources are needed.
African Wildlife Foundation (AWF) has supported SMART usage in the Mid Zambezi Valley by providing Runbo phones and Black View ruggedized smartphones designed to document wildlife species sightings, GPS coordinates, and important information that rangers encounter during anti-poaching patrols. AWF provided equipment and infrastructure and facilitated training workshops for Zimparks rangers.
In a special interview for International Women's Day, Rosemary Kateguru, a Zambezi River Specialized Anti-Poaching Unit (ZARSAU) ranger, and Louisa Mugogororo, a ranger from the Chinhoyi Mid Zambezi Cluster, shared how the technology and regular trainings elevate their wildlife monitoring capacity, being a paradigm shift from previous analog data capture and storage methods. They encourage more women to join the ranks and are committed to spreading the knowledge and skills they have gained from adopting digital technologies like SMART.
Mugogororo, stationed in the Chinhoyi Mid Zambezi Valley Cluster, highlighted how the digital tool simplifies the collection of real-time data: "The collection of data became easier and faster than ever before through using SMART multi-technology options that enable me to take pictures, record information and write comments through the application." When the teams used notebooks for the same tasks, they risked losing information.
Supporting key populations of threatened and endangered wildlife, the Mid Zambezi Valley encompasses Mana Pools National Park and other protected areas, including Doma, Sapi, Chewore, Hurungwe, and Charara Safari Areas. Wildlife authorities working in the landscape address conservation challenges, including illegal wildlife trade, habitat loss and fragmentation, pollution, and overexploitation of natural resources.
SMART improves the utilization of ranger-collected data to make informed decisions critical for law enforcement. Notably, the system can prepare useful reports for several conventions, including the Convention on International Trade in Endangered Species of Wild Fauna and Flora (CITES).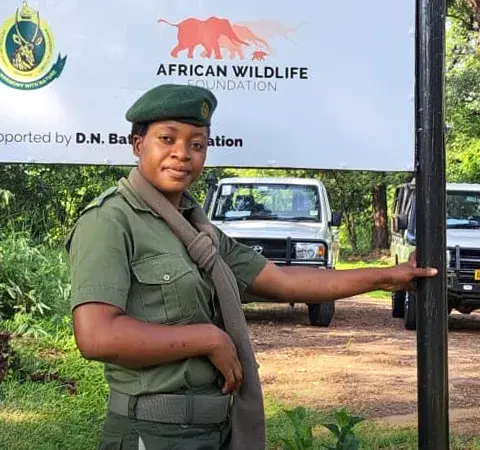 ZARSAU ranger Rose Kateguru explained, "I am no longer spending much time on report writing, and my reports are now accurate with better patrol analysis."
Kateguru made history in 2021 by becoming the first woman holder of the Launch-Master Class One License to operate big boats and vessels in Zimbabwe. She is confident that SMART technology will improve her anti-poaching operations and inspire other women. "I plan to teach other female rangers who did not have the chance to learn about the technology," Kateguru said.
Mugogororo agreed: Access to this data analysis tool and technology allows her to improve on her daily activities continuously and gives her an edge as she seeks to progress in her career. Both rangers are keen to impart the skills they have obtained through SMART technology and AWF-supported trainings to other rangers to amplify wildlife management and ecological monitoring for the sustainable conservation of Zimbabwe's wildlife and natural ecosystems.
As U.N. Women Executive Director Sima Bahous said in her International Women's Day 2023 statement, "Women and girls have the right to access the digital world and proser in it just like men and boys; their creativity, knowledge and perspectives can shape a future where technology amplifies women's voices and distributes the benefits of digitalization to achieve Sustainable Development Goals."
Kateguru and Mugogororo are testament to the power of embracing digital technologies to elevate their conservation practice while supporting more women to take up professions in conservation and wildlife management, despite being considered a male-dominated field. Mugogororo acknowledges the previous trailblazers: "To all the women who have fought for their rights and the rights of others, we thank you."
> Read how AWF supports women-led conservation in Zimbabwe and Kenya