World Painted Dog Day: Celebrating exceptional work in African wild dog conservation in Zimbabwe
World Painted Dog Day: Celebrating exceptional work in African wild dog conservation in Zimbabwe
By Ndanatsiwa Tagwireyi | August 28, 2023
About the Author
Ndanatsiwa Tagwireyi is AWF's Communications Assistant based in Harare, Zimbabwe. She believes that communication plays an overarching role in wildlife conservation and sustainable development and has the power to transform lives.
...
More
"The threats are many," Painted Dog Conservation (PDC) Executive Director Peter Blinston pinpointed. "Loss of quality habitat and poaching represent the biggest problems. Unless we take action to address these threats, painted dogs will become extinct in our lifetime."
In honor of the painted dogs, the world commemorates World Painted Dog Day on August 26 each year. Painted dogs, also known as African Wild Dogs (Lycaon pictus), are the largest canids in Africa and the second largest in the world after wolves. Years ago, at least 500,000 painted dogs roamed the African continent's wild lands, but now, approximately 6,600 wild dogs are left in the wild. 
These endangered species are listed on the International Union for Conservation of Nature (IUCN) Red List of Threatened Species. At the African Wildlife Foundation, we value the vital work being done by individuals and organizations dedicated to the protection of painted dogs amid threats such as poaching, habitat loss, and habitat fragmentation.
To reflect on painted dogs' conservation work in Zimbabwe, we interviewed a seasoned conservationist and PDC Executive Director Peter Blinston to find out more about major milestones recorded regarding wild dog conservation.
Blinston recalls coming to Zimbabwe in 1997 to help conserve these endangered canids and the challenging journey to construct what is now known as Painted Dog Conservation (PDC). Having worked for close to three decades now since he came to Zimbabwe, he attested, "Life at the frontlines of conservation is never easy."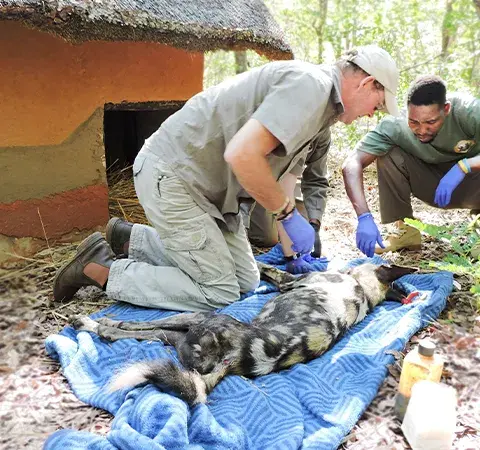 "Dealing with multiple stakeholders, ingrained prejudice in some quarters, and a complex socio-economic climate is very taxing but ultimately rewarding, as many people and institutions locally, nationally, and internationally have been tremendous supporters, and what we have achieved at PDC would not have been possible without the support of so many," he added.
In 2014, AWF provided funding support to the organization to support anti-poaching work. Although the painted dog threats from illegal hunting are still persistent in some areas, Blinston believes significant progress has been made.  
"The support from AWF was specifically for our ongoing anti-poaching work… We have, however, made great progress and eradicated illegal hunting activities in a number of locations adjacent to our headquarters outside Hwange National Park," he shared. 
Nearly a decade since 2014, PDC has been implementing various interventions to conserve painted dogs with support from other partners. "I would say with certain confidence that we are winning," Blinston shared.
"The communities we work closely with have an understanding and tolerance of the painted dogs and indeed have been assisting us directly since 2014 to actively protect them by establishing their own Community Anti-Poaching Units," the PDC Executive Director revealed. "We currently have four if not five packs using the so-called buffer zone outside Hwange National Park where we operate extensively. This is the first time we have had so many packs in more than 25 years."
He reflected on the days when he did not see any packs at all outside Hwange National Park and noted that the current situation is a testament to not only PDC's work but the work of many stakeholders who have demonstrated their commitment to work with his organization to create an environment where painted dogs can thrive. In his sentiments, the Hwange African Wild Dog population is showing signs of increasing, with a number of new packs forming and searching for territory outside of Hwange National Park.
"Overall, we estimate that the national population is reasonably stable. Some of these individuals have come from as far as Botswana, based on the collaborative work we are doing with our partners like the Botswana Predator Conservation Trust." 
From 2017 to 2027, PDC is conducting research in the Mid-Zambezi Valley to gain insight into the demography of the painted dog population, its ecology, and its genetic composition. The Mid-Zambezi Valley is one of AWF's priority landscapes, housing protected areas like Mana Pools National Park, Chewore Safari Area, Sapi Safari Area, and Hurungwe Safari Area, among others.
Going forward, the seasoned conservationist is adamant that priority areas like education and awareness campaigns play a pivotal role in achieving the behavior change needed to make a lasting impact on the conservation of painted dogs. He also underscored the need for communities in wildlife-rich areas to gain tangible benefits from wildlife. 
As we commemorate World Painted Dog Day, Blinston shared a message to current and future African Wild Dog conservationists: "Don't give up! Never give up no matter what. The challenges are great and at times seem daunting, but real success is just around the corner, with so many willing stakeholders prepared to work together."