A young conservation biologist pushes for climate action at COP27
By Harleen Sehmi | November 11, 2022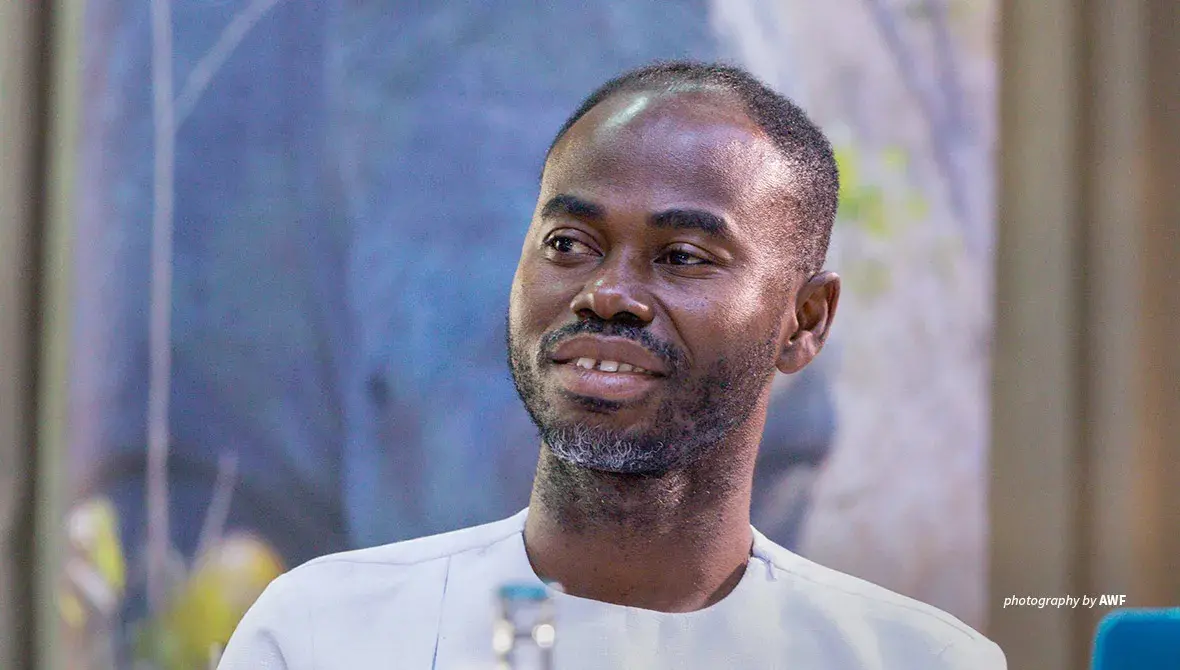 About the Author
Harleen Sehmi is the Senior Digital Content Officer at African Wildlife Foundation. She develops articles for AWF's website and publications, connecting audiences with the organization's work in diverse landscapes and showcasing the impact of community-centered conservation.
...
More
As world leaders, climate change experts, and various organizations convene in Sharm El Sheikh, Egypt for the 27th UN Climate Change Conference, African Wildlife Foundation's 2022 Charles R. Wall Young African Policy Fellows program ensures that young professionals have a seat at the table.
Having attended training sessions and workshops through the program, Agyei Ransford is joining the global meeting. Ransford is a conservation biologist with A Rocha Ghana, leading ecological monitoring and behavior change initiatives in the biodiversity-rich Atewa Range Forest Reserve. He explains how AWF's hands-on training and mentorship program has helped him bridge biodiversity conservation, grassroots climate action — and now — global environmental policies at UNFCCC.
What practical skills from the 2022 Charles R. Wall Young African Policy Fellows are especially relevant or valuable to you?
I am thrilled to be in the first cohort of the Charles R. Wall Young African Policy Fellows program as I have a stronger understanding of multilateral agreements and negotiation processes and procedures. I can now prepare convincing position statements and policy briefs, and I have also gained confidence in public speaking while making friends that have turned out to be great collaborators in my field of work. These new skills have made me an astute policy analyst; my research and work influence environmental policies significantly within the Atewa Range Forest Reserve in Ghana, especially those that help protect cultural monuments, biodiversity hotspots, and species habitats.
Why should African youth participate in environmental negotiations such as UNFCCC?
The African continent is on the move; it is youthful, and all countries have high development aspirations. Africa's natural resources attract external interest and investments. For instance, Ghana's economy is heavily supported by oil production and the government intends to open up the country for mineral exploitation — even when this could destroy areas of outstanding environmental value, such as the Atewa forest.
Climate change is a defining issue of our time. Greenhouse gas emissions generated by human activities are the leading cause of the earth's rapidly changing climate today. At COP27, I am hoping to learn and contribute more to technologies with the potential to make deep cuts to carbon emissions, carve new paths to prosperity, and create jobs across the continent.
For example, we can leverage bamboo as a material for sustainable construction and circular economic development or green hydrogen as an alternative fuel for industries, and even climate-smart agriculture to improve food security. Finally, I am enthused about climate financing for vulnerable ecosystems through carbon trade and hope to learn, network, and appreciate the views of fellow delegates at the conference.
How do you hope to apply the knowledge acquired through the program in your work and at COP27?
Thanks to AWF's multidimensional program, I have gathered a wealth of ideas that have helped me rally the support of the youth within the Atewa Range Forest Reserve landscape to mount pressure through their local government systems. This has ensured proper planning for natural resources in the hope that the government will consider gazetting the forest reserve as a national park.
Additionally, I have learnt about natural resource governance, which has strengthened our existing Community Resource Management Committee. Currently, communities have a better understanding of the role nature plays in supplying us with its ecosystem service and are making better decisions in relation to natural resource use in their communities. Through A Rocha Ghana's ecological monitoring project, I supervise 20 youths who used to be hunters to become citizen scientists and biodiversity monitors within the Atewa Range Forest Reserve landscape.
UNFCCC presents me with a rare opportunity to attend an international conference and meet like-minded conservationists from across the globe. The acquired knowledge from the Charles R. Wall Young African Policy Fellows program that I wish to apply during COP27 is to utilize any opportunity to deliver a key message on climate change and its impact on food security. I wish to form alliances with delegates that speak to this position and use the corridors to influence others who may have opposing ideas.
> Meet another Charles R. Wall Young African Policy Fellow attending UNFCCC COP27