Organizational Updates
AWF and AU Engage African Diaspora Youth in Preparation for US-Africa Leaders' Summit
General Inquiries
Tel:+254 711 063 000
Ngong Road, Karen, P.O. Box 310
00502 Nairobi, Kenya
The African Wildlife Foundation (AWF), in partnership with the African Union (AU) Representational Mission to the U.S. and the Ichikowitz Family Foundation (IFF), convened a consultative forum of African and diaspora youth leaders on December 7, 2022.
The purpose was to brainstorm topics that will be critical for African diaspora youth during the highly anticipated US-Africa Leaders' Summit, particularly during the African and Diaspora Youth Leaders Forum.
The theme of that forum, suggested by the U.S. government, will be "Amplifying Voices: Building Partnerships that Last." The topics brainstormed by the AU Youth Envoy's office and others included climate change adaptation and mitigation, engagement of African diaspora youth, promoting youth entrepreneurship (especially focusing on job creation, technology, and TVET), food security (African Agribusiness Youth Strategy, and conservation.
AWF aims to empower and inspire youth conservation action and increase the influence of youth networks in the conservation sector, especially at the interface between conservation and sustainable development. We are especially interested in focusing on innovative youth-led approaches. Additionally, we help young conservationists start successful careers in conservation and design and implement initiatives in areas ranging from wildlife management to conservation science to sustainable business.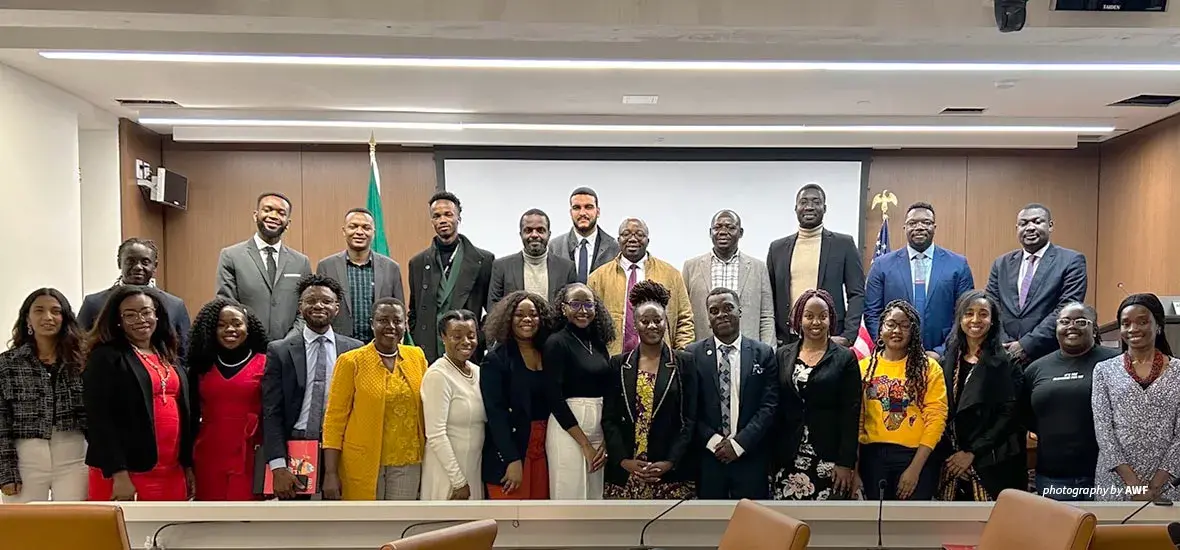 Speaking at the forum, the AU's Mission to the USA Permanent Representative H.E. Ambassador Hilda Suka-Mafudze said, "It is indeed exciting to see African youth come together to chart a new path for the Africa they want. It shows that they understand how important their voice is in sharing their needs and aspirations, and we as the African Union are glad to provide that mantle and the platform for them to be heard. We are hopeful that this forum will enable them to curate a united and impactful message at the summit, that will lead to action by their leaders and by the US and its partners."
According to the 2022 African Youth Survey, nearly three-quarters of young Africans are concerned about climate change, and more than 80% are concerned about the spread of infectious diseases such as COVID. The survey, which was commissioned by IFF, centered on the biggest issues facing Africans: climate change, COVID-19, economic opportunity, and foreign policy. It also measured key elements in changing the status quo: Afro-optimism, equality, and democratic ambitions.
Edwin Tambara, AWF Global Leadership Director, while participating in a panel discussion at the convention, reiterated that "Africa's population is growing. We are the youngest continent, the pressures on our natural resources continue to pile up and day in day out, we continue to explore and venture into unsustainable production and consumption patterns. At the African Wildlife Foundation, the answer lies with young Africans. The energy, the hunger, and capacity they must innovate and venture into unchartered territories is what we need.
"As we reposition environmental conservation in Africa, the role of young people as changemakers with agency to participate and take responsibility in the society cannot be overemphasized," he said. AWF has been partnering with the U.S. government to advance programs that target the youth in the leadership and environmental conservation space. We are currently partnering with members of Congress around a bill to establish an African Conservation and Climate Corps to stimulate employment creation, entrepreneurship, and innovation in environmental conservation.
In her keynote address to the youth in attendance, Chido Cleopatra Mpemba — the AU Youth Envoy — underscored that "our generation wants to craft our own future ourselves. We believe it is our responsibility to encourage active citizenship — activity that is in all aspects shaping the world around us. This includes opening the doors of business and politics to women, expanding access to technology, and taking maximum advantage of all that [the] digital age offers and speaking up about issues that impact the larger world, such as climate change and public health."
The African and Diaspora Young Leaders Forum, slated to be held on December 13, 2022, will strengthen discussion between U.S. government agencies and African diaspora in the United States by enhancing diaspora involvement. It will also give young African and diaspora leaders a platform from which to create ground-breaking responses to urgent problems.