Organizational Updates
AWF Hosts Fundraiser in Celebration of 60 Years of African Conservation Leadership
General Inquiries
Tel:+254 711 063 000
Ngong Road, Karen, P.O. Box 310
00502 Nairobi, Kenya
(LONDON, UNITED KINGDOM — JUNE 10, 2022) The African Wildlife Foundation (AWF) hosted a black-tie dinner with an auction to raise funds for AWF and commemorate 60 years of African conservation leadership. The 'Into the Wild' event was sponsored by The Explorations Company and held in London, U.K., on June 9, 2022, attracting conservation champions, donors, and African diplomats based in the U.K.
AWF's conservation leadership continues to grow and expand with a focus on tackling threats to Africa's wildlife and wild lands by improving community livelihoods, restoring degraded ecosystems, and curbing illegal wildlife trade. We were privileged to have several high-profile and exclusive auction items including from the world-renowned photographer David Yarrow, sculptor Hamish Mackie, and artists Violet Astor and Mark Adlington, along with select prints from the inaugural Benjamin Mkapa African Wildlife Photography Awards.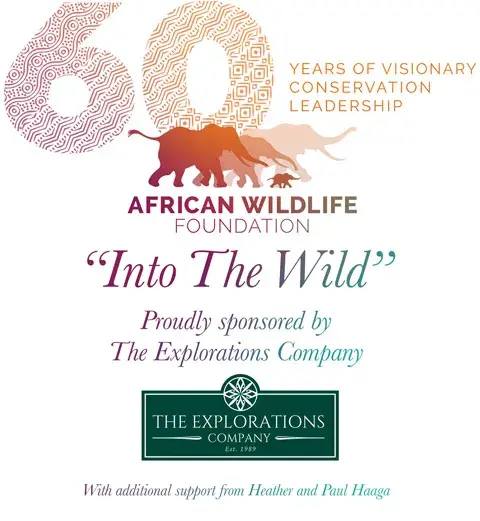 Having raised over £72 million for charities over the last 30 years, the world-famous best-selling author, Lord Jeffery Archer, took up his auctioneer's gavel to help AWF raise funds to continue expanding its work across Africa and support anti-poaching work in Zimbabwe. We are grateful to our sponsors, The Explorations Company and Heather and Paul Haaga, along with a host of other partners and auction donors, including Visit Rwanda, Wilderness Safaris, One 54 Holdings, and the Spitfire Academy. The event raised over £160,000 for the organisation's work across 17 African countries.
Giving his remarks during the evening, AWF CEO Kaddu Sebunya said, "Through our 60 years, we have pioneered African conservation leadership and continue to lead the change that is needed across the African continent. This fundraising event is a good catalyst to amplify African conservation voices to a U.K. audience. At AWF, we are committing our next 60 years to remaining authentic and bold, leaning into hard political conversations at all levels, and giving a voice to the perspectives rooted in the lived realities of people on the ground dealing with the consequences of nature's degradation."
The event took place in the wake of Queen Elizabeth II's Platinum Jubilee, as well as in the run-up to the upcoming Commonwealth Heads of Government Meeting in Rwanda, at which AWF is partnering and promoting investment in Africa's natural landscapes. Additionally, in a month's time, AWF will co-convene with IUCN for the first-ever Africa Protected Areas Congress, hosted by the Government of Rwanda.
During her welcome address, AWF's U.K. Director Kirstin Johnson stressed the critical role of global partners and supporters while appreciating AWF's growing network in the U.K., many of whom were present at the celebratory dinner.
Simon Muchatibaya, AWF's Technical Advisor at Mana Pools National Park in Zimbabwe, spoke about his work in the Mid Zambezi valley. In this landscape, poaching has decreased by 90 percent as a result of AWF's partnership with Zimbabwe Parks & Wildlife Management Authority, despite serious crises in the form of poaching, illegal wildlife trade, and most recently, COVID-19.
AWF remains determined to protect Africa's biodiversity and natural ecosystems that underpin a sustainable future for all.
About African Wildlife Foundation
The African Wildlife Foundation is the primary advocate for the protection of wildlife and wild lands as an essential part of a modern and prosperous Africa. Founded in 1961 to focus on Africa's conservation needs, we articulate a uniquely African vision, bridge science and public policy, and demonstrate the benefits of conservation to ensure the survival of the continent's wildlife and wild lands.
For more information or to arrange interviews, contact Wambui Odhiambo, AWF Media Specialist at wodhiambo@awf.org.