Organizational Updates
AWF Renews 5-year Strategic Partnership with Cameroon's MINFOF
General Inquiries
Tel:+254 711 063 000
Ngong Road, Karen, P.O. Box 310
00502 Nairobi, Kenya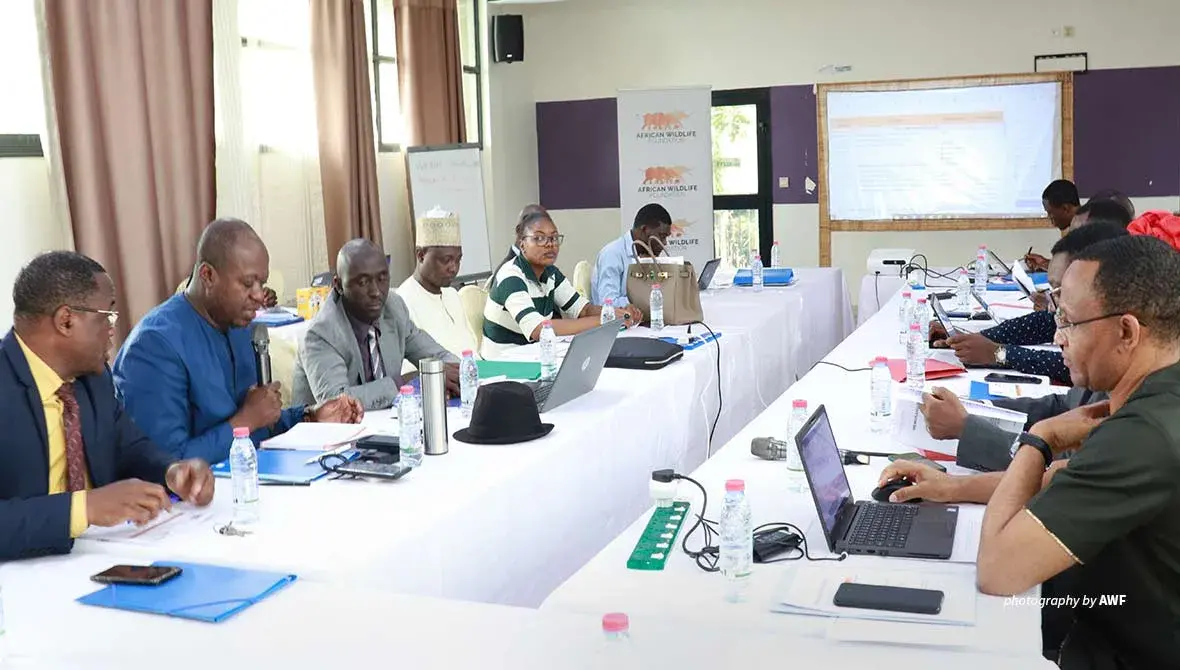 Within the framework of its strategic collaboration with Cameroon's Ministry of Forestry and Wildlife (MINFOF), and in a bid to ensure the conservation of Cameroon's landscapes and their biodiversity, the African Wildlife Foundation (AWF) is organizing a workshop from September 7-10, 2022 in Soa, Cameroon to begin discussions and negotiations for the renewal of its Memorandum of Understanding (MoU) with the ministry. Participants at the event include MINFOF officials including Joseph Lekealem, Director of Wildlife and Protected Areas, and Mouncharou Georges Collins, Director of Cooperation and Planning, representing H.E. Jules Doret Ndongo, Cameroon's Minister of Forestry and Wildlife. Equally in attendance is a delegation from the AWF Cameroon country office, headed by Country Director Norbert Sonne.
One of the priority areas to be discussed is the significant role AWF plays as a leading conservation NGO in Cameroon, providing technical and financial support to the Ministry of Forestry and Wildlife in the implementation of its conservation agenda. Sonne said, "Over the five-plus years that AWF has been operating in Cameroon, supporting the Ministry of Forestry and Wildlife in the protection and preservation of key landscapes such as Faro in the north, Dja, and Campo Ma'an landscapes down south, our organization has demonstrated great enthusiasm and proven its reliability and indispensability. We are here to renew the trust MINFOF accorded to us seven years ago," he added.
The workshop agenda includes a revision of the previous MoU signed between both parties and a renewal of the document which will form the basis of collaboration for the next 5 years. "The renewal and validation of our partnership with AWF will be based on the incumbent need to guarantee the perennation of the ecological, social, and economic functions of biodiversity in Cameroon, and following the guidelines stipulated by the sub-section for Forestry and Wildlife at the Ministry," Joseph Lekealem confirmed.
According to these guidelines, AWF will implement and execute specific actions related to: the security and sustainable management of protected areas; the valorization of wildlife products and protected areas; the fight against poaching and illicit wildlife trafficking; the sustainable management and valorization of landscapes and other ecosystems; good governance and institutional support in the domains of forestry and wildlife; and environmental education.
AWF is fully committed to supporting these engagements and contributing to the capacity building of MINFOF staff and other stakeholders working in conservation, creating opportunities for community development, and promoting active involvement and participation of local and indigenous communities in the sustainable management of protected areas. AWF will implement Rights-Based Conservation Approach in all its initiatives, facilitating public-private partnerships for the development of ecotourism in Cameroon and collaborating with MINFOF for effective human-wildlife conflict resolution. In return, MINFOF agrees to collaborate with full transparency, providing AWF with all needed administrative support and creating favorable conditions for a long-standing and effective partnership.