AWF Supports Critical Updates to KWS Law Enforcement Academy Curriculum
Organizational Updates
AWF Supports Critical Updates to KWS Law Enforcement Academy Curriculum
General Inquiries
Tel:+254 711 063 000
Ngong Road, Karen, P.O. Box 310
00502 Nairobi, Kenya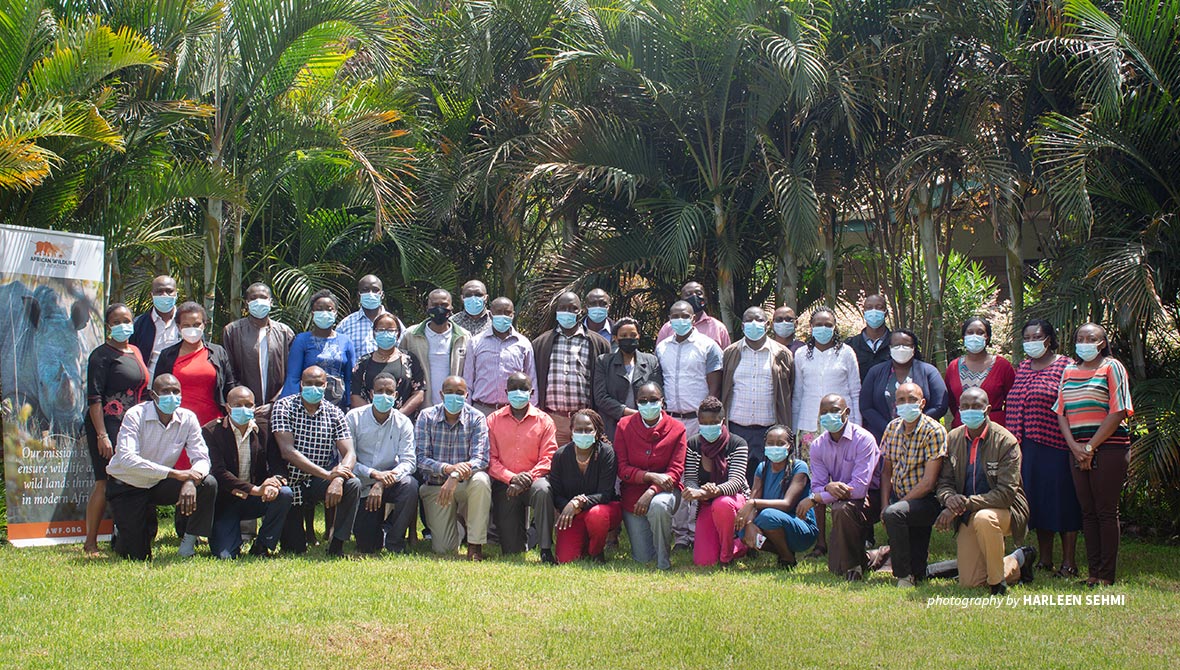 Officials and expert rangers from the Kenya Wildlife Service (KWS) attended a curriculum development workshop at Maanzoni Lodge in Machakos from May 17 - May 22, 2021. The intensive workshop is an integral step in the KWS Law Enforcement Academy (LEA) Ranger Cadre curriculum review process supported by African Wildlife Foundation (AWF) and the U.N. Office on Drugs and Crime (UNODC).
During the six-day workshop facilitated by TVET Curriculum Development, Assessment and Certification Council (TVET CDACC), expert rangers with diverse skillsets identified their duties and tasks according to the Developing a Curriculum (DACUM) process. The participants also identified the tools, equipment, materials, and supplies needed to carry out their work. Based on the discussions, a draft occupation analysis report will be submitted to the Council after verification by KWS officials selected by the Sector Skills Advisory Committee.
Prior to the occupational analysis workshop, AWF helped KWS kickstart a needs assessment exercise targeting all cadres of uniformed staff across Kenya's conservation areas, as well as the KWS Training Institute in Naivasha, KWS LEA in Manyani, and the KWS Headquarters. In addition to administering a questionnaire, the exercise also included a review of the wildlife management authority's strategic plan, internal policies, and other skills gaps reports.
The KWS LEA Training Needs Assessment Report submitted in December 2020 provided recommendations at an organizational, departmental, and individual level. A critical review of the academy's curriculum was identified to bridge skills gaps and ensure that KWS LEA produces officers with requisite competencies to effectively deliver wildlife law enforcement and conservation services in Kenya.
The KWS LEA curriculum has not undergone review since 2014. In conjunction with the International Fund for Animal Welfare (IFAW), AWF is implementing a comprehensive program funded by the Bureau of International Narcotics and Law Enforcement Affairs (INL) to counter wildlife trafficking in Kenya. Developing a competency-based curriculum for the wildlife management authority's rangers will help address emerging challenges in wildlife conservation and wildlife law enforcement.
AWF Senior Manager, Wildlife Law Enforcement Didi Wamukoya said, "Emerging aspects which are key to wildlife law enforcement, and which need to be streamlined into the KWS LEA curriculum, include basic investigation training, evidence custodian's training, species identification and expert testimony, training of rangers as witnesses, human rights in law enforcement, wildlife cybercrime, document inspection and examination, and aircraft observer and aviation accident trauma training."
Chief Instructor at KWS LEA and Acting Commandant Oswald Sangawe noted that ranger training has historically imparted paramilitary expertise to address the past threats to poaching. "There is a tremendous need to review the syllabus and make sure that it addresses the current challenges we face as an organization and it aligns with our policies," he said.
Sangawe noted that human-wildlife conflict is a significant concern and rangers must be trained on mitigation measures including community engagement and dealing with problem animals. During the six-day retreat at Maanzoni Lodge, instructors also deliberated on important updates to the Junior Officers management course offered at KWS LEA.
"We appreciate the current leadership at KWS [as they] are very interested in making sure we execute our mandate effectively," said Sangawe. He appreciated the long history of support from AWF and partner organizations, adding that they have been instrumental in kicking off the much-needed curriculum review process.