Organizational Updates
AWF Visits Former Uganda PM, Ministry of Tourism, and UWA Trustees
General Inquiries
Tel:+254 711 063 000
Ngong Road, Karen, P.O. Box 310
00502 Nairobi, Kenya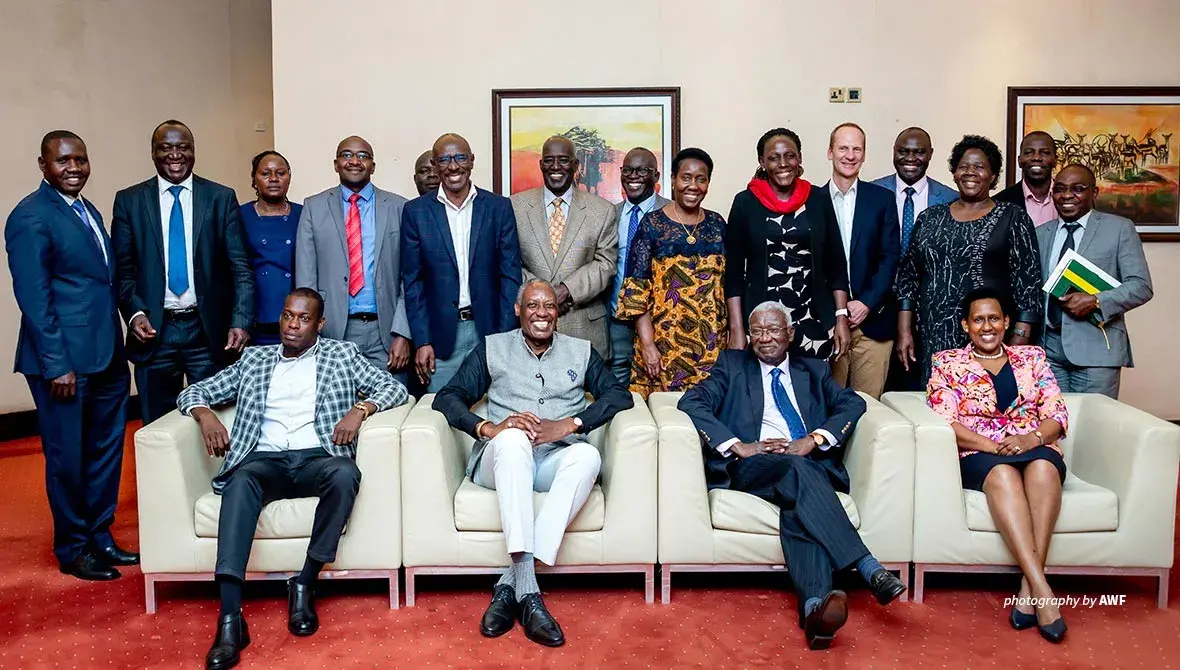 On August 2, 2022, the African Wildlife Foundation (AWF) CEO Kaddu Sebunya kicked off his Uganda visit in Kampala. This week-long visit entailed meeting the former Prime Minister of Uganda, Rt. Honorable Amama Mbabazi, Senior Counsel, Ministry of Tourism, Wildlife and Antiquities officials, and Uganda Wildlife Authority (UWA) Trustees and Executives.
Sebunya, alongside Sudi Bamulesewa, AWF Country Director, Uganda, held a successful meeting with Rt. Hon. Amama Mbabazi, at the former Prime Minister's office. The discussions revolved around AWF's global vision and its impact to Africa and Uganda. Hon. Mbabazi gave insight from his experience and how Africans can continue championing for African leadership.
"From our conversation it was very clear how conservation is connected to security in the continent especially due to climate change and internal migration. This was very enlightening," said Sebunya.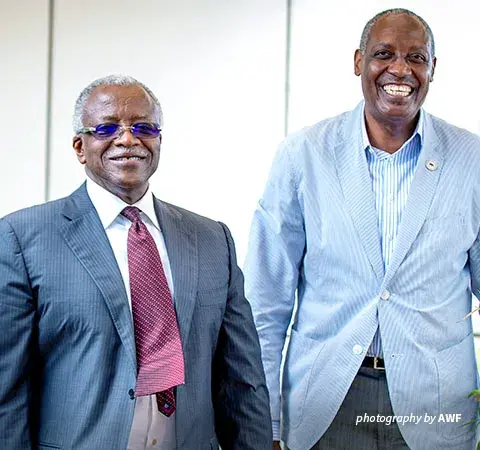 Thereafter, Sebunya, Bamulesewa, and Alistair Pole, AWF's Senior Director, Landscape Development, held a series of meeting with UWA Board of Trustees and Executives led by Sam Mwandha. The conversation was centered around Uganda's conservation strategy and how it best aligns with the AWF's vision for the country. Bamulesewa acknowledged the country for putting conservation at the forefront of its development agenda. This meeting further cemented the working relationship AWF has had with UWA. The wildlife management authority was particularly appreciative of AWF's diligence in spearheading conservation in Africa and its tremendous support for the last 25 years.
"AWF has over the years not only supported our efforts in conservation but puts the communities' livelihoods at the center. The communities remain the primary beneficiaries of all these interventions. Therefore, engagements such as these at such a time comes are ideal," noted Mwandha during his address.
Core to this visit was meeting Uganda's Ministry of Tourism, Wildlife and Antiquities officials. In attendance was the Cabinet Minister, Hon. Colonel Tom Butime, State Minister, Hon. Martin Mugara Bahinduka and the Permanent Secretary, Ms. Doreen Katusiime. In his presentation, Hon. Col. Butime lauded AWF for the successful conclusion of the inaugural Africa Protected Areas Congress (APAC) in Kigali, Rwanda.
He said, "I appreciate the theme we are building on from the APAC, decolonization of conservation. Indeed, we as Ugandans ought to take the lead. I am more grateful that AWF involves the leadership at all fronts because then we move as one. You have our support as the Ministry and the Government of Uganda."
Pole expounded on AWF's programmatic work in Uganda for the past 60 years and how it aligns with Uganda's conservation strategy.
"I leave Uganda knowing that there is a strong partnership between UWA and the government here. Our vision as an NGO and that of Uganda is very aligned for the future of this country. We all agree that Uganda has to develop economically, however we need to figure out how this development needs to occur," reiterated Sebunya, as he marked the end of his official visit.