Press Release
IUCN Africa Protected Areas Congress Culminates in Kigali Call to Action
General Inquiries
Tel:+254 711 063 000
Ngong Road, Karen, P.O. Box 310
00502 Nairobi, Kenya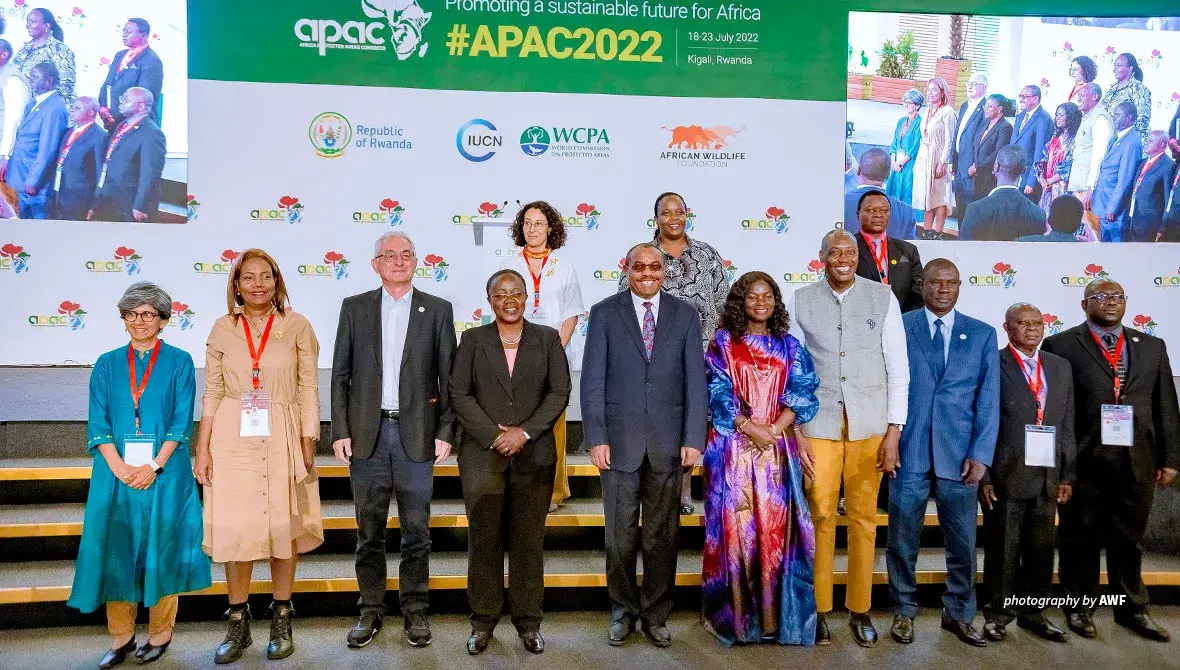 (KIGALI, RWANDA — July 23, 2022) The inaugural IUCN Africa Protected Areas Congress (APAC) closed today with the adoption of the Kigali Call to Action by more than 2,400 participants from across the continent and beyond.
Under the theme 'For People and Nature,' the Congress identified priority actions to strengthen Africa's protected and conserved areas in a manner that is just, equitable, and fair. These actions include strengthening the rights of indigenous peoples and local communities, greater public and private financial investment in nature conservation and protected and conserved areas, and enhanced pan-African collaboration, cooperation, and partnership for protected and conserved area systems throughout the continent.
"Rwanda was proud to host the Africa Protected Areas Congress. We are glad it has been a success. We must put people at the centre of conservation if we are to achieve the goals we have set for ourselves and move to actions," said Hon. Dr. Jeanne D'Arc Mujawamariya, Minister of Environment of Rwanda.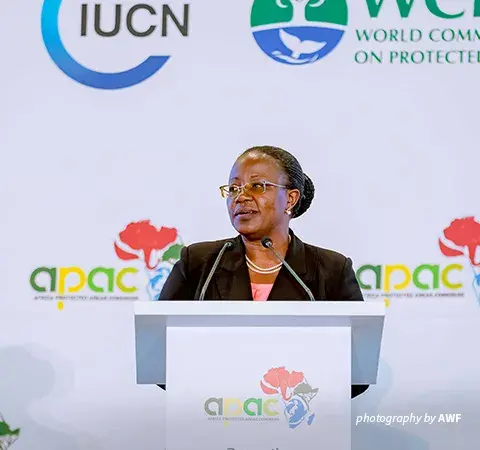 "This inaugural IUCN Africa Protected Areas Congress has highlighted that Africa's protected and conserved areas are vital for nature and biodiversity, but also for African peoples' livelihoods and cultures," said IUCN Director General Dr. Bruno Oberle. "It has formed an unprecedented and diverse coalition that includes governments and civil society stakeholders such as youth, indigenous peoples and local communities as well as protected area directors and rangers to strengthen protection and conservation."
"The Africa Protected Area Congress has further exhibited that the importance of conservation is non-negotiable. Therefore, we call upon all African governments to actualize their commitments to safeguard nature and actively engage with all relevant stakeholders in the creation of A Pan-African Conservation Trust that honors the strong statements within the Kigali Call to Action. Let us get to work," said Kaddu Sebunya, CEO of African Wildlife Foundation (AWF).
During a closing plenary, representatives of youth and indigenous peoples groups delivered statements, followed by the formal adoption of the Kigali Call to Action and closing remarks by the co-conveners of the event, the International Union for Conservation of Nature (IUCN), AWF, and the Government of Rwanda.
MEDIA CONTACTS:
About International Union for Conservation of Nature
IUCN is a membership Union uniquely composed of both government and civil society organisations. It provides public, private and non-governmental organisations with the knowledge and tools that enable human progress, economic development and nature conservation to take place together. Created in 1948, IUCN is now the world's largest and most diverse environmental network, harnessing the knowledge, resources and reach of more than 1,400 Member organisations and some 15,000 experts. It is a leading provider of conservation data, assessments and analysis. Its broad membership enables IUCN to fill the role of incubator and trusted repository of best practices, tools and international standards.
IUCN provides a neutral space in which diverse stakeholders including governments, NGOs, scientists, businesses, local communities, indigenous peoples organisations and others can work together to forge and implement solutions to environmental challenges and achieve sustainable development.
Working with many partners and supporters, IUCN implements a large and diverse portfolio of conservation projects worldwide. Combining the latest science with the traditional knowledge of local communities, these projects work to reverse habitat loss, restore ecosystems and improve people's well-being.
About African Wildlife Foundation
AWF is the primary advocate for the protection of wildlife and their habitats as an essential part of a modern and prosperous Africa. Founded in 1961 to focus on Africa's conservation needs, we articulate a uniquely African vision, bridge science and public policy, and demonstrate the benefits of conservation to ensure the survival of the continent's wildlife and their habitats. AWF aims to build a future for Africa where people and wildlife thrive.
The African Wildlife Foundation engages and supports African leadership at all levels to ensure development in Africa is sustainable and protects wildlife and their habitats as an investment in Africa's future.