Press Release
First IUCN Africa Protected Areas Congress Opens in Kigali, Rwanda
General Inquiries
Tel:+254 711 063 000
Ngong Road, Karen, P.O. Box 310
00502 Nairobi, Kenya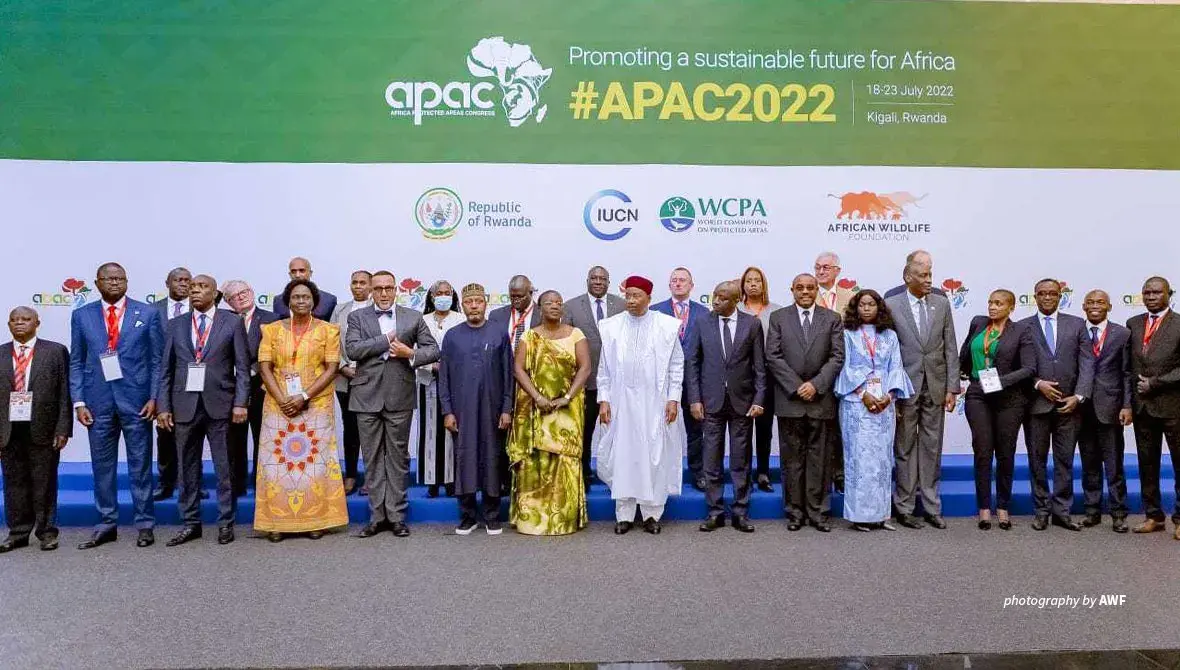 (KIGALI, RWANDA — July 18, 2022) The IUCN Africa Protected Areas Congress (APAC) — the first-ever Pan-African gathering of leaders, citizens, and interest groups focused on protected areas — begins today in the Rwandan capital, Kigali, with an address by the Prime Minister of Rwanda, Rt. Hon. Édouard Ngirente.
More than 2,000 participants from 52 African countries and beyond come together at APAC to address challenges and drive action for Africa's protected and conserved areas. They will discuss the key role of these areas in safeguarding the continent's iconic wildlife, delivering vital ecosystem services, driving sustainable development, and conserving Africa's cultural heritage and traditions. The event is expected to culminate in the adoption of the Kigali Call to Action by all participants.
"Africa is rich in biodiversity — perhaps the richest in the world. We have the most beautiful rivers, forests, mountains and a variety of wildlife that can only be found on this continent. We must therefore spare no effort in protecting and conserving this diversity," said Rt. Hon Ngirente. "Given the huge social and economic benefits of protected and conserved areas, it is my conviction that this Africa Protected Areas Congress will chart pathways towards resilient and sustainable conservation of our biodiversity for economies' transformation."
"Protected and conserved areas in Africa have a complicated legacy, with conservation success too often coming at the expense of local communities. One key focus of the first-ever IUCN Africa Protected Areas Congress is to give a voice to these marginalised communities, stressing their stewardship of nature and the need for inclusive and just conservation models under African leadership, and with global support," said Dr. Bruno Oberle, IUCN Director General.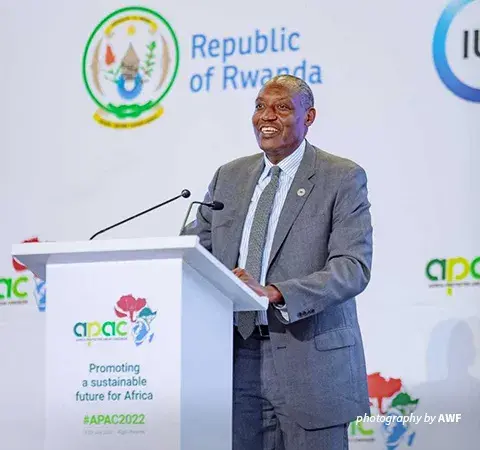 "The Africa Protected Area Congress offers Africa the golden chance to reset and recalibrate our mindsets towards sustainable avenues that will ensure that the wellbeing of wildlife and their habitats is safeguarded. Africa faces the challenge of economic transformation in a world that is aware that the current model of prosperity is reaching its ecological limits. To be successful in beating extinction and postponing its inevitability, we will need strong alliances that bring different sectors together if we are to overcome the challenges of wildlife protection and conservation and save the future of our planet; hence why APAC is so important at this moment in time," said Kaddu Sebunya, CEO of African Wildlife Foundation (AWF).
APAC participants include Ministers and other decision-makers, community leaders, youth representatives, and scientists. Among the confirmed speakers at the Congress are the Prime Minister of Rwanda Rt. Hon. Édouard Ngirente, IUCN Director General Dr. Bruno Oberle, and AWF CEO Kaddu Sebunya, as well as indigenous representatives such Hindou Oumaru Ibrahim, member of the Indigenous Peoples of Africa Coordinating Committee.
Please consult the APAC website for details about the Congress program.
Media registration remains open to cover the event in person. Key sessions, including press conferences, can also be followed via live stream. To see which sessions will have a virtual component, please visit apacongress.africa
MEDIA CONTACTS
Valentine Njoroge, Communications Coordinator Africa Protected Areas Congress, vnjoroge@apacongress.africa, Tel: +254715448909
Matthias Fiechter, Media & Communications Officer IUCN, press@iucn.org, Tel: +41795360117
Wambui Odhiambo, Media Specialist, African Wildlife Foundation, wodhiambo@awf.org, Tel: +254728886987
About International Union for Conservation of Nature
IUCN is a membership Union uniquely composed of both government and civil society organisations. It provides public, private and non-governmental organisations with the knowledge and tools that enable human progress, economic development and nature conservation to take place together. Created in 1948, IUCN is now the world's largest and most diverse environmental network, harnessing the knowledge, resources and reach of more than 1,400 Member organisations and some 15,000 experts. It is a leading provider of conservation data, assessments and analysis. Its broad membership enables IUCN to fill the role of incubator and trusted repository of best practices, tools and international standards.
IUCN provides a neutral space in which diverse stakeholders including governments, NGOs, scientists, businesses, local communities, indigenous peoples organisations and others can work together to forge and implement solutions to environmental challenges and achieve sustainable development.
Working with many partners and supporters, IUCN implements a large and diverse portfolio of conservation projects worldwide. Combining the latest science with the traditional knowledge of local communities, these projects work to reverse habitat loss, restore ecosystems and improve people's well-being.
About African Wildlife Foundation
AWF is the primary advocate for the protection of wildlife and their habitats as an essential part of a modern and prosperous Africa. Founded in 1961 to focus on Africa's conservation needs, we articulate a uniquely African vision, bridge science and public policy, and demonstrate the benefits of conservation to ensure the survival of the continent's wildlife and their habitats. AWF aims to build a future for Africa where people and wildlife thrive.
The African Wildlife Foundation engages and supports African leadership at all levels to ensure development in Africa is sustainable and protects wildlife and their habitats as an investment in Africa's future.