KfW Visits Campo Ma'an Landscape in Cameroon
Organizational Updates
KfW Visits Campo Ma'an Landscape in Cameroon
General Inquiries
Tel:+254 711 063 000
Ngong Road, Karen, P.O. Box 310
00502 Nairobi, Kenya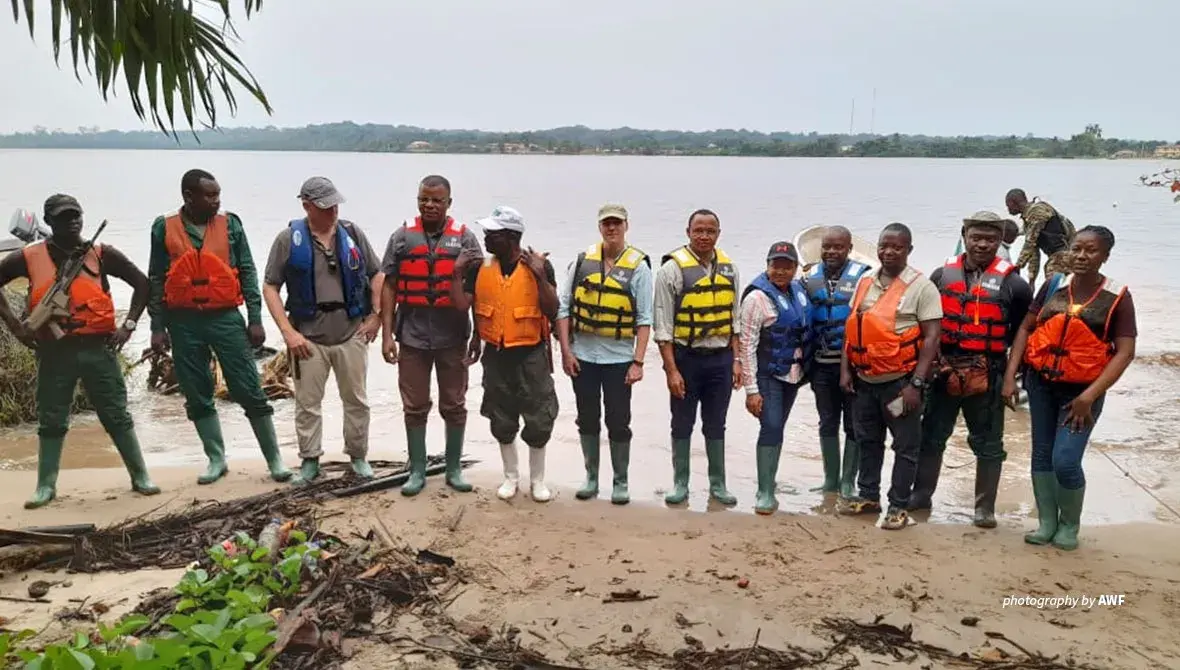 From February 19-21, 2022, the African Wildlife Foundation (AWF) received a delegation from the German Development Bank, KfW, in the Campo-Ma'an landscape in Cameroon. Led by Schlegel Bianca, in charge of Governance, Biodiversity and Health for Central Africa and flew in from KfW headquarters in Frankfurt, Germany, the delegation also included two members from the KfW Cameroon team: Camille Jepang, Coordinator, Natural Resources Management and Biodiversity Conservation, and Dieudonne Honba, Coordinator Rural Development.
They were accompanied by Jean-Claude SOH and Frank Kammer from MATCo, the consultancy firm in charge of providing technical assistance in the implementation of the Basket Funds allocated to the Government of Cameroon, in which KfW is a the major contributor. The team was received by AWF Cameroon Country Director, Norbert Sonne, and team members Lesly Akenji and Amandine Toumbou.
The visit was an opportunity for the KfW delegation to assess and evaluate progress achieved in the implementation of the Biodiversity Conservation Program of the Campo Ma'an landscape. Besides exchange sessions, the team visited the Gorilla Habituation initiative led by World Wide Fund and with support from AWF, which focuses on securing habitat for gorillas. Also of interest to the delegation was the valorization of non-timber forest products by the Bagyeli community who make up the indigenous population of the area.
AWF Cameroon Country Director, Norbert Sonne said: "We received very constructive feedback from KfW during this visit and they remain very positive about the work AWF is doing in Campo-Ma'an. This is key to opening new reflections on the second phase of the project given that the current phase will end in December 2023. As per recommendations, AWF will upscale the inclusion of local communities in field activities and ensure the integration of the private sector as a strong component in the eventual effectuation of the second phase of the project."
During the visit, KfW showed great appreciation of the progress so far achieved in the implementation and burn rate of the Campo Ma'an Biodiversity Conservation program and also complimented AWF's efforts in securing auxiliary funding for the project from other partners such as the Foundation for Environment and Development in Cameroon (FEDEC), generous AWF donors, and other AWF internal resources.
More than ever, AWF is committed to developing and implementing initiatives to improve the management of the Campo Ma'an National Park as a key tool for the promotion and marketing of ecotourism in Cameroon. All this, while bolstering anti-poaching efforts and boosting sustainable livelihoods for communities by supporting the optimization of non-timber forest products.