Zimbabwe Launches Inaugural Zimbabwe Biodiversity Economy Report
General Inquiries
Tel:+254 711 063 000
Ngong Road, Karen, P.O. Box 310
00502 Nairobi, Kenya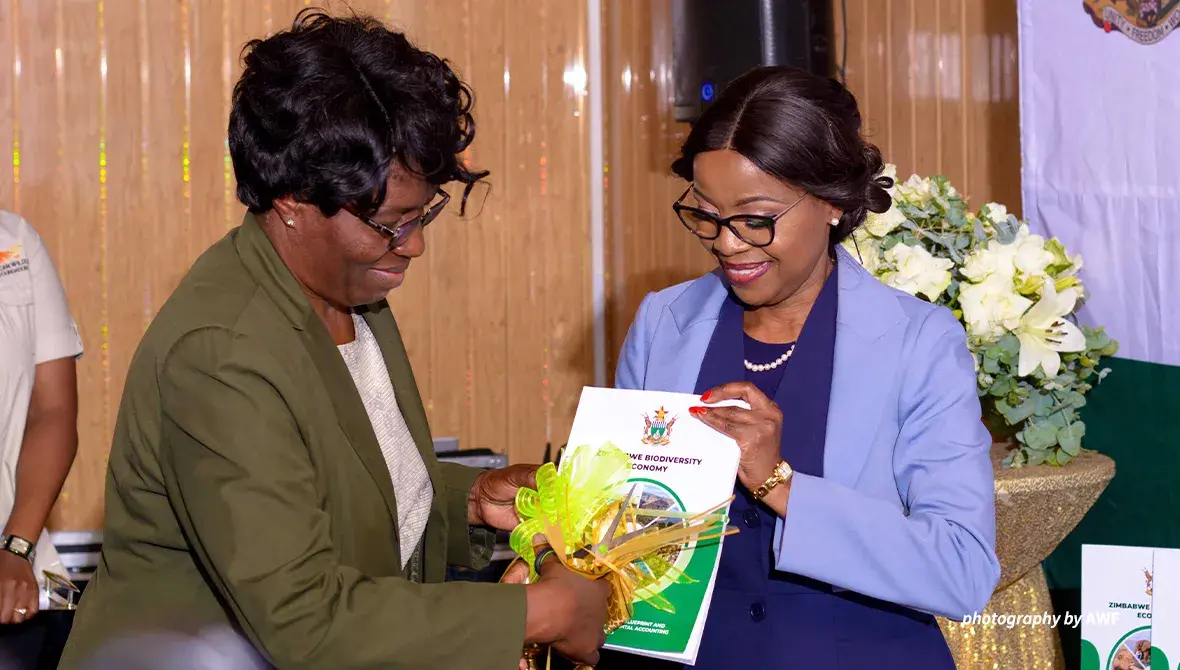 (HARARE, ZIMBABWE — September 13, 2023) The Ministry of Environment, with support from the African Wildlife Foundation (AWF), launched the first-ever Zimbabwe Biodiversity Economy (ZBE) Report on September 13, 2023, at Rainbow Towers Hotel in Harare. The landmark document was developed after the realization that although Zimbabwe has rich biodiversity with economic benefits, there was no systematic framework to fully measure biodiversity contributions to economic development.
The ZBE report provides a framework that would help Zimbabwe to mainstream the value and contribution of nature into development planning, policy development, and decision-making on public and private sector investment. This tallies with regional and international commitments made through the Kigali Call to Action and Kunming Montreal Global Biodiversity Framework on the need to promote the development of biodiversity economies.
"AWF is pleased to have partnered with the Ministry of Environment to produce the Zimbabwe Biodiversity Economy Report, that not only sets a baseline on the value and contribution of nature, but also identifies viable business and investment opportunities through which Zimbabwe can unlock the enormous potential value in its rich biodiversity," AWF Zimbabwe Country Director Olivia Mufute said.
With funding support from AWF working with the environment ministry, the ZBE went through various stages, including the hosting of an inception meeting to discuss its development in September 2021 and the validation of findings and recommendations of the study in April 2022, among other processes that led to the study's launch. 
Officially launching the ZBE report, the Acting Secretary in the Ministry of Environment, Climate, Tourism and Hospitality Industry, Tariro Musonza, underscored the importance of the ZBE Study in recognizing the key role of nature in harnessing opportunities and the long-term growth of a biodiversity economy towards the realization of an upper middle-income economy by 2030. 
"The main objective of the report is to ensure that the value of biodiversity is recognized and mainstreamed in development planning and national accounts for sustainable social and economic development," Musodza said. "Allow me at this stage to express our gratitude to the African Wildlife Foundation for financially and technically supporting this study."
She also pinpointed the need for a good legislative and policy framework to anchor a successful biodiversity economy and commended efforts being made by the government in reviewing various environment-related acts and policies such as the Wildlife Policy, National Environmental Policy, Environmental Management Act, and Parks and Wildlife Act. 
"These legal and policy frameworks seek to create an enabling environment for natural resources conservation and sustainable use. These processes will no doubt enhance the Zimbabwe biodiversity economy."
About African Wildlife Foundation
AWF is the primary advocate for the protection of wildlife and their habitats as an essential part of a modern and prosperous Africa. Founded in 1961 to focus on Africa's conservation needs, we articulate a uniquely African vision, bridge science and public policy, and demonstrate the benefits of conservation to ensure the survival of the continent's wildlife and wild lands. 
MEDIA CONTACT: For more information and to arrange interviews, contact Wambui Odhiambo, Senior Executive Communications Specialist, at wodhiambo@awf.org