Weight
90 to 120 kilograms (190 to 265 pounds)
Size
92 centimeter at the shoulder (36 inches)
Life span
About 17 years in captivity
Habitat
Grasslands, floodplains, or savanna woodlands
Native to more than
15
African countries
Regionally extinct in
5
African countries
Live in groups of
40
or less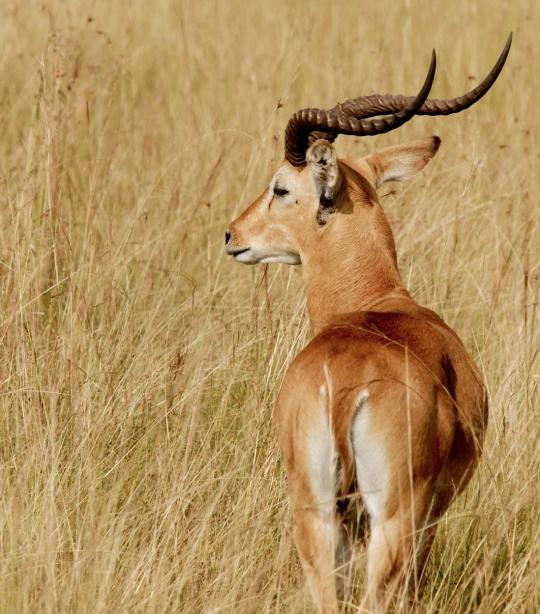 Challenges
Kobs are competing for land with humans.
These antelopes are ecologically restricted, preferring low-lying flats or gently rolling country, free of seasonal extremes and close to permanent water. These also happen to be favorable conditions for farming, and they often find themselves in competition with humans who are using these lands for agriculture.
Solutions
Our solutions to protecting the kob:
Set aside protected areas.
African Wildlife Foundation works with governments and local communities to designate wildlife corridors — large swaths of land that kobs can use to roam freely and safely from one park, or country, to another. Corridors link protected areas and allow wildlife to follow rains or travel to and from their calving grounds.
Create livelihood alternatives.
AWF has a long history of working with pastoralist communities to improve sustainable livelihoods. In Tanzania and Kenya, AWF, with funding from U.S. Agency for International Development (USAID), launched the Livestock for Livelihoods Program. The program aims to eradicate poverty among pastoralist communities while simultaneously protecting landscapes and wildlife. The economic boost from the program reduces pressure on the landscape by reducing the need for farming and charcoal burning, thereby freeing more space for wildlife, like the kob.