Weight
90 to 147 kilograms (198 to 324 pounds)
Size
104 centimeters to 126 centimeters in height (40 to 50 inches)
Habitat
Floodplains and grasslands
Predators
Lions, leopards, cheetahs, hyenas, hunting dogs, humans
Population estimate of
300,000
individuals
There are
5
subspecies of topi
Regionally extinct in
6
African countries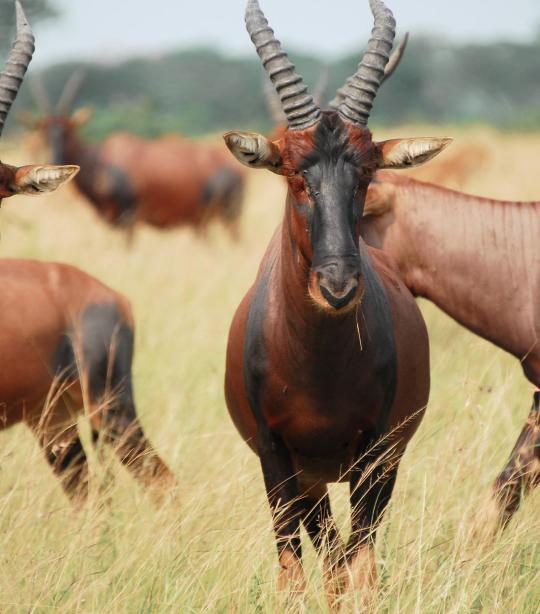 Challenges
Habitat loss is a major strain on topi populations.
Human populations are growing and expanding agriculture, roads, and settlements, leading to the loss of living space for these large antelopes and resulting in many complications. The topi's ecological and dietary limitations make it more difficult for them to compete for resources. Hardier antelopes, like the wildebeest, fare better in less favorable conditions. Livestock is also out-competing topis on grazing ranges during the dry season.
Solutions
Our solutions to protecting the topi:
Engage governments.
African Wildlife Foundation works with government entities to help plan and propose alternative solutions to habitat fragmentation. AWF provides its scientists and researchers as resources to assist in proper planning to ensure a balance between modernization and conservation.
Grow conservation tourism.
AWF brings communities together with private investors to construct tourism lodges like Satao Elerai, a luxury lodge situated on 5,000 acres in Kenya. The land is protected, so wildlife can roam safely and freely, and the revenue is reinvested into the community and into local wildlife conservation.