Blazing a trail for woman-led wildlife conservation in rural Zimbabwe
Blazing a trail for woman-led wildlife conservation in rural Zimbabwe
By Harleen Sehmi | March 8, 2019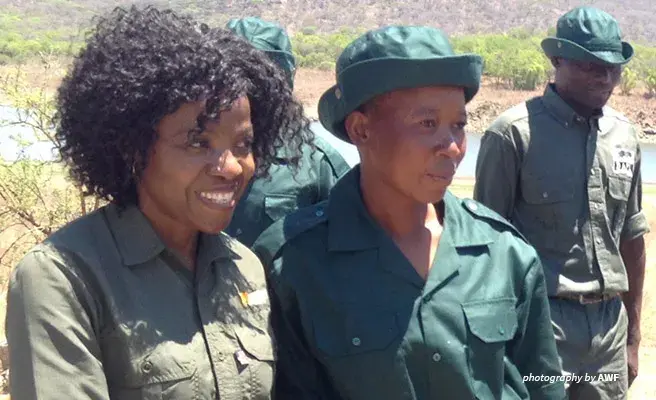 About the Author
Harleen Sehmi is the Senior Digital Content Officer at African Wildlife Foundation. She develops articles for AWF's website and publications, connecting audiences with the organization's work in diverse landscapes and showcasing the impact of community-centered conservation.
...
More
For the first time ever, women will join the forty-plus team of community scouts patrolling Mbire district in Zimbabwe's wildlife-rich Lower Zambezi Valley. For Country Director Olivia Mufute, who leads African Wildlife Foundation's community conservation and wildlife protection programs in Zimbabwe, adding female scouts to the force is not a minor achievement. In fact, it marks the beginning for the country's rural women striving to create a new future by taking up active roles in biodiversity protection.
With support from the European Union, Mufute and her team in Zimbabwe are equipping community scouts with the tools and training to manage poaching and human-wildlife conflict in the Lower Zambezi Mana Pools Trans-Frontier Conservation Area. At the same time, AWF collaborates with local conservation partners to improve farming and fishing practices so local communities in Zimbabwe and Zambia can conserve the wildlife and the ecological systems essential for their livelihoods.
Increasing the participation of women in these processes is critical, particularly in rural areas like Mbire. "Traditionally, women have played a key and active role in natural resources management, however, there is a domination of men in leadership positions," notes Mufute, who spent much of her early career in conservation overturning long-held gender norms. She rose through the ranks becoming the first black female Chief Ecologist and Multilateral Environmental Agreements Manager at Zimbabwe Parks and Wildlife Management Authority (or Zimparks).
Her simple philosophy held her in good stead: "Focus on delivery of results and let [your] work speak for itself." In more than two decades at Zimparks, Mufute reinvigorated the authority's research and monitoring capacity while also overseeing the development of national and regional wildlife policies. "My earliest hero was my dad," she reminisces, "he taught me hard work, honesty, and self-confidence." She looks back at family trips to game parks in Central Zimbabwe where she grew up and the many fishing weekends away that sparked her love for nature. From marveling at the sight of a kudu at age 8 to spotting an elephant and giraffe in the wild for the first time on a high school trip, Mufute wonders, "Little did I know that my life would be centered around the conservation of these megafaunas!"
That a biodiversity-rich country like Zimbabwe is her home is a privilege, as is her access to the country's best schools. After her first degree in Ecology and Natural Resources Management, Mufute went on to attain MSc in the same from the Kharkov State University in Ukraine and MSc in Biodiversity Conservation from the International University of Andalusia in Spain. Recognizing the responsibility of her various professional qualifications and experience carry, Mufute's passion is steadfast. "I am driven by a passion to leave a lasting legacy which ensures that the next generations benefit from the right decisions on nature conservation," she holds. One of the priorities in this mission is to create the foundation for Zimbabwe's rural women to benefit from sustainable natural resource management.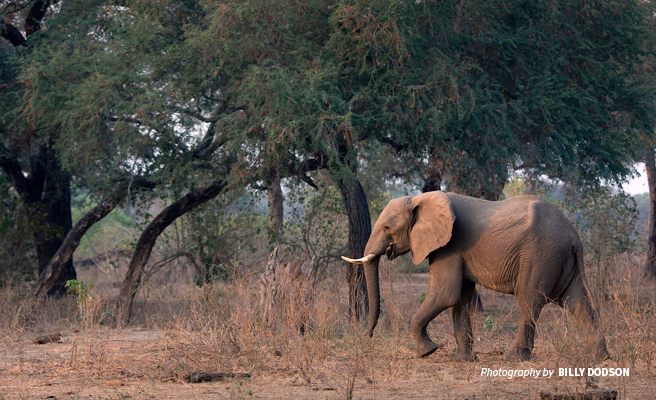 Community conservation geared to empower women
For Mufute, ecosystem health is at the heart of enhancing local livelihoods. By promoting greater inclusion, representation, and participation of women in wildlife and natural resource management, AWF's projects in the Lower Zambezi Valley are building the resilience of what is often considered a vulnerable demographic.
It has been an uphill battle for Mufute and the team she manages in the Lower Zambezi Mana Pools Trans-Frontier Conservation Area, spread across target villages along the Zimbabwe-Zambia border. Apart from overcoming logistical challenges as her country goes through a transitional period, Mufute must also navigate cultural conventions that exclude women from decision-making processes as well as a low awareness on rights, governance, and access among women. The landmark recruitment of four women as community scouts in Mbire was the result of AWF's outreach programs. When they joined the existing team for training, Edith John, one of the new female community scouts emerged as the top student. "She was not even going to be part of the team had we not requested women to apply," Mufute points out.
Mufute recounts how only male fishers attended a recent governance meeting because of a misunderstanding — the community radio announcement invited "fishermen," so female fishers stayed behind. To ensure female representation in some fishing committees, AWF has had to lobby for certain positions to be reserved for women only; notably, other committees have elected women to take up top positions. Awareness-building and training workshops are also delivered differently for male and female groups. Addressing the challenge of access, Mufute explains, "We avoid campaigns further away from homes to encourage women to attend and participate."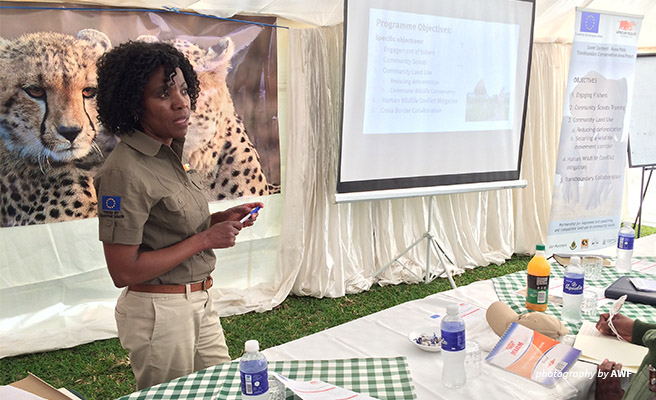 Embracing new approaches for conservation
For vulnerable communities in the landscape, AWF's transboundary conservation program encourages responsible natural resource management to turn these groups away from illegal wildlife crime. The projects also help mitigate human-wildlife conflict — for example, introducing chili farming to keep elephants out of farms. Of the 1,500 individuals, AWF and partners are targeting through alternative livelihood development programs, half are female, and 25 percent comprise youth.
"Conservation has the potential to uplift and empower rural women in Zimbabwe," holds Mufute, citing how the famous all-women Akashinga anti-poaching unit employs unique tactics to protect a wildlife park close to Mbire. "There is an element of empathy — they balance out the approach with dialogue and an understanding of family dynamics," she ponders. Apart from inspiring Mbire's community scout force to learn from the Akashinga rangers, Mufute hopes that women-led conservation will also transform rural communities across Zimbabwe.
> Learn how an AWF-trained female wildlife scout in Tsavo, Kenya is taking charge of community conservation