Endangered mountain gorillas find a safe haven in Africa's oldest park
Endangered mountain gorillas find a safe haven in Africa's oldest park
By Craig R. Sholley | September 10, 2018
About the Author
Craig R. Sholley is the African Wildlife Foundation's Senior Vice President and Special Advisor. Craig's experiences with wildlife and conservation began in 1973 as a Peace Corps volunteer in Zaire. As an L.S.B. Leakey grant researcher in the late 1970s, Craig studied mountain gorillas with Dia ... More
Within its modest acreage, Rwanda's Volcanoes National Park packs five of the eight volcanoes that make up the majestic Virunga Mountains, a haven for the critically endangered mountain gorilla. Families of this great ape are scattered across the transboundary mountain range between Rwanda, the Democratic Republic of Congo, and Uganda — but more than half are found in Volcanoes. Not only is Volcanoes National Park the only protected area in Rwanda that is home to the mountain gorilla but other rare wildlife species like the golden monkey live among its mix of bamboo and montane forests, and rich biodiversity flourishes around the small swamps and lakes dotting the landscape.
Established in 1925 as Albert National Park — this Rwandan gem was a part of Africa's first official protected area spanning what is now known as the Democratic Republic of Congo. Over 8,000 sq. kilometers, Albert was created especially for the protection of mountain gorillas. While Rwanda maintained its portion after independence from colonial rule, over the next four decades the loss of the great ape's habitat to growing human populations and large-scale agriculture became more and more common.
Poaching was also rife and the civil conflict that plagued Rwanda in the early '90s turned the national park into a battlefield. Dian Fossey's famous Karisoke Research Center shut down for seven years after it was attacked in 1992. No tourists ventured into Volcanoes National Park during these turbulent times.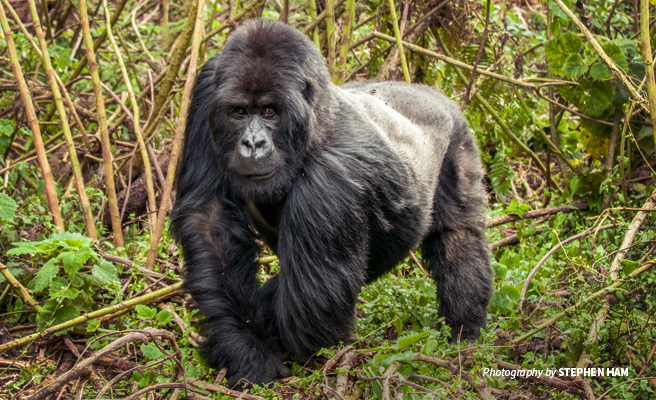 Saving precious mountain gorilla habitat secures Rwanda's future
African Wildlife Foundation was among the first to recognize the need for an integrated approach to mountain gorilla conservation. Apart from blending anti-poaching measures with community outreach, our ecotourism approach emphasized the value of living gorillas as a vital, sustainable income source.
Since those early interventions, Volcanoes National Park — and the mountain gorillas within — has become a significant economic engine for Rwanda. The country generated USD $404 million from tourism in 2016, and 10 percent of revenue from Rwandan parks goes to local communities. Between 2005 and 2015, the communities around Volcanoes National Park received over USD $3 million, which allowed them to support school development, scholarships, infrastructure, employment, and other services.
To continue to build on Rwanda's conservation success, in January 2018, AWF donated a 40-acre parcel of land to the Rwandan Development Board to extend the national park boundaries. As the first expansion in over 30 years, it is not only a historic move but a strategic measure that will reduce pressure on growing gorilla populations especially as they travel in the narrowest section of the park. It is here that they often cross the park boundaries, bringing them closer to humans who might attack them for trampling their crops. The close proximity to settlements also puts the mountain gorillas at greater risk of catching diseases.
With the latest mountain gorilla census recording the greatest number of these great apes yet — over 1,000 from 880 in the last count — the expansion marks the beginning of a new and necessary chapter for Volcanoes National Park and heralds a bright future for sustainable development in Rwanda.
> Find out how Rwanda celebrates the successful conservation of its mountain gorillas at Kwita Izina