Classroom Africa: Inspiring young people about conservation
Classroom Africa: Inspiring young people about conservation
By Terry Mukera | October 25, 2021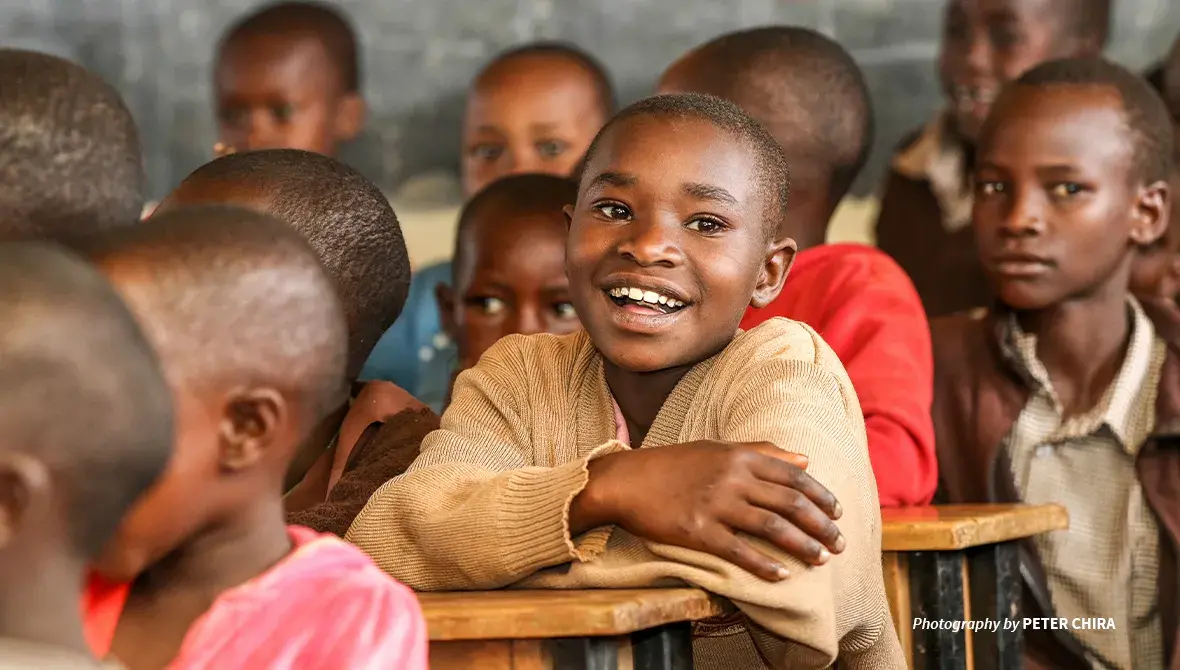 About the Author
Terry Mukera is African Wildlife Foundation's Editorial Associate. She helps to develop and write articles for AWF's publications like the Travel Africa magazine, and other print marketing products such as the annual report. Terry is passionate about storytelling and its crucial role i ... More
From its earliest years, AWF believed in conservation education as a way forward for Africa's wildlife and wild lands. Early efforts focused on developing a cadre of trained conservation technicians and leaders at the graduate and postgraduate levels and fostering wildlife clubs for middle and high-school students. Many years later, AWF expanded this focus to even younger students through our flagship Classroom Africa program.
Since rebuilding the first school in 2011, Classroom Africa has built six bright, airy, modern schools in areas of critical conservation concern: Ethiopia's Simien Mountains, Kidepo Valley in Uganda, Zambia's Lupani District, the Manyara corridor in Tanzania, and the DRC's Equator Province. In return for conservation commitments by communities, Classroom Africa not only upgraded the primary schools and campuses but also offered extracurricular conservation activities for students, as well as continuing education and housing to attract the brightest teachers to rural areas.
These schools have not only helped improve the lives of over 2,000 students annually, but they have also supported the professional development of scores of teachers. Through training and mentorship in collaboration with governmental and other local actors, we've helped these Classroom Africa teachers build pedagogical skills, technology know-how, and facility in incorporating conservation into learning. On the conservation side, Classroom Africa's land-use covenants with communities have protected more than 223,000 acres of forest and other wild lands.
Growing our impact on conservation education
Based on our decade of learning, AWF set a new course for Classroom Africa in its 2020-2030 Strategic Vision for African wildlife conservation. The program is evolving from solely brick-and-mortar projects to more dispersed conservation education centered on AWF focal landscapes. New program elements are designed to identify and nurture future conservationists, elevate community support for protected areas, and build or strengthen community efforts to fight the illegal wildlife trade.
To achieve this expanded strategy, the six schools constructed by AWF will serve as hubs for community conservation outreach and a platform for training teachers from schools across entire landscapes. Schools will be linked with national wildlife clubs and other local conservation-focused governmental institutions while implementing conservation education in classrooms.
The program will also seek to improve educational standards through the provision of books and other educational resources. In particular, infrastructure improvements to allow solar power generation will provide electricity to enhance learning environments.
Our larger goal is to positively engage schools and children for long-term impacts on conservation success in a landscape. Serving more students and teachers will enable us to reach many more young people at a time when Africa is experiencing dramatic growth in population as well as economic development, including new infrastructure. We seek to help mobilize a new generation of young conservationists who will demand meaningful conservation change and commitments from their elders and their peers alike.
> Learn how wildlife clubs in Kenya bring students closer to their natural heritage